What is 7 Brew Iced Brunette?
7 Brew Iced Brunette is a coffee beverage served by the 7 Brew coffee shop chain. It's a chilled, sweet and creamy coffee drink made with iced espresso, Brunette sauce (which is a blend of hazelnut and caramel flavors), and Mocha mix (which is a chocolaty flavoring syrup). It's a popular menu item for those who enjoy a sweet and flavorful coffee with a bit of a caffeine boost.
At 7 Brew stores, the iced brunette is available in three sizes: small, medium, and large. The small size costs around $3.50, while the medium and large sizes cost $4.50 and $5.50, respectively. The drink is also available in hot and chiller versions.
If you're wondering how to make this delicious drink at home, don't worry. In the next part of this article, we will introduce a super easy way to make 7 Brew small Iced Brunette at home. We will also answer some frequent questions about this drink.
More to Read: Dunkin' Cup Sizes
Recipe Highlights
Perfect for a Small Cup: This recipe is designed for a small cup, which means you won't need to add as much ice as you would for a larger cup. This helps to maintain the flavor and strength of the coffee, while still giving you a cool and refreshing drink.
One of the Originals: The 7 Brew Iced Brunette is one of THE SEVEN ORIGINALS, which means it's one of their OG FAVS. This drink has been around since the beginning, and it's still a customer favorite today. You can trust that this recipe has been perfected over time to give you the best possible flavor and experience.
Rich and Creamy: The 7 Brew Iced Brunette is made with a combination of mocha and brunette flavor, which gives it a rich and creamy taste. The coffee is brewed using the smooth mix method, which ensures that the flavors are evenly distributed throughout the drink. You'll love the way this drink tastes, and you'll keep coming back for more!
Ingredients
To make the 7 Brew Iced Brunette, you will need the following ingredients:
Light ice (less ice than regular)
1 tbsp of brunette sauce (a delicious combination of hazelnut and caramel)
1 espresso shot
Mocha mix (7Brew's own brand to add a chocolatey taste)
The light ice in this recipe means that you will get more of the delicious flavors and less of the watered-down taste that can come with too much ice. The brunette sauce is a unique combination of hazelnut and caramel that adds a sweet and nutty flavor to the drink.
The espresso shot provides the necessary caffeine kick to help you power through your day, while the mocha mix adds a rich and creamy chocolate flavor to the drink. Together, these ingredients create a perfectly balanced and refreshing iced coffee drink that is sure to satisfy your cravings.
To make the 7 Brew Iced Brunette, simply combine all of the ingredients in a cup and stir until well mixed. You can customize the drink to your liking by adjusting the amount of brunette sauce or mocha mix that you use. Next, let's take a look at what tools are needed to make a delicious iced brunette!
Equipment
Step-by-Step Instructions
To create a tasty 7 Brew Iced Brunette, follow these straightforward steps:
Step 1: Start with a plastic cup containing light ice, which is less than the usual amount to avoid watering down your drink.
Step 2: Add one tablespoon of brunette sauce to the mixing cup, which imparts a rich and chocolatey flavor to the drink.
Step 3: Incorporate a single shot of espresso to add a pleasant caffeine kick.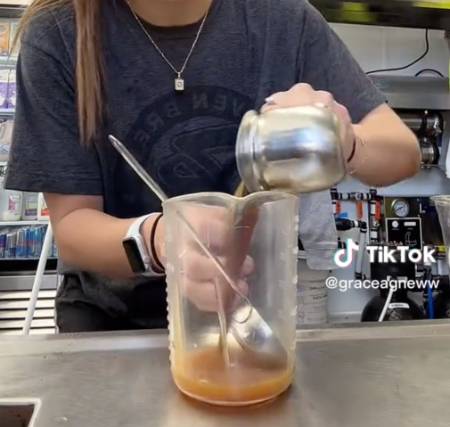 Step 4: Top the mixture with mocha mix, filling it up to 12 oz to add a creamy and chocolatey taste.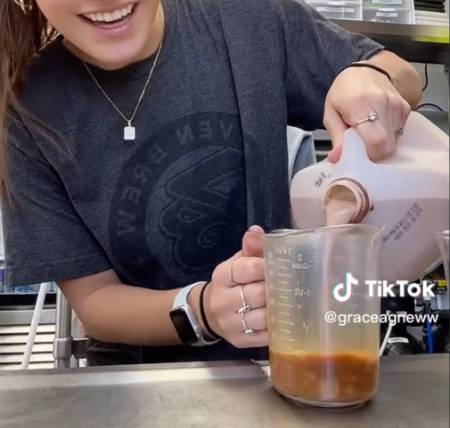 Step 5: Pour the mixture into the plastic cup filled with ice cubes to cool it down and make it refreshing.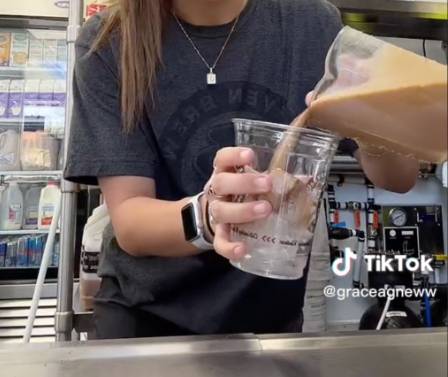 Step 6: Give the drink a good stir to ensure that all the flavors are mixed together.
And voila! Your delicious 7 Brew Iced Brunette is ready to be enjoyed!
FAQs
What is 7 brew brunette sauce?
It's the caramel and hazelnut flavor combination, one of 7 brew's syrup flavors that's used to flavor their coffee drinks.
What is "Mocha mix" in the recipe?
Mocha mix is a type of flavoring syrup that is commonly used in coffee drinks to add a chocolatey taste. 7Brew's own brand of mocha mix is likely a proprietary blend of ingredients that's exclusive to their coffee chain.
How many calories are in 7 brew brunette?
The calorie content of 7 Brew's Brunette drink ranges from 280 to 850 calories. The actual calorie count can vary depending on factors such as drink size, ingredients used, and any additional toppings or flavors.
Are there any choices that are reduced in calories or sugar free?
Certainly! If you want a lighter drink, just ask for a "skinny" version and they'll use sugar-free syrup and nonfat milk (or another milk alternative if you specify).