Bozeman is a Montana town that is huge on coffee. You will find quite a number of drive throughs if you go out in the morning, but every true coffee lover worth their salt knows the real adventure is in trying out different coffee shops in search of the perfect blend. 
However, we've saved you the hassle by picking out the best coffee shops in Bozeman worth visiting. Here's a list of 10 of the best coffee shops in Bozeman:
Cold Smoke Coffee
The Daily Coffee Bar
Wild Joes Coffee Spot
The Nova Cafe 
Treeline Coffee Roasters 
Western Cafe 
Rockford Coffee
City Brew
Storm Castle Cafe
International Coffee Traders
Cold Smoke Coffee
Cold Smoke Coffee Shop Bozeman. Cool name right? This coffee shop is as cool as its name. You would enjoy your visit to Cold Smoke if you went with a group of friends. Why? Cold Smoke can accommodate over 200 persons. 
With its speedy WiFi and free private rooms, it makes it the best place to work, chill and hangout. The Baristas are warm and professional. The coffee here is great and amazing. Little wonder this coffee shop has earned the title, "the best coffee shop in Bozeman". 
Location: 2051 W Oak St Suite 5, Bozeman, MT 59718, United States
Working hours: Mondays – Saturdays: 7am – 9pm. Sundays: 8am – 7pm.
Website: coldsmoke.coffee
Phone: +1 406-404-1471
The Daily Coffee Bar
This is the oldest coffee shop in the vicinity. It has stood the test of time for over 3 decades. Their coffee is always freshly roasted and the flavors are amazing. You also would want to try out their pastries. Maybe a bagel. If you're in the area, the daily coffee shop Bozeman should definitely be on your visit list.
Location: 1203 N Rouse Ave 3A, Bozeman, MT 59715-2940
Working hours: Mondays – Sundays: 7am – 2pm.
Website: dailycoffeeandeatery
Phone: +1 406-585-4574
Wild Joes Coffee Spot
Wild Joe's is a personal favorite of mine. Locals and visitors alike make up the regulars here. The live music and art installations give it a creative and upbeat vibe. The coffee variety here would give you a dilemma from not knowing which one to choose because they're all amazing. They also have other kinds of drinks and beverages, even non dairy drinks.
Location:18 West Main St, Bozeman, MT
Working hours: Sun 07:00 AM – 6:00 PM Mon-Sat: 06:30 AM – 6:00 PM
Website: wildjoescoffee
Phone: +1 406-586-1212
The Nova Cafe
If you've been looking for a dog friendly coffee shop in Bozeman Mt, you've definitely found one. The Nova Café is a dog friendly coffee shop. They have a nice sitting area and a great patio also. Their coffee is to die for and this is a great place to have a classic breakfast. You might want to try their french toast when you visit.
Location: 312 E. Main Street, Downtown Bozeman
Working hours: Monday-Sunday 8AM-2PM
Website: thenovacafe
Phone: +1 406 587 3973
Treeline Coffee Roasters
This coffee shop used to be known as little red wagon but has now morphed into Treeline Coffee Roasters. They aren't new to the game and obviously do know their onions. The coffee shop spots a modern minimalist look. Their lattes are great and to die for. Make it a point of duty to check out this coffee shop when you're in the vicinity.
Location: 624 N Wallace Ave, Bozeman, MT 59715
Working hours: OPEN DAILY 6:30am-4pm
Website: treelinecoffee
Phone: +1 406-219-2501
Western Cafe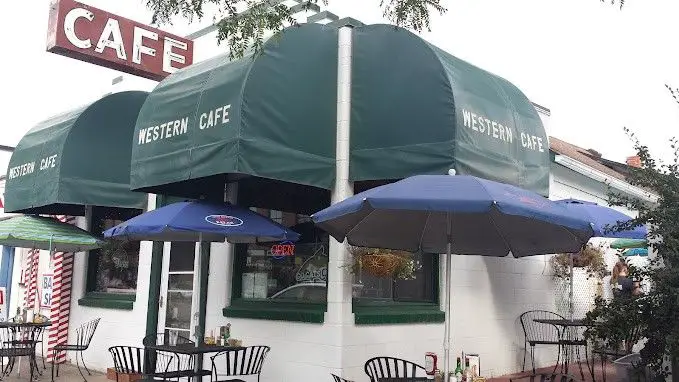 This is a great place for some breakfast and lunch. Their breakfast and lunch menu is great and their pastries deserve some praise too. It's obviously a cafe so I'll have to talk about their coffee. Their latte and espresso are my personal favorites. You'd enjoy having a latte from Western Cafe. Ensure you visit the western cafe.
Location: 443 East Main Street, Bozeman, MT 59715-4751
Working hours: 6:00 am – 2:00 pm daily
Website: www.thewesterncafe.com/
Phone: +1 406 587 0436
Rockford Coffee
Rockford Coffee is a well known and trusted coffee brand and shop in Bozeman. Their Baristas love what they do and are more than excited to whip you something special. We're talking real artisan coffee here. They also have lunch items like bagels on their menu. Their espresso macchiato is something you'd really want to try. 
Location: 628 W Main St Ste 2, Bozeman, MT 59715-3444
Working hours: Mon-Sun: 06:30 AM – 6:00 PM
Website: www.rockfordcoffee.com/
Phone: +1 (406) 556-1053
City Brew
City brew has been making coffee for over 2 decades. They're clearly favorites for the Bozeman king of the brew title. Their coffee beans are sourced from all of the world to make their unique flavors and aromas that we all enjoy. Their modern styled shops we'll keep you in once inside. Pick a day to visit city Brew. It'll be worth your time. 
Location: 1975 Cattail St, Bozeman MT, 59715
Working hours: Mon-Sat 5:30 AM – 8:00 PM Sun 6:00 AM – 8:00 PM
Website: citybrew
Phone:+1 (406) 585-2730
Storm Castle Cafe
This amazing coffee shop is locally owned by Scott and Nicole. They serve the best french toast you'll ever have. Their lunch and breakfast are off the charts. Their coffee is to die for. Storm Castle Cafe will subdue the stress of your day and literally get you storming back in for more of their caffeine pastry goodness. 
Location: 5 Tai Lane, Bozeman, Montana 59715
Working hours: Thu-Sun: 08:00 AM – 2:00 PM
Website: stormcastlecafe
Phone: +1 406-586-0395
International Coffee Traders
Bozeman is a college town and if you've been searching for any coffee shop in college in Bozeman, then you've found one. International Coffee Traders or ICT as it's fondly called is a popular and favorite hangout for students who want to study or relax. 
Their coffee beans are roasted on-site and their pastries also deserve some accolades. Students love ICT and we do too. Make sure to visit when you're in the area. 
Location: 720 South 10th Ave. Bozeman, Mt 59715
Working hours: 7am to 7pm Everyday
Website: intlcoffeetraders
Phone: +1 406.522.0239
FAQs
Are there dog friendly coffee shops in Bozeman?
Yes, there are quite a number of dog friendly coffee shops in Bozeman. However, we strongly recommend Nova Café for you and your canine friend as you'll get the best possible experience ever. 
Are there coffee shops close to the college in Bozeman? 
Bozeman is a college town and there are definitely lots of coffee shops close to the college. One we really recommend though and has become a fans favorite is International Coffee Traders, also known as ICT.
Are there coffee shops large enough to host events in Bozeman? 
There is one Coffee Shop that screams the answer to this question. Cold Smoke Coffee has the capacity to seat over 200 person's and also has private rooms for meetings. So if you're looking to host an event or have a private meeting, Cold Smoke is your best bet.
Conclusion 
We all love a good story and that's exactly what these coffee shops in Bozeman are doing – giving us good memories by making the best coffee there is. Don't just read this, go a step further by visiting most or all these places and don't forget to share your experience with us.