Santa Monica is one of the most fun places to live in all of Los Angeles. The city is full of sunny days, people watching, biking, jogging and celebrities. There are multiple reasons to visit Santa Monica and if you like coffee, there are even more reasons to live here. Here's a look at 12 of the best coffee shops to visit near Santa Monica.
If you live in Santa Monica, or are planning a trip to Santa Monica, you may want to check out my list of the 12 best coffee shops in Santa Monica . I put this list together for anyone who loves coffee and wants to know where they can have their next cup.
12 Best Coffee shops in Santa Monica 
10 Speed Coffee
Godboybob Coffee
Bardona Coffee Shop
Bluestone Lane
Lo/Cal Coffee And Market
Funnel Mill Rare Coffee And Tea
Groundwork Coffee Co.
Caffe Luxxe
Dogtown Coffee
Demitass
Love Coffee Bar
Primo Passo Coffee Co. 
10 Speed Coffee
The first stop will be 10 Speed Coffee, it is one of those must hit cafes in Santa Monica, which is located at 1919 Santa Monica Boulevard. Top-notch coffee and delectable pastries are available at 10 Speed. Even though the place was crowded, we didn't have to wait very long because the staff is polite and quick.
Although 10 Speed has plenty of seating and a friendly atmosphere, it's not the best spot to relax with a cup of coffee because the outdoor sitting is next to the street and isn't ideal for concentration or relaxation. However, 10 Speed is a terrific option if you want to get a coffee on your way somewhere else. This is unquestionably one of Santa Monica's must-visit cafes.
Website: visit@10speedcoffee
Social media: Twitter/Instagram/Facebook
Goodboybob Coffee
The colorful, snug Goodboybob coffee—yes, it's now all lowercase—is nestled away from the hubbub in a place that's ideal for taking a breather from the daily grind. The presentation and service are great, and the ambiance is cheery and inviting. 
Their best-selling avocado toast goes perfectly with their robust, delectable coffee. Although there are many places to sit, there aren't many outlets, so bring a book or charge your electronics before you go.
Location: 2058 Broadway
Website: visit@goodboybob
Social media: Instagram
Bardona Coffee Shop
Superfood components are widely available at bardona coffee shop in santa monica to boost energy and improve cognitive function. They are hidden in Santa Monica and have a pet-friendly outside deck that makes every day seem like the weekend. 
They also have you covered for all of your needs. breakfast burritos. Bowls. Salads. elegantly grilled cheese. Donuts and other classic comfort foods that are both gluten-free and vegan.
Location: 1601 Montana Ave, Santa Monica, CA 90403
Phone: +1 310-899-9500
Website: bardonna
Social Media: Instagram
Bluestone lane
Bluestone Lane, a chain of more than 55 cafés and coffee shops located around the country, is bringing Australian café culture (and better coffee) to the United States. To create the best flat whites in the world, they take care in utilizing coffee that has been ethically sourced, professionally roasted, and sustainably packaged. The bluestone lane santa monica coffee shop is the ideal location for a great cup of coffee.
Location: 631 Wilshire Blvd, Santa Monica, CA 90401
Contact: +1 718-374-6858
Website: bluestonelane
Social Media: Instagram
Lo/Cal Coffee and Market
A coffee shop with a Latin flair, Lo/Cal Coffee and Market serves delectable empanadas, breakfast sandwiches, and a variety of small snacks. Although the meal is nice, the coffee is outstanding. Despite having a limited menu, Lo/Cal produces high-quality items that are meticulously made. The costs are quite reasonable and excellent value.
Location: Santa Monica, 2214 Pico Blvd, Santa Monica, CA 90405
Phone: (424) 322-2710
Operating Hours: Monday – Saturday, 7AM – 3:30PM, Sunday, 8:00AM-3:30PM
Website: visit@localcoffee
Social media: Facebook/Instagram
Funnel Mill Rare Coffee and Tea
The highest grade ultra-specialty coffees and teas are available at Funnel Mill Rare Coffee and Tea. Rare craft coffee is expensive, as you might anticipate, and Funnel Mill's pricing reflects that. The coffee at Funnel Mill is superior to the coffee you find at your typical coffee shop, if you don't mind spending a little more. 
You won't be dissatisfied with the atmosphere at Funnel Mill if you decide to try the coffee because you're intrigued by it. It's calm and welcoming. It's a great idea to settle in at Funnel Mill Rare Coffee and Tea to finish some work or just unwind with a good book.
Location: 1506 10th St, Santa Monica, CA 90401, United States
Website: Visit@funnel
Operating hours: Monday – Friday   9am – 4pm
Social media: Facebook/Instagram/Twitter
Groundwork Coffee Co.
Groundwork Coffee Co. is a sweet, historically styled coffee shop with brushed metal, exposed brick, and natural wood accents. By interacting with clients and answering any inquiries regarding the unusual menu, the staff fosters a friendly atmosphere. 
Speaking of the menu, it includes all of your standard choices, such as lattes and cappuccinos, as well as some unique drinks, such birthday lattes and an iced sparkling Americano. Although it is a little on the pricey side, the atmosphere, welcoming staff, and distinctive beverages make up for it. This organic coffee shop santa monica is simply amazing!
Location: 2908 Main St, Santa Monica, CA 90405, United States
Website: visit@groundwork
Social media: Instagram/Facebook/Twitter/Pinterest
Caffe Luxxe
A classy coffee house with some delectable food options, Caffe Luxxe sells single-origin coffee and espresso cocktails. Although Caffe Luxxe doesn't have a large selection of coffee drinks, what they do have is excellent. The cappuccino there was excellent and well worth the price. Caffe Luxxe needs to be near the top of your list if you're looking for a place to get breakfast in Santa Monica.
Location: 925 Montana Ave
Website: cafeluxxee
Social media: Facebook/Instagram/Twitter
Dogtown Coffee
One of the best coffee shops in Santa Monica, Dogtown Coffee offers one of the most unusual menus I've ever seen. Sure, you can get a typical house brew or latte, but you can also order a "chagaccino" or a salty dog iced coffee. Not other coffee shops offer such a large variety, but Dogtown has something for everyone. Dogtown has a nice, laid-back attitude.
Location: 2003 Main St. Santa Monica, California 90405
Opening Hours: Monday – Sunday: 7:00am – 2:00pm
Contact: (310) 310-3421
Website: visit@dogtown
Social media: Facebook/Instagram/Twitter
Demitasse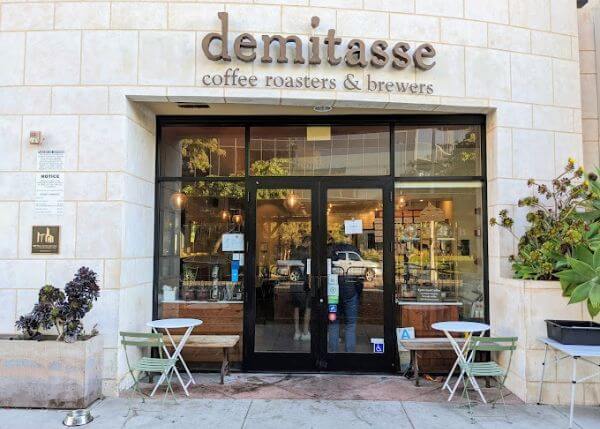 Demitasse is yet another fantastic coffee establishment where a small group of coffee enthusiasts from various backgrounds experiment with espresso, coffee, and tea. 
Every barista has a trademark drink that can only be ordered when they are working the bar that they have created through tinkering. The crew is kind and eager to share their deep knowledge of coffee with guests who express an interest. 
Demitasse is a neat, efficient, contemporary coffee establishment with a trendy look and a helpful staff.
Location: 1149 3rd St, Santa Monica, CA 90402, United States
Website: Visit@demitasse
Love Coffee Bar
Although Love Coffee Bar occasionally gets full, there is a positively beautiful outside seating area and some acceptable indoor seating. Love Coffee Bar's calming music and warm, welcoming ambience make it the ideal location to develop a calm, concentrated mindset. 
The Mexican Mocha, one of the many expertly created espresso drinks at Love Coffee Bar, is my personal favorite. The coffee there is excellent. The cost is another fantastic aspect of Love Coffee Bar. All of the coffee and snacks have fair and affordable prices.
Location:  1732 Ocean Park Blvd.
Opening Hours: Open weekdays 7am-2pm + weekends 8am-4pm
Website: Visit@lovecoffeebar
Contact: [email protected]
Primo Passo Coffee Co
The family-run Primo Passo Coffee Co., which is located at 702 Montana Ave., is our last stop. Primo Passo is a huge, airy coffee cafe with lots of seating and big windows. Even during the busiest times, finding a seat is seldom a concern. 
The meal is fairly good, and the coffee is excellent. With a latte, croissant, and some work, we settled in and thought we could remain all day. This is one of the Best coffee shops to work in Santa monica.
Location: 702 Montana Ave, Santa Monica, CA 90403, United States
Website: Visit@primo
Social media: Instagram/Facebook/Twitter
FAQs
Conclusion
Santa Monica has you covered be it Mexican or Americano coffee, outdoor seating or book reading. Having gone through the best coffee shops in Santa Monica, you wouldn't have a problem finding your way to your preferred coffee shop. Make sure to have a brew-ti-ful day!