Coffee is not just a beverage; it has become a lifestyle for most people. With time, the quality and type of coffee have become determining factors in people's choices. Going organic is what every coffee drinker wishes due to the many benefits involved.
There is evidence that organically produced coffee is superior in every quality. For instance, organic coffee always wins when I compare the flavor, acidity, and body. According to my research, I have reviewed some top-performing brands you can trust to ensure you get the best organic coffee. 
If you are curious about the listed coffee, follow this article to the end to learn more. 
Comparison Table
What Is Organic Coffee?
Organic coffee is a type of coffee produced without the use of agricultural inputs such as fertilizers or other chemicals. This means the coffee is grown in areas without contamination from synthetic compounds that might emanate from water, soil, and air. 
Organic manure, like chicken manure, coffee husks, and compost pit, are only input. Also, the coffee grows under shaded conditions, which reduces the need for synthetic agro-inputs. Organic coffee has more nutrients and antioxidants than conventional coffee and offers exceptional flavors. 
Does organic coffee taste better?
Growing organic coffee follows strictly laid-out procedures. Due to this, the coffee produced results in a better and richer taste. According to different drinkers, organic coffee has a better taste. 
Although organic beans batter, the taste is also affected by the variety, growing conditions, processing, and storage. Besides tasting better, organic coffee has low acidity, rendering it more palatable. 
Top 6 Best Organic Coffee Reviews
Fabula is one of my favorite coffee companies, and I enjoy its different products. The coffee options at the company ensure satisfaction and reliability. Since the coffee is fully organic, there are no chemical residues, making it one of the best options for coffee lovers. 
For an easy and quick cup of coffee, I always go for these Fabula K-Cup organic coffee. The coffee doesn't differ from the bagged one and offers the same goodness. It's purely organic and sourced from farms in Central America. Grown under the shade, the beans have an excellent level of antioxidants and other nutrients. 
Usually, Fabula K-cups come in light, medium, dark, and decaf options. Each roast offers exceptional flavor, which is inspiring and satisfying. 
Light roast is best if you need to taste the original bean flavor. It exhibits bright yet intense complex flavors of praline and citrus. On the other hand, medium roast offers balance well and is well-rounded with sweet caramel. 
For dark roast lovers, it's full-bodied, rich, and deep with nutty and cedar flavors. The longer roasting gives the coffee a roasty feeling. The decaf coffee is delicious and perfect for caffeine sensitivity without eroding its qualities. It has sweet, full-flavored, and rich with nutty notes. 
Besides selecting different roasts, the K-cups are bigger than other brands. Each pod has 12 grams of coffee which is 25% more than regular coffee pods. Made of paper, the pods are airtight to keep coffee fresh and easy to compost.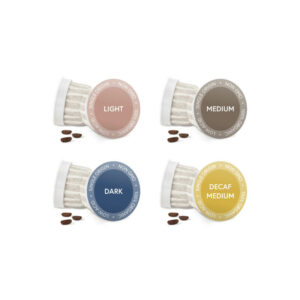 When safety is the biggest concern, you don't need to worry. The coffee has certification from USDA organics and passes third-party testing. After drinking, I can guarantee you will never abandon the coffee. 
Specifications
Item Form: K-Cup Pod
Roast Level: Dark/Medium/Light/Decaf 
Flavor: Nuts, caramel, spices, and citrus 
Certifications: USDA organic, Fair Trade 
Sourcing: Central America 
Package: Box, paper pods
WHAT WE LIKE
Airtight pods to keep coffee fresh 
Freshly roasted before delivery
Real coffee free from fluff 
Unflavored, real-origin flavor
WHAT WE DISLIKE
50% discount is only for first-time buyers 
The flavor is the same since beans aren't blended
From the birthplace of coffee, Yirgacheffe coffee, we get. This Volcanica comes from Ethiopia, known for its premium quality coffee. Sipping the coffee elicits a sense of uniqueness and satisfaction. Having tasted different coffee, I can attest this one is on another level. 
Despite being one of the rare coffees, it's one of the best budgets since it is pretty affordable. Amazingly, coffee features organic production in the Ethiopian highlands, where it grows at 2000 meters above sea level. Due to natural growing without chemicals, no accumulated residue. 
One quality I love about the Volcanica Yirgacheffe Ethiopian coffee is its unmatched flavor. It's unique, presenting blueberry, lemon, and blackberry notes. Besides, the company ensures light roast, which is impressive in discovering authentic coffee flavor. The coffee is free from artificial additives, ensuring you enjoy real flavors.
This one is low in acid for people who experience problems after drinking coffee. After consumption, there is no upset in the stomach, meaning even people who previously didn't drink coffee will have an easy time.
USDA organic, Fairtrade, and Kosher certification guarantees this coffee is fantastic. Besides choosing it as the best budget organic coffee, I guarantee quality will amaze you. 
Specifications
Item Form: Whole beans 
Roast Level: Medium/Light Roast
Flavor: Lemon, Blueberry, and Blackberry
Certifications: USDA organic, Kosher, RainForest Alliance, and Fairtrade certified 
Sourcing: Ethiopia 
Package: Bag
WHAT WE LIKE
Best for low-acid coffee drinkers 
Chemicals-free organic coffee
Freshly roasted and sealed 
Low acid; pH5.1
WHAT WE DISLIKE
Flavored coffee is not available 
Not decaffeinated
Meet the ultimate organic coffee from Lifeboost. The low-acid organic K-Cup coffee brings joy and no jitters. Having enjoyed the coffee, it's one of the top rankings since it has exceptional quality that conventional coffee can't meet. 
It is the best K-Cup yet due to the quality of the beans. Unlike regular coffee, Lifeboost always sources coffee from small farmers in the Central American country of Nicaragua. It is worth noting that this organic coffee doesn't have chemicals since it is grown. Further, the harvesting is by hand, and processing is by use of spring water. Through sun drying, the coffee attains perfect conditioning. 
When making a cup of coffee, these K-Cups offer outstanding full flavor. They are medium roasted and provide a full rounded flavor of creamy nutty and notes of dried fruits. Not only is the flavor fantastic, but the K-cups have more coffee than any other brand, each weighing 13 grams. 
The compatibility of the K-cups with different coffee makers is why I like Lifeboost pods. Additionally, a considerable discount is impressive and lets everyone enjoy lower prices, especially first-time buyers.
Specifications
Item Form: K-Cup pods 
Roast Level: Medium Roast 
Flavor: Creamy, nutty, and dried fruits 
Certifications: USDA organics, NFC, Kosher, Fairtrade 
Sourcing: Central America 
Package: Box
WHAT WE LIKE
More coffee content per pod 
Free from artificial additives 
Refreshing and boosts body performance
It doesn't trigger acidity
WHAT WE DISLIKE
Only single flavors available in the pack 
Sometimes it can feel weak
One of the best coffee I have ever enjoyed is a cold brewed beverage. The chance to enjoy this kind of drink lies in Lifeboost Biotic cold brew coffee. It's specially roasted and ground to fit cold brewing. With its coarse grinding, the coffee perfectly suits cold brewing. 
Once you get this coffee, quality isn't guesswork. It offers some amazing brews that are smooth and not bitter or with a burnt taste. Also, the resulting drink is full of nutrients and less acidic. 
Like every coffee from Lifeboost, this comes from Central America, where the best organic coffee originates. From production to processing, there are no chemicals, thus resulting in pure organic coffee. With a medium roast, the coffee delivers a balanced, full-bodied beverage. 
One of the top things why I recommend this coffee is the delightful, nutty, and dried fruit flavors. Cold brewing especially ensures every flavor comes out perfectly. The probiotic feature makes it my favorite since it helps boost gut health.
Specifications
Item Form: Ground 
Roast Level: Medium roast 
Flavor: Sweet, nutty, and dried fruits 
Certifications: USDA organics, NFC, Kosher, Fairtrade 
Sourcing: Central America 
Package: Bag
WHAT WE LIKE
GMO and chemical-free beans 
Smooth and low acidity 
Eco-friendly produced and processed 
Free from bitter flavors 
Perfect ground for old brewing
WHAT WE DISLIKE
It can cause a gassy stomach 
Hot brewing can eliminate probiotics properties
Making a legit espresso shot is only possible when using the right coffee. Fabula espresso is the ultimate coffee that guarantees a rich and full-bodied espresso. This coffee produces one of the sweetest brews due to the quality of beans from the farm.
The coffee is from Colombia in the mountains of Nevado del Huila in the Inza province. With a cool climate and high elevation, the coffee attains a unique flavor of caramel, Prune, mild citrus, praline, and dark berries. Usually, the roasting combines with the original coffee flavors to deliver the best experience. 
From my own experience, this espresso coffee is low in acid. Even when the body reacts to the slightest provocation by regular coffee, this is easy and doesn't trigger reflux or heart burns. 
The ability to enjoy great discounts and freshly roasted coffee make it one of the best espresso. Whether you like to make cappuccino, Americano, or other derivatives of espresso, this coffee never disappoints.
Specifications
Item Form: Ground 
Roast Level: Medium-Dark
Flavor: Caramel, Prune, mild citrus, praline, and dark berry 
Certifications: USDA organic, Fair Trade, Fairtrade 
Sourcing: Colombia 
Package: Bag
WHAT WE LIKE
Perfect for heart health 
Pure coffee free from fluff and additives
It doesn't agitate the stomach
WHAT WE DISLIKE
Weak original coffee bean flavors 
The coffee isn't decaf
Ensure you will never lack coffee in your home by subscribing to Lifeboost, 'subscribe and save'. The package offers a flexible plan where everyone can choose different types of coffee. The plan allows you to select ground, whole beans, or pods. One unique feature I find exciting in this plan is the ability to choose between the different forms. 
Besides the forms of coffee, it's also possible to choose different roasts. Lifeboost always has light, medium, dark, or decaf coffee. If caffeine usually messes with your body, decaf is perfect, while regular coffee is excellent for other drinkers. Amazingly, the coffee has moderate coffee, which is why it is ideal for most people. 
Upon subscribing, there are price options to choose from. You can go with single boost, triple boost, and turbo boost. Each package offers impressive discounts with a single boost at 22%, triple boost at 40%, and turbo boos at 44%. Besides subscribing, the shipment intervals are customizable, while canceling can be done anytime without struggles.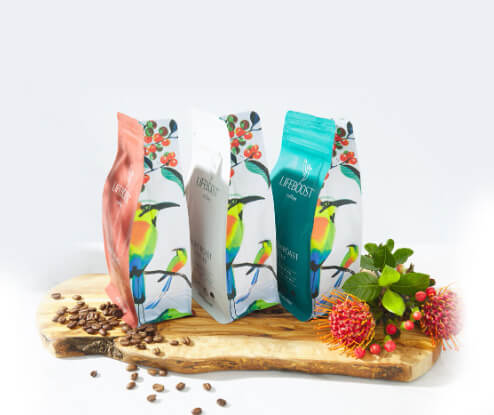 Usually, I find this plan excellent since there are no worries about running out of coffee. Furthermore, the coffee is purely organic and low in acid, and it's easy to choose a personal preference option.
Specifications
Item Form: Ground/Whole beans/Pods 
Roast Level: Light, Medium, Dark, Decaf 
Flavor: Sweet, nutty, and dried fruits 
Certifications: USDA organics, NFC, Kosher, Fairtrade 
Sourcing: Central America 
Package: Bags, Box
WHAT WE LIKE
Huge subscription discount 
Easy to cancel or change the plan
High-quality, low-acid coffee 
Customizable delivery intervals
WHAT WE DISLIKE
Limited offer coffee not covered 
No flavored coffee in the subscription
Why Buy Organic Coffee? The benefits 
Drinking organic coffee offers tons of benefits. However, I will explain some of the main advantages of organic coffee. 
Organic coffee is chemicals free 
One of the main benefits of drinking organic coffee is it's chemical free. Growing coffee without chemicals ensures there are no residues in the coffee. Compared to conventional coffee, organic coffee will not lead to some illnesses associated with synthetic chemicals applied to coffee. 
Since organic coffee doesn't have fungicides, pesticides, or herbicides, it doesn't result in illnesses associated with agrochemical residues. Therefore, when opting to drink organic coffee, there are benefits of escaping the potentially unseen dangers of chemicals. 
Organic coffee is safe for the ecosystem 
Organic farming aims at excluding synthetic chemicals and fertilizers. Replacing these chemicals with organic ones benefits the consumers and the environment. Since synthetic chemicals can persist longer in the environment, organic ones break down quickly and naturally. 
Switching to organic coffee, it means empowering producers to grow more organic coffee. Since there are no chemicals, the process is safe for the environment and growers. 
More nutrients than conventional coffee 
Soil fertilization and conditioning in organic farming are achieved by adding manure, compost, and other organic materials. The use of organic inputs guarantees more nutrients. 
Although coffee doesn't have a lot of nutrients, it contains significant levels of antioxidants, potassium, magnesium, and traces of vitamins. Organic coffee allows the body to utilize these nutrients without getting restricted by synthetic molecules. 
Things to consider before buying: latest buyer's guide
USDA certification
For coffee to be labeled organic in the US, it has to meet specified conditions by USDA. Therefore, as you shop for organic coffee, always check for the USDA organics label. According to the department, any food labeled as organic must have over 95% ingredients, and other processes must meet stipulated recommendations. Thus, if your coffee is labeled USDA organics, it has fulfilled the requirements. 
Other certifications
Apart from the USDA organics, other certifications are vital for the confirmation of the authenticity of the coffee. Usually, each certification organization has different parameters that farmers need to fulfill to be declared organic. Some of the notable certification agencies include; 
Rainforest alliance 
Rainforest is a private, non-governmental organization that emphasizes sustainable agriculture. The organization covers different crops besides coffee. Upon attaining the minimum requirements, the farm is certified as Rain forest alliance compliant. 
Fair Trade 
Fairtrade is an organization that deals with improving the welfare of small-scale farmers. Usually, the coffee that bears the certification is from small-scale farmers in cooperatives rather than individual farms. While the goal is to promote equal opportunities in global trade, the organization also promotes sustainable production of different crops like coffee, tea, and others. 
Bird-friendly 
Bird-friendly coffee is one grown under the shade. Usually, for the coffee to be labeled bird-friendly, it must be under the shade of at least 40% of the native canopy. Also, the coffee must be organic to avoid adverse effects on the birds, as in the case of conventional; coffee. The criteria for bird-friendly coffee was developed by the Smithsonian migratory birds center and is awarded to compliance farms. 
Organic Growing 
Organic coffee must follow the procedures laid down by the relevant authorities. The easiest way to identify organic coffee is to look for certification by reputable agencies like USDA organics and other international bodies. 
For coffee to qualify as organic, it must meet the following parameters. 
Free from synthetic chemicals like fungicides, herbicides, and insecticides 
The proper crop rotation plan 
Shade-grown and bird-friendly prentices 
Harvesting through hand picking 
Organic Processing
There is no point in growing coffee organically and messing it at processing by adding chemicals. Therefore, when it comes to processing, it must be through the defined organic means. 
Organic roasting 
After growing and processing coffee organically, roasting is also vital to ensure the coffee is organic. It is, therefore, essential for the roaster to be a certified organic facility. This ensures there is no contamination hence keeping the organic coffee standards. Before any roasting, thorough cleaning of all non-organic materials is necessary. 
Pricing 
One of the facts is that organic coffee is expensive to produce. This cost is delivered to the final consumers. Therefore, a gram of organic coffee costs more than conventional coffee. 
Although organic coffee is expensive, it is essential to check for a company that sells at better prices, yet the quality is top-notch. In the case of specialty organic coffee, they are the most expensive due to the limited supply. 
FAQs 
Verdict 
While it is sometimes hard to pick the best organic coffee, this list presents some of the best choices I have made after tasting numerous coffee. I can guarantee that every featured coffee is superb and will quench your thirst for quality coffee. 
Although every coffee featured is excellent, my overall pick is Fabula low-acid K-Cup pods. The coffee is supreme in quality and quick preparation since only a button is needed. Also, the brew quality is fantastic, as the pods are bigger than standard ones.