If you love mocha, preparing involves adding chocolate to your espresso. However, you can enjoy chocolate tasting coffee without adding all these ingredients. 
Fabula chocolate nut coffee is one of the unique tasting and specialty coffee you can enjoy. The coffee is organic and has a delicious nutty and chocolate essence. 
If you are wondering how this coffee tastes, check out everything in the following Fabula chocolate nut coffee review. Whether it's about flavor or pricing, we have you covered.
Fabula Chocolate Nut Coffee Review
WHAT WE LIKE
Spicy and chocolaty 
Rich in minerals 
Organic and toxins free 
High-quality coffee beans
WHAT WE DISLIKE
Only medium roast is available 
Slightly higher caffeine
As you wonder whether to switch to Fabula chocolate nut coffee, it's among the best you can find. The selection of beans and flavoring ensures you can always enjoy organic coffee. 
The chocolate nut coffee is organic and is mycotoxins free. Since it has low acid, the coffee offers amazing palatability to drinkers with acidity problems. 
Origin 
The origin of this chocolate flavored coffee is in Peru. It is one of the few places where Fabula sources coffee for medium roasting. 
Grown in the country's highlands, the coffee is specially grown to achieve great qualities. Actually, the coffee is organic from production to roasting. 
Aromas 
Once you open the packaging bag, the coffee has an exquisite smell. Even when brewed, the aromas never fade away. 
The coffee presents a delightful aroma of nuts with a touch of chocolate. 
Flavor 
The flavor is also inspiring for everyone who loves coffee and chocolate. Once brewed, the coffee presents a roasty and nutty flavor with hints of chocolate. 
It's a combination of roasted coffee, nuts and chocolate that ensures it's superb. 
Appearance 
Besides the aroma and flavor, coffee color is also an important aspect. For the Fabula chocolate nut coffee, it has an amazing brown color. 
The beans get precise roasting from the experts. This results in perfectly looking medium roast chocolate flavored coffee. 
Packaging 
Packaging is one of the most serious aspects that Fabula undertakes. Besides the roasting process, packaging involves the latest technology and materials. 
Usually, the packaging bags are resealable due to the Ziploc design. Also, the printing on the is unique and simple to give a chance for easy recycling. 
Pricing 
Fabula chocolate nut coffee is amazingly priced to ensure everyone can enjoy it daily. Usually, the coffee is available for one time buy. However, the discount is less and ranges from 10%-25%. 
On the other hand, the subscription option is even more enjoyable. It's easy to get regular supply by subscribing. The subscription packages offer huge discounts ranging from 25% to 35%.
Besides the great subscription benefits, you can also enjoy a 50% price off for the first purchase. 
Don't buy Fabula Chocolate nut coffee if, 
You don't like the chocolate flavoring
Although coffee and chocolate taste good, some people don't like the blended flavor. If chocolate is not your flavor, you can choose other options at Fabula. 
You don't tolerate more caffeine
Chocolate contains some caffeine. Thus, chocolate flavored coffee contains higher caffeine than a regular one. 
Summary 
Chocolate flavored coffee is amazing and brings an exceptional experience. The combination of coffee, chocolate and nuts ensures there is extraordinary refreshment. 
With Fabula chocolate nut coffee review, you can enjoy it without a doubt. It's organic, sweet and safe for everyone. 
FAQs 
Does Fabula use chocolate to flavor its coffee? 
Fabula deals with organic coffee; therefore, the flavoring of chocolate coffee uses real cocoa powder to flavor the beans.
Are chocolate coffee beans good for you?
Chocolate flavored coffee beans are great for making delicious coffee. However, coffee has more calories than regular unflavored beans. 
Does chocolate flavored coffee have chocolate in it?
Chocolate coffee has cocoa powder added to achieve the flavor. However, some varieties from South America have a natural chocolate flavor when roasted.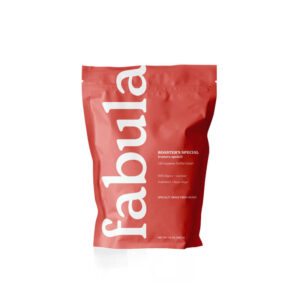 Related Posts:
Fabula Mexico Siltipec Coffee Review