Preparing a cup of coffee at home requires a combination of ingredients, equipment and time. One of the most common equipment that people use to make coffee is a French press. 
The gadget is amazing and ensures the art of making delicious coffee is achieved with minimal effort. Apart from the machine, you must have the right French Press coffee. 
Fabula French press coffee is amazing and ensures you enjoy a smooth drink. Unlike other coffee, it is roasted and ground to allow for perfect brewing. 
Find our Fabula French Press Coffee Review below to get an accurate picture of the coffee. It will help you determine whether to switch to this superior coffee.
Fabula French Press Coffee Review
WHAT WE LIKE
Gluten-free
Suitable for vegan
Professional roasting
Recyclable packaging
WHAT WE DISLIKE
Whole beans are not available
Feels a bit weaker
Fabula French press coffee is a coarse ground coffee with a medium roast. The coffee is organic, which makes it excellent for everyone. Also, the low acidity and perfect blend of aroma and flavor make it top of the league.
Origin 
The coffee is grown in the high altitudes of the Andes mountains in Peru. Due to the perfect growing areas, the coffee results in excellent quality, which makes it among the world's top 2%. 
Besides the area of cultivation, the other agronomic practices are organic. Therefore, there are no chemicals or other undesirable contaminants.
The coffee is always tested in labs before it is shipped for roasting and packaging. 
Aroma
The French press coffee from Fabula offers breathtaking aromas. It feels like mild fruit, with sweet brown sugar and nuts. With such an intensely sweet aroma, the coffee gives you a reason to make a cup when necessary. 
Flavor 
Another huge aspect that is notable in this coffee is flavor. Being a medium roast, it has natural flavors that combine with the impact of roasting. 
The flavor combines nuts, caramelized sugar and a chocolate note. Unlike the dark roast, the coffee is balanced in flavor. 
Packaging 
Packaging is on point to keep the content extra fresh. The company uses a high-quality plastic bag to ensure the coffee is dry and air-tight.
Besides, the bags are recyclable, which cuts the pollution. With Ziploc, it is easy to close once you scoop the coffee. 
Pricing 
The pricing of Fabula French press coffee is amazing. It comes with amazing discounts ranging from 10% to 15% for one-time purchases. 
Apart from the one-time buy, you can subscribe and get amazing offers. The prices are $22.99, $20.99 and $19.49 for 3 bags, 4 bags and 6 bags, respectively. Besides, the bags come with 25%, 30% and 35% for each bag. 
Don't buy Fabula French press coffee if,
You plan to buy a flavored coffee 
The coffee isn't flavored, and some people love flavored coffee. If you love flavored coffee, you can opt for hazelnut or vanilla. 
You don't drink caffeinated coffee 
For people who don't drink caffeinated coffee, Fabula French Press coffee is caffeinated. Therefore you can opt for other options like dark decaf. 
Summary
Enjoying good coffee should not be a hassle. Having the right roast should be able to make your preferred drink. With Fabula French press coffee review, it's now possible to make a great drink. The coffee is great, especially for medium roast coffee and is always fresh.
FAQs 
What is the ratio of coffee to French press?
To make great French press coffee, mixing a ratio of 1 part coffee and 15 parts water is recommended. Therefore, 3 tablespoons should be for one cup of water. 
Does Fabula French press coffee come ground?
The coffee is available in the course ground. However, it is not available in whole beans. 
What coffee roast is best for French press?
The best coffee for French press coffee is a medium roast with a coarse ground.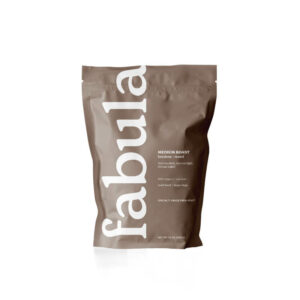 Related Posts:
Fabula Subscription Coffee Review
Top 10 Coffee Machines with Grinder
How to Make Espresso with French Press
Light vs Medium vs Dark Roast Coffee