Fabula, in most cases, deals with unblended single-source coffee. This makes the coffee have a consistent flavor and aroma. However, one way to taste an amazing coffee is half caff.
Half Caff is amazing since it has half caffeine and provides an excellent body boost. Besides providing half caffeine, the flavor is awesome since it combines different coffee. 
This Fabula half-caff coffee review has all you need to know about this fantastic coffee. Let's see whether it's different from single-sourced options. 
Fabula Half Caff Coffee Review
WHAT WE LIKE
Blended flavor and aroma 
Reduced caffeine content 
GMO and mycotoxins free 
Resealable coffee packs
WHAT WE DISLIKE
Can increase cholesterol 
Can feel a bit bitter
Fabula half-caff is a tasty and amazing coffee that gives you excellent taste and smell. The idea behind creating this coffee blend is to ensure you can taste mixed goodness. 
The coffee boasts a mixing of equal parts medium caffeinated roast coffee from Peru and medium roast Decaf from Mexico. The mixing of these coffees makes it one of the best options. 
Origin 
Although the coffee is a blend of two coffee from varying sources. Each type is sourced separately. The coffee is from Peru while the other one is from Mexico. 
The coffee is grown in high altitudes under shades for the best quality. This ensures each bean has proper maturity, and every quality is at the apex. 
Aromas 
Having Fabula Half-caff, you can't go wrong. Combining the two coffees significantly improves the overall aroma than in single coffee. 
The blended coffee boasts sweet brown sugar and nut essence. In every sip, there is an amazing thrill. 
Flavor 
The flavor is also a mixture of the two-blended coffee. When brewed perfectly, the coffee brings a bold caramelized brown sugar and nutty chocolate. 
The blending and less caffeine give the coffee a sweet feeling and reduced bitterness. Also, the low acidity keeps it appealing to every consumer. 
Appearance 
Appearance is uniform since the coffees used in blending are mediums of roast. Therefore, the brown color is appealing, bearing in mind professionals do the roasting. 
Apart from the brown color, the coffee has slight oil since it's moderately roasted. 
Packaging 
Expertise in packaging coffee, Fabula half-caff comes in reliable bags. The premium material plastic bags are recyclable. Further, the minimal prints on the pack enable easy recycling. 
Apart from the reliable packaging, the packs are large. Each pack has 12 ounces of coffee which is ideal for taking you several days. 
Pricing 
Fabula half-caff is available in different buying options. It accommodates everyone from one-time buyers to subscribers. 
Usually, a one-time buy plan doesn't have a huge discount. You only get 10% when you buy 2 packs and 15% when you buy 3 packs. For a single pack, there is no discount. 
On the other hand, subscribing allows you to enjoy a great discount. For 3 packs, there is 25%, 4 packs attract 30%, and 6 packs get 35%. 
Apart from the regular discount, there are other periodic offers. 
Don't buy Fabula Half Caff Coffee if, 
You are looking for single source coffee 
This is not the best selection for people looking to enjoy unblended coffee. For single source coffee, you can opt for other varieties at Fabula. 
You are caffeine sensitive 
This coffee has more caffeine than a decaf. Therefore, it is not an alternative choice if you are sensitive to caffeine. 
Summary 
Fabula Half Caff is a great coffee for people who want to enjoy moderate caffeine. The coffee has half caffeine levels since it is a blend of half decaf and half caffeinated coffee. 
If you have wondered what half-caff is, this Fabula half-caff review has enlightened you. 
FAQs 
What is Half Caff Coffee?
Half caff is a coffee obtained by mixing decaffeinated and caffeinated coffee. The coffee is mixed in equal proportion. 
Is half-caff better than decaf?
Decaf is better for a person who doesn't take caffeine. However, for people who want a lower caffeine drink, this is the ideal coffee to grab. 
Is half-caff coffee less acidic?
Due to half caffeine levels, the coffee is less bitter. Also, the level of acidity is slightly lower than in regular beans. On the other hand, Fabula Half caff is low acidity coffee ideal for everyone.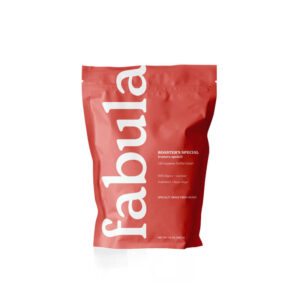 Related Posts:
Fabula Subscription Coffee Review
Light vs Medium vs Dark Roast Coffee
9 Simple Ways to Sweeten Cold Brew