Once the coffee is your best beverage, quality coffee beans are the next stop. Hazelnut flavored coffee by Fabula is none like others. It's an organic coffee with low acidity and is free from mycotoxins. 
Besides being one of the top best coffee, Fabula ensures it brings out the amazing refreshment. From sourcing to roasting to packaging, the coffee quality remains premium. 
To motivate you to opt for this coffee, we have a well-explained Fabula Hazelnut Coffee Review. It's easy to understand and contains all the information every coffee lover wants. 
Fabula Hazelnut Coffee Review
WHAT WE LIKE
Real Hazelnut flavoring
Freshly roasted and aromatic
Good for different brewing methods
Ideal for Keto dieting
WHAT WE DISLIKE
Fine grind not available
No whole bean ordering
When the flavored coffee rings in your mind, Fabula Hazelnut should be a priority. The coffee offers amazing flavor and aromas. Emanating from the Hazelnuts, coffee origin, and roasting, it always has a satisfying taste.
Also, the single sourcing and low acidity keep inspiring people to consume coffee. 
Origin 
The origin of this coffee is amazing since it is known for its premium coffee growing. Like other medium roast coffee at Fabula, it is sourced from Peru. 
Growing of coffee in Peru is along the highlands of the Andes mountains. The growing regions are up to 2000 meters above sea level, which is great for high-quality specialty coffee production.
Aromas 
If you have consumed another type of coffee from Fabula, you must attest that aroma is on point. The same case applies to Hazelnut coffee. 
Normally, coffee is flavored using organic Hazelnut to give it an intense scent. The aroma exhibits a touch of Hazelnut, roasted nuts, and chocolate coffee. 
Flavor 
Fabula Hazelnut flavored coffee brings out an intense blend of Hazelnut, nuts, and chocolate coffee flavors. The flavoring blends well with original coffee flavors to create an exceptional experience. 
Appearance 
The coffee is only available in ground form. Unlike other types, you can't order whole beans. 
On appearance, the ground coffee is brown. Hazelnut used in flavoring doesn't affect the color, and your coffee will have the original medium roast look. Also, you will observe some slight oil in the coffee.
Packaging 
The ultimate packaging of coffee at Fabula is the use of airtight plastic bags. Hazelnut flavored coffee features recyclable and resealable plastic bags. They are reliable in keeping the coffee fresh. 
Besides, the coffee is freshly roasted before shipping. This combines with excellent packaging to maintain the best properties. 
Pricing 
Fabula has amazing offers for Hazelnut flavored coffee. One of the inviting things is you get a 50% discount on your first purchase as a subscriber. 
Also, there are huge discounts during your regular pay, especially if you are a subscriber. In the three packages available, three bags get 25% each, four bags 35% each, and six bags 35% discount each. 
If you don't want to subscribe, you can get a single bag at no discount. However, two bags get a 10% discount and three bags a 15% discount each. 
You can also enjoy paying in installments at zero interest. 
Don't buy Fabula Hazelnut coffee if, 
You love whole flavored beans 
Although the coffee is amazingly sweet and aromatic, you can only get it grounded. Unlike other coffee types, Fabula doesn't avail this one in whole beans. 
You love bold flavored coffee 
This coffee is medium roast which means its light bodied. You can try flavored dark roast coffee for anyone who loves bold bodies Hazelnut coffee. 
Summary 
Sipping a cup of Hazelnut coffee from Fabula guarantees satisfaction. Despite the amazing taste of the coffee, the brewing might affect how it turns out. 
The mixture of different qualities, as exhibited in this Fabula Hazelnut coffee review, ensures a great cup. It's delicious and pure organic with balanced low acid. 
FAQs 
Does Fabula Hazelnut coffee mix well with milk or crema? 
YES. If you love your coffee with milk, this coffee is perfect and mixes well with milk or crema. The taste is also exceptional. 
Is Hazelnut good in coffee?
Sure. Hazelnut offers excellent flavor when added to coffee. The sweet and nutty flavor ensures it gives the coffee a perfect blend of inviting essence. 
Is hazelnut coffee made with real hazelnuts?
YES. Fabula uses real and organic hazelnuts to flavor its coffee. Therefore, the flavor is excellent and unique.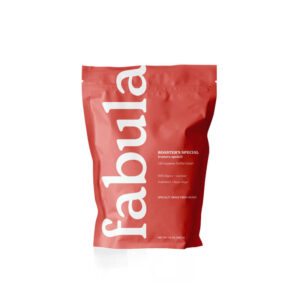 Related Posts:
Fabula Subscription Coffee Review
Light vs Medium vs Dark Roast Coffee