Summer is great, and everyone is yearning for the season to enjoy the sun's warmth. But, even as you enjoy it, coffee is handy. A good coffee drink is essential to ensure you can beat the heat stress free. 
Getting a reputable coffee brand that ensures you are fully satisfied is great. Fabula summer special coffee is the perfect pick to ensure your season is memorable. 
To ensure you are comfortable when buying the coffee, we have a Fabula summer special coffee review for you. Find out what is unique and whether it is worth considering this summer.
Fabula summer special coffee review
WHAT WE LIKE
A brighter and vibrant coffee
Blended broad flavor
Vibrant and refreshing
Smooth and sweet tasting
WHAT WE DISLIKE
Not flavored
Not full-bodied
Fabula summer special coffee is a unique choice to enjoy during the hot season. Unlike the bold version for winters, this has blending to fit summers. 
The beans are carefully selected and processed to bring out the best experience. Therefore, you will always note significant differences when drinking this coffee with others. 
Origin 
Fabula summer coffee is obtained by blending South East Asia and Central America coffee beans. The beans are organically grown, which makes them perfect and unique. 
Growing coffee on high land and in perfect conditions promotes the best quality production. Also, the climatic conditions in the regions of coffee production ensure it has exceptional qualities. 
Aroma 
Summer special coffee from Fabula is aromatic and always inviting. The delicious aroma results from using high quality beans from different regions. 
Typically, the coffee has a blended aroma of vanilla, stone fruits, and sweet brown sugar. With mixed aroma, the coffee ensures you appreciate the greatness of blending organic coffee. 
Flavor 
Coffee flavor is vital, and Fabula ensures everyone drinking special summer coffee gets the best. Its medium roast lets you enjoy a balanced flavor. 
The flavor consists of honey praline and milky chocolate. With each flavor note coming out clearly, the coffee brightens your summer. 
Appearance 
Bearing in mind Fabula special summer coffee is a medium roast, it exhibits superior characteristics. However, the roasting of this coffee leaves it with a deep brown color. 
The medium oil surface balances roast and bean origin flavor and aroma. Therefore, you will always love the coffee color. 
Packaging 
Fabula packs summer special medium roast coffee in reliable bags. The materials are recyclable and compostable. 
Apart from the recycling, the bags can keep coffee airtight due to the Ziploc design. Therefore, it is easy to maintain the coffee aroma once you open it. 
Pricing 
Fabula has flexible pricing for its coffee. You can become a member or buy without subscribing. 
For Summer special coffee, there is no subscription option. The only way you can get it is through one time buy option. 
Buying a single bag doesn't attract a discount, while two and three bags get a 17% and 33% discount for each bag. 
Amazingly, Fabula also allows you to pay interest-free installments for orders above $50.
Don't buy Fabula Summer Coffee if 
You love full-bodied coffee 
Fabula summer special coffee isn't your choice if you love full-bodied coffee. It is light and medium roasted, which gives it a lighter feel. 
You like central American pure coffee 
Some people have a love for coffee that originates in central America. However, this coffee is a mixture of coffee from Central America and South Asia, which might affect your expected feeling. 
Summary 
Fabula summer special coffee is one of the best choices when the weather is hot. Since it's lighter and tasty, it greatly refreshes and stimulates. Through blending, it packs excellent overall characteristics. 
Fabula summer special coffee review offers general aspects of the product. The best evaluation is getting it and feeling the real experience. 
FAQs 
Is Fabula summer special coffee bitter? 
The coffee is refreshing and sweet. It is not bitter unless you mess up during the brewing process. 
Is coffee good in summer? 
Drinking coffee during the summer is perfectly okay. Studies have shown that drinking hot coffee is excellent for stimulating sweating and enabling body cooling. 
Does Fabula have a subscription plan for summer special coffee?
Unlike other coffee from Fabula, the summer special is not available for subscription options. You can only utilize the one-time buy package.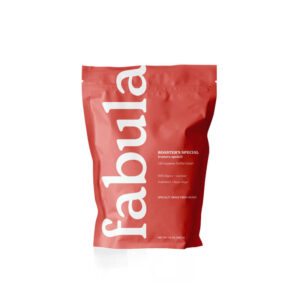 Related Posts:
Fabula Subscription Coffee Review
Light vs Medium vs Dark Roast Coffee
9 Simple Ways to Sweeten Cold Brew