Brewing coffee is sometimes time consuming. K-cups are the ultimate solution since they provide a quick and easy way to make coffee. Fabula offers organic coffee-based K-cup pods, which are ideal for homes and offices. 
If you have a K-cup machine, looking for top-quality coffee is the ultimate way to enjoy it. Fabula Vanilla K-cup coffee review is the ultimate way to get all information about the product. 
With all characteristics explained, you will learn about the origin, flavors, and others.
Fabula Vanilla K-cup Coffee Review
WHAT WE LIKE
Flavorful medium roast 
Delicious vanilla and coffee flavors 
Moderate caffeine levels 
Environmentally friendly packaging 
Good for vegans
WHAT WE DISLIKE
Single-use pods 
Not for decaf coffee drinkers
Fabula Vanilla flavored coffee has a special effect and offers a great experience. The coffee and vanilla used in flavoring are organically grown to keep you safe. 
The coffee provides amazing benefits and is ideal for people who can't tolerate acidic coffee.
Origin 
Fabula vanilla K-cup coffee originates from Peru. It's one of the premium coffee which is organic, GMO-free, and mycotoxins tested 
The quality of coffee is superb and is grown to maturity. Therefore, all aspects of a great coffee are present in this product. 
Aromas 
The vanilla aroma in this coffee is amazing. It combines a nutty and chocolate coffee to bring out a soul-soothing aroma. The vanilla and coffee scents blend well to make a sweet and enticing essence. 
Flavor 
Apart from the aroma, you will notice the flavor is also thrilling. Since the K-cups are airtight, they ensure flavor and aroma never fade away.
Fabula vanilla k-cup coffee has a sweet, nutty, chocolate coffee flavor with hints of vanilla. Also, the coffee isn't bitter, which makes it extra delicious. 
Appearance 
One thing you should note is his coffee is a medium roast. Thus, it brings the qualities of medium roast coffee perfectly. 
The coffee's color is deep brown due to perfect roasting. Flavoring actually doesn't affect the coffee color, and the ground coffee remains brownish. 
Besides the color, the coffee has a fine ground to facilitate fast extraction. 
Packaging 
Regarding the packaging, Fabula ensures every K-cup pod has perfect design and sealing. The pods are airtight, which ensures coffee retains its qualities without deteriorating.
The packing involves the use of paper, which is compostable. Thus, once used, the pods are decomposable hence averting pollution.
Apart from the paper pods, the outer bags are compostable. The bags are made from biodegradable materials instead of plastic.
The packages come with 24 K-cup pods each.
Pricing 
Whether you want to buy a single or multiple packs of Fabula vanilla k-cups coffee, the options are available. 
The buy once option allows the purchase of 1 box, 2 boxes, and 3 boxes. They are available at 15% and 25% discount for 2 and 3 boxes respectively.
On the other hand, a more exciting option is subscribing to Fabula coffee. The option allows buyers to enjoy coffee at a higher discount. Subscribe and save has 2 boxes, 3 boxes, and 6 boxes options. 
Each of the packages comes with discounts ranging from 25% to 35%.
On subscribe and save, the program is easy to cancel anytime. Further, there is free delivery at selected intervals. 
Don't buy Fabula Vanilla K-cup coffee if, 
You drink decaf vanilla flavored coffee
For people who don't drink caffeinated coffee, Fabula vanilla coffee pods aren't good for you. The coffee isn't decaffeinated; hence not your choice. 
You don't own a K-cup machine
For the best coffee pod coffee brewing, it is essential to have a machine. You require Keurig K Cup 1.0 & 2.0 Brewers for Fabula vanilla coffee pods. 
Summary 
Fabula vanilla coffee pods will not disappoint if you have the right K-cup machine. They are great and convenient when you want to make a quick coffee brew. With Fabula vanilla k-cup coffee review, you can now enjoy a coffee cup with a button press. 
FAQs
Are the Fabula vanilla medium coffee pods arabica coffee?
Fabula uses arabica coffee beans for all their coffee. Vanilla flavored coffee is pure organic Arabica coffee beans from Peru.
Do coffee pods fit all machines?
K-cups are designed for different machines depending on the brand. Coffee pods don't have universal machine compatibility. 
Are K-cups more expensive?
K-cups are more expensive than bagged coffee. This is due to the cost of production of the materials. However, they are quicker to brew than regular coffee.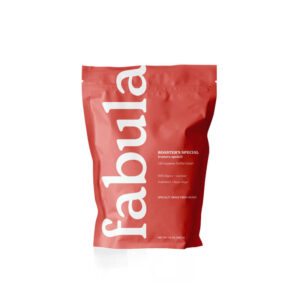 Related Posts:
Fabula Mexico Siltipec Coffee Review
Fabula Chocolate Nut Coffee Review