Hazelnut coffee is one of the most well-known mixes available today. It is a nutritious and tasty beverage made by mixing hazelnuts or syrup with your preferred coffee beans. This article will cover all you need to understand about hazelnut coffee, including why so many people enjoy it.
What is Hazelnut coffee?
Hazelnuts, also known as filberts or cob nuts, are nutrient-dense and high in healthful fats. Alpine monks utilized filbert tree nuts to flavor their coffee before the 1900s, when the term "hazelnut" was coined.
These flavored beans, when brewed, produced a new taste in the beverage popularly called hazelnut coffee.  However, nowadays, hazelnut extracts or syrup are primarily used to add this flavor to the coffee. 
Some roasteries coat coffee beans with hazelnut-flavored synthetic oils shortly after roasting and prior to packaging and shipment to ensure their manufactured brewed packs render a nutty taste to the drinkers.
6 Benefits of Hazelnut Coffee
The peculiar flavor of hazelnut coffee is not the sole reason for its popularity. The following are a few advantages of consuming hazelnut coffee:
For Strong Bones
The manganese in hazelnuts aids in the formation of bones and soft tissues. Additionally, it assists with blood coagulation, osteoporosis, and joint aches.
For Regular Bowel Function
Dietary fiber is essential for healthy intestinal function. Hazelnuts promote digestive health and reduce constipation.
For Weight Loss
Hazelnuts support a healthy metabolism and assist in weight loss as a result. Additionally, it might help you feel fuller for longer.
For Lower Cancer Risk
According to research on cancer prevention, tocopherols reduce the likelihood of developing cancer. This contains alpha-tocopherol, which is present in hazelnuts.
Hazelnut coffee is beneficial for the skin
Who doesn't enjoy pampering their skin? Hazelnuts include vitamin A, vitamin C, and vitamin E, all of which combat wrinkles and fine lines to prevent and postpone the aging process of the skin. Also, Vitamin E hydrates and moisturizes the skin, leaving it silky, radiant, and supple.
Hazelnut coffee can be heart-healthy
Because they are rich in magnesium and omega-9 fatty acids, hazelnuts can help you reduce your cholesterol and increase your blood and oxygen levels.
How to make Hazelnut coffee?
In a saucepan, boil together the coffee, flavored syrup, sugar, and cinnamon. Pour the coffee mixture into cups. In a small dish, combine Nutella and cream and mix until thick. Spoon on top of beverages with care. Now, serve without delay.
Equipment you'll need
 The following Equipment is required to prepare Hazelnut coffee:
The coffee maker of preference
spoon for stirring
Coffee cups resistant to heat
How to Serve Hazelnut Coffee? 
Pour your freshly prepared hot coffee into a coffee cup that can withstand heat. 
Add hazelnut-flavored creamer. 
Add your preferred sweetener to taste, if desired. 
Divide it into two glasses and serve to enjoy the delicious beverage.
FAQs 
Final Words
Hazelnut coffee is among the most famous and delicious beverages, and preparing it at home is easy as long as you follow the proper procedures. 
We hope this post has helped you discover the perfect recipe and provided you with ideas for making a unique coffee with this delicious nut.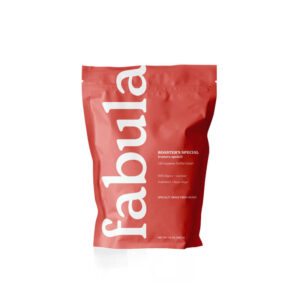 Buy Fabula Hazelnut Coffee & Save up to 35% Today
Hazelnut Coffee Recipe
Course: Drinks
The Hazelnut Coffee Recipe is a homemade version of a famous coffee shop recipe. It is a simple recipe for hazelnut coffee creamer!
Ingredients
Roasted coffee bean- 1oz 

Unsalted hazelnuts (shelled)- ½oz

Milk and your preferred sweetener 

Hazelnut syrup
Directions
Both the coffee beans and the hazelnuts were ground together. For enhanced taste, the nut shells should remain intact. Try for a mixed combination.
Start brewing the coffee by placing the ingredients in the coffee machine. Any brewing device will suffice. However, a French press is an ideal method to extract the natural taste of hazelnuts.
To taste sugar, add milk or vanilla extract. As a healthy option, almond milk should be used.
If additional hazelnut taste is desired in your coffee, add hazelnut syrup.
Nutrition Facts
1 servings per container
---
Calories119
Amount Per Serving% Daily Value *
Total Fat 6g

10

%
Sodium 35mg

2

%
Amount Per Serving% Daily Value *
Total Carbohydrate 17g

6

%

Dietary Fiber 1g

4

%
Sugars 16g

Protein 1g

2

%
* The % Daily Value tells you how much a nutrient in a serving of food contributes to a daily diet. 2,000 calories a day is used for general nutrition advice.
Recommended products
Furthermore, you may use these items to expedite the preparation of hazelnut coffee. Consider the subsequent.