The gigantic coffee house Starbucks is considered the Mecca for all tea and coffee lovers. A reputed list of beverages is available at Starbucks to satiate different palettes. One such newly released beverage is Starbucks honey oatmilk latte.
Released as a part of a dairy-free menu, this beverage is an excellent alternative for vegan beverage lovers. To know more about this aromatically blended drink, keep reading further. Also, check out the copycat recipe at the end.
What is Starbucks Honey Blend?
Honey blend is a Starbucks exclusive syrup used in different iced and hot drinks. The goodness of honey meets the flavorful and exquisite beverages resulting in a tasty cup of pure joy. Honey blend is a flavored syrup at Starbucks that acts as a sweet seasoning for various drinks, including the Starbucks honey oatmilk latte.
Honey blend is a popular substitute for the extra sweet classic syrup in dozens of drinks. Addition of various ingredients with pure honey yields this brown-colored syrup. This syrup enhances the taste and flavors while avoiding excess sweetness in your drinks, be it cold or hot beverages.
What is in Starbucks Honey Blend Syrup?
Warm flavors of honey come alive in the Starbucks honey blend. Made by blending external ingredients with raw honey, this syrup is a taste-good, healthy option compared to other existing syrups. The primary ingredients used in this syrup are honey and water, blended for an appropriate smoothness.
Additionally, potassium sorbate, xanthan gum, citric acid, and natural flavors are included with the base ingredients. The addition of these elements gives the syrup a thick, emulsified consistency. Unlike the classic syrup, the honey blend has a lower sugar level due to the presence of honey.
What Honey Does Starbucks Use for Latte Drinks?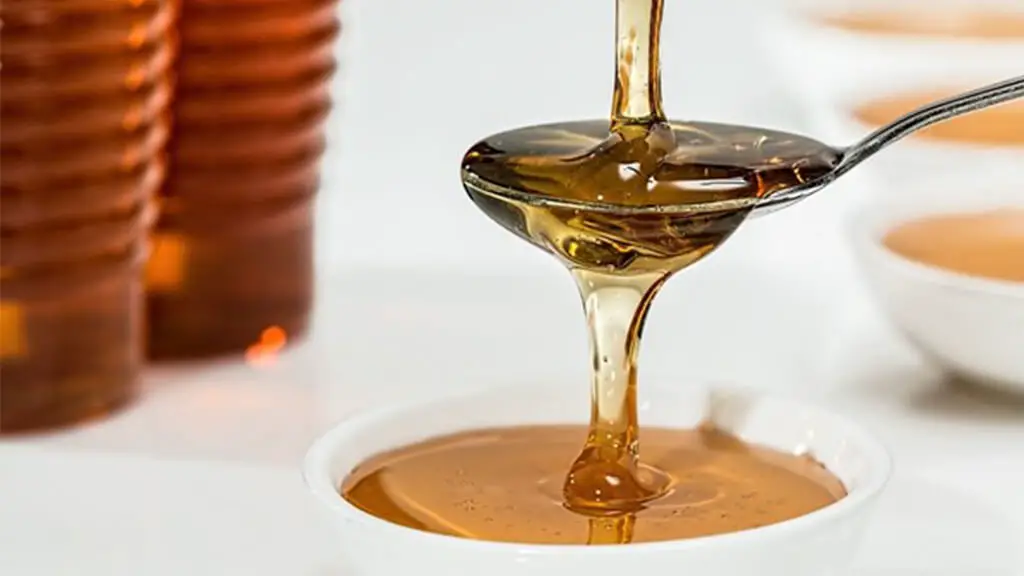 Lattes at Starbucks are thick, creamy, and foggy drinks available in different flavors. Starbucks uses pure honey blended with water and preservatives to make delicious lattes. The honey blend syrup is used as a sweetening syrup in most Starbucks lattes such as oatmilk honey latte, honey almond milk cold brew, etc.
This exclusive honey blend is even used for vegan and dairy-based lattes such as iced honey oatmilk latte at Starbucks. Starbucks has a separate menu for plant-based drinks that use no dairy products.
How Many Calories in an Oatmilk Honey Latte?
The grande-sized serving of oatmilk honey latte has calories measuring up to 270. The caffeine levels consumed in a single serving of grande cup are up to 170mg. In addition, 28g of sugars are included in this foggy latte. The addition of extra toppings and add-ins results in increased calories.
You can also opt for the Starbucks toasted honey topping in your savoring cup of latte to keep the minimum levels of sugars and calories. You can further request the barista to include a single pump of honey blend syrup with oat milk instead of 3.
Frequently Asked Questions:
Let us now look at the most general questions about the Starbucks honey oatmilk latte.
Final Thoughts
When wanting a mild yet powerful cup of caffeinated drink, do consider Starbucks honey oatmilk latte. This subtle tasting delight will make you crave more each time you visit Starbucks.
You can further modify this beverage by requesting the barista for substitute toppings, add-ins, and fewer or more pumps of honey blend syrup. Also, you can opt for an iced latte instead of a hot one by requesting the beverage to be shaken with ice cubes.
Everything You Need to Know About the Starbucks Honey Oatmilk Latte
Course: Drinks
Follow this step-by-step recipe to make a yummy delight of honey oatmilk latte at home. 
Ingredients
For honey blend simple syrup:

½ cup of pure honey

½ cup of water

Xanthan gum

Potassium sorbate

For oat milk:

A cup of soaked rolled oats

2 and ½ cups of water

For honey oatmilk latte:

2-3 spoons of honey syrup

1 cup of oat milk

Boiling water

1-2 teaspoons of blonde espresso

Cinnamon powder (Optional)

Brown sugar (Optional)
Directions
Mix 2 teaspoons of blonde espresso with 3-4 spoons of hot water to make espresso shots.
To make honey syrup, blend ½ cup of pure honey, ½ cup of water, a generous pinch of xanthan gum, and potassium sorbate in a liquid blender.
For homemade oat milk, blend a cup of rolled oats that have been soaked for some time with 2 and ½ cups of water. Then, strain the liquid using a cheesecloth to extract oat milk.
Steam the oat milk in a saucepan. While the milk is steaming, add 2-3 teaspoons of honey syrup in a large cup. Next, add 2 spoons of espresso shots into the mug.
Froth the steamed milk using a milk brother and add it into the mug.
Mix gently and top the beverage with cinnamon powder or brown sugar.
Notes
This drink contains 172mg caffeine.
Nutrition Facts
1 servings per container
---
Amount Per ServingCalories270
% Daily Value *
Sodium 155mg

7

%
Protein 5g

10

%
---
* The % Daily Value tells you how much a nutrient in a serving of food contributes to a daily diet. 2,000 calories a day is used for general nutrition advice.
Recommended Products
Use the following products to recreate the Starbucks honey oatmilk latte recipe perfectly.