Looking for a fun and colorful drink to liven up your next gathering? Barbie Shot recipes are here to save the day! These playful and eye-catching shots are perfect for any occasion, be it a bachelorette bash or a birthday celebration.
With the Barbie Movie's recent release, these viral TikTok-worthy shots have taken the internet by storm, becoming an absolute must-try for all Barbie fans. What's more, they're incredibly easy to make! In this post, we'll unveil three simple recipes for Barbie-inspired shots, each featuring the delightful and creamy Tequila Rose.
Whether you're hosting a girls' night in or craving a pink twist for your next happy hour, these Barbie Shot recipes are guaranteed to dazzle and delight!"
Beach Please Cocktail
Dive into the delightful "Beach Please Cocktail," a DIY Barbie-inspired creation that promises a taste of paradise. This enchanting blend starts with a shot of Tequila Rose, infusing the drink with creamy, smooth notes. Then, as if sun-kissed, a shot of Bailey's Colada cascades on top, adding a tropical twist.
A dreamy pink-hued concoction is the reward – as luscious as it looks. So, whisk yourself away to a beachy paradise, sip by sip, and relish the moment with your Beach Please cocktail!
Ingredients
Tequila Rose
Bailey's Colada
How to make it (step-by-step)
Begin by pouring one shot of Tequila Rose into your glass.
Next, top it off with a shot of Bailey's Colada.
Now, sit back, relax, and savor your Beach Please cocktail!
Life in Plastic Cocktail
The Life in Plastic Cocktail is a delightful Barbie-themed creation that'll make you feel like you're living in a dreamy pink paradise. With a mix of Tequila Rose and cherry vodka over ice, this drink offers a sweet and flirty flavor that's perfect for a fun night with friends.
Serve it up in a chic wine glass and add some playful pink straws or plastic flamingos as decorations to complete the Barbie theme. Cheers to life in plastic—it's absolutely fantastic!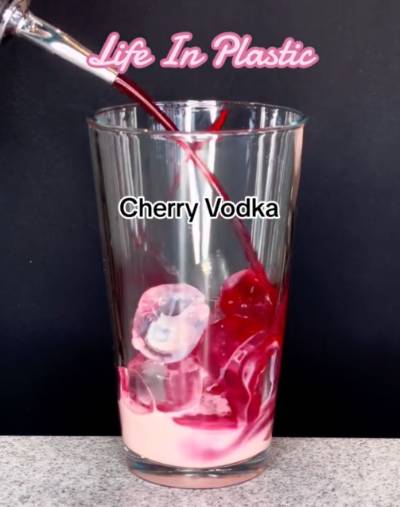 Ingredients
Ice cubes
Tequila rose
Cherry vodka
How to make it (step-by-step)
Fill a shaker with ice cubes.
Pour 1 shot of Tequila Rose over the ice, followed by 1 shot of cherry vodka.
Shake vigorously to blend the flavors.
Strain the mixed drink into a stylish wine glass for a picture-perfect presentation. Enjoy your refreshing Life in Plastic Cocktail!
Malibu Barbie Cocktail
Step into a world of whimsy with the 'Life in Plastic Cocktail,' a soft and inviting pale pink drink perfect for a playful night with friends. This delightful concoction is a magical blend of Tequila Rose and Malibu, resulting in a truly unique and unparalleled flavor experience.
The 'Life in Plastic Cocktail' greets you with a soft hue, instantly catching the eye and adding a touch of charm to any gathering. With a smooth and refreshing taste, the combination of Tequila Rose and Malibu creates a delightful medley that sets it apart from other cocktails.
Indulge in a taste of nostalgia and embrace the magic of this lovely pink concoction at your next get-together. It's a delightful sip that's sure to leave you feeling fabulous!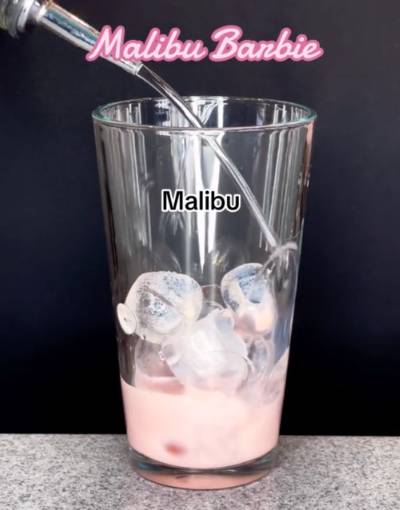 Ingredients
Ice cubes
Tequila Rose
Malibu
How to make it (step-by-step)
Fill the shaker with ice cubes.
Add 1 shot of Tequila Rose.
Follow it up with 1 shot of Malibu.
Shake the mixture vigorously and then pour the delightful concoction into a wine glass.
Tips and Tricks for the Perfect Barbie Shot
Achieving the perfect Barbie Shot requires a few essential tips and tricks to ensure stellar results. Here are some key things to keep in mind:
Use quality ingredients: The key to any good cocktail is using quality ingredients. For the Barbie Shot, this means using a good quality Tequila rose, vodka, baileys, and Malibu.

Chill your ingredients: It's important to chill your ingredients before making the Barbie Shot. This will help ensure that the shot is cold and refreshing.

Use a shaker: To get the perfect mix of flavors, it's important to use a shaker. This will help mix the ingredients together and create a smooth, well-balanced shot.

Strain your shot: To get rid of any ice or pulp, it's important to strain your shot before serving it. This will help ensure that the shot is smooth and easy to drink.

Use a fun glass: The Barbie Shot is a fun, colorful drink, so it's important to serve it in a fun, colorful glass. Consider using a shot glass with a fun design or color to make the drink even more enjoyable.
>> Check Best Barbie Movie Cups & Reviews
Pairing Suggestions for Barbie Shots
There are a few pairing suggestions you might want to consider. Whether you're hosting a party or just enjoying a night in, these ideas will help you find the perfect match for your drink.
Fruity Desserts
Barbie shots are known for their fruity and sweet flavors, so it's no surprise that they pair well with desserts. Consider serving your shots with some fruit-based desserts, such as:
Fruit tarts
Berry sorbets
Peach cobbler
Pineapple upside-down cake
These desserts will complement the flavors of your Barbie shots and provide a refreshing and sweet finish to your meal.
Light Appetizers
If you're serving Barbie shots as a pre-dinner drink, you might want to pair them with some light appetizers. This will help balance out the sweetness of the shots and provide some savory flavors to your meal. Some ideas for light appetizers include:
Bruschetta
Caprese skewers
Shrimp cocktail
Vegetable spring rolls
These appetizers will provide a refreshing and light start to your meal, making it the perfect way to kick off your evening.
Summer BBQs
Barbie shots are also a great addition to any summer BBQ. They pair well with grilled meats and vegetables and can help cool you down on a hot day. Consider serving your shots with some of the following BBQ favorites:
Grilled chicken skewers
BBQ pulled pork sliders
Grilled corn on the cob
Watermelon salad
These dishes will complement the fruity flavors of your Barbie shots and provide a refreshing and satisfying meal for your guests.
Final Words
You now have a fantastic array of Barbie Shot recipes to delight your guests at the next party! These vibrant and playful drinks are bound to be a hit, whether your guests are Barbie enthusiasts or not.
For other fun drink ideas, consider exploring hangover drinks to help you recover after a night of partying with Barbie and Ken.
When crafting your Barbie Shots, let your creativity soar. Add extra fruit or juice to infuse a unique twist, or venture into various types of liquor to discover your ideal blend.
With these savvy tips and tricks, you'll become the party's heart and soul in a flash!