Where is a good place to grab a cup of coffee in Eugene? To some, this might seem like an easy question to answer, but for newcomers or visitors, it can be overwhelming when you're in town and looking for a great cup of coffee. Luckily, I've compiled a list filled with the best coffee shops in Eugene.
Eugene has a lot of awesome coffee shops that are popular with everybody from college students to entrepreneurs. Which one is the best? Read on to find out.
10 Best Coffee Shops In Eugene
Wandering Goat Coffee Co.
Tailored Coffee Roasters
Meraki Coffee Co. 
Coffee Plant Roaster
Equiano Coffee
Vero Espresso
Magpie Coffee Shop
Theo's Coffee House
Dark Pine Coffee
Wandering Goat Coffee Co.
Here's a funky-themed artisanal coffee roaster and cafe that serves pastries, soups, beer, and hosts live music on the weekends. They offer many substitute milks in addition to genuine milk, and the majority of their menu items are vegan. 
Customers and the environment are a little quirky. Although they make strong coffee cocktails, their coffee is great. My big quad-shot latte was smooth and tasty.
Location: 268 Madison St, Eugene, OR 97402, United States
Working Hours: Monday-Sunday 8am-2pm
Website: wanderinggoat
Phone: +1 541-344-5161
Tailored Coffee Roasters
A contemporary espresso bar serving and selling beans that were roasted in-house. There are snacks & outdoor seating options available. My favorite coffee shop in Eugene may have just changed. I adore the atmosphere and original hip-hop motif. 
They apparently roast their own coffee beans in addition to having some really cool art and delectable meals. I think the Mrs. West is my favorite avocado toast to date. The mood is excellent. The employees are really polite. You would adore this location.
Location: 291 E 5th Ave, Eugene, OR 97401, United States
Working Hours: Monday-Sunday 8am-3pm
Website: tailoredcoffee
Phone: +1 541-345-2261
Meraki Coffee Co.
It is very lovely here. It's compact but cozy. This is a coffee shop in Eugene that you must visit if you enjoy going there. Both the coffee and the avocado toast are very amazing. My sister had a lavender coffee, while I had a honey coffee. We both felt quite satisfied when we left this coffee shop and were eager to come back. 
There were many options for tea, coffee, and tiny breakfast plates, and the space was quite clean. There were also adorable couches and tables for guests to sit on.
Location: 1203 Willamette St. Suites 110 & 120, Eugene, OR 97401, United States
Working Hours: Monday-Friday 7am-5:30pm, Saturday-Sunday 8am-5:30pm
Website: drinkmeraki
Phone: +1 541-844-0254
Coffee Plant Roaster
This café has a spacious, industrial-style atmosphere. There are a lot of food options here, and every dish I tasted was delicious and well-prepared. The coffee was also excellent. They offer vegan and gluten-free choices. 
You can witness the coffee beans being roasted in-house right next to where you can sit, and the entire coffee shop will smell fantastic during this process.
Location: 2836 W 11th Ave, Eugene, OR 97402, United States
Working Hours: Monday-Sunday 7am-5pm
Website: coffeeplantroaster
Phone: +1 541-359-1505
Equiano Coffee
Unique single-varietal coffees are available from Equiano Coffee, with a complete espresso bar and a wide selection of whole bean alternatives. The espresso there is the best in Eugene; it is flavorful and served hot. 
The atmosphere in this cafe is calm, and I adored the patio outside, which had gorgeous flowers. The area outside the cafe is a nice place for meetings or chatting with friends.
Location: 300 Blair Blvd, Eugene, OR 97402, United States
Working Hours: Friday-Sunday 9am-4pm
Website: equianocoffee
Contact: [email protected]
Vero Espresso
This welcoming coffee and smoothie café located in a cute house with a porch serves top-quality breakfast and lunch to its customers. There are a few indoor tables and a few outside tables in the cafe for seating. 
Excellent gluten-free and vegetarian options are available. The atmosphere is fantastic in addition to the food and drink. The personnel are courteous. You ought to go!
Location: 205 E 14th Ave, Eugene, OR 97401, United States
Working Hours: Monday-Sunday 7am-6pm
Website: veroespressohouse
Phone: +1 541-654-0504
Magpie Coffeeshop
I've always been a huge fan of their pies and coffees, but this time I tried something new and had a seasonal tea latté alongside one of their adorable ciders, and the experience was still fantastic! 
The café offers a terrific setting for a coffee date with awesome tea options in a tidy, spacious, and pleasant setting! There is also a lovely terrace where you can sit outside and bring your dog.
Location: 590 Pearl St suite 110, Eugene, OR 97401, United States
Working Hours: Monday-Saturday 7am-5pm
Website: magpiecoffeeshop
Phone: +1 541-743-5554
Theo's Coffee House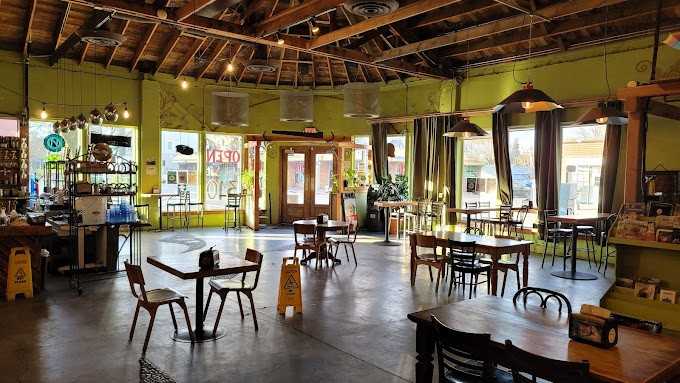 In Eugene, Theo's has consistently been a dependable cafe. Private chats are actually possible here due to the room's vastness. The scones and coffee are consistently delicious, and the staff is always friendly and accommodating. 
They have always had an accessible piano that occasionally gets used by some folks. The building has a fantastic appearance and a calm atmosphere. Delicious, plentiful, inexpensive, and reasonably priced food is served, you would want to pay this cafe a visit. 
Location: 199 W 8th Ave #1, Eugene, OR 97401, United States
Working Hours: Monday-Sunday 7am-1pm 
Phone: +1 541-344-6491
Dark Pine Coffee
Locally owned Dark Pine is a coffee house with a focus on both classic and third-wave espresso drinks. There is a sizable variety of tastes available, and each month a special is created by the baristas to coincide with the season. Visit today to unwind with a drink in a welcoming Pacific Northwest setting. 
During my first visit, I was quite impressed! Very clean surroundings, pleasant and helpful personnel, plus the chai latte was simply outstanding! Without a doubt, I'll be back!
Location: 954 Pearl St, Eugene, OR 97401, United States
Working Hours: Monday-Saturday 6am-6pm, Sunday 6am-5pm
Website: darkpinecoffee
Phone: +1 541-868-2895
Black Rock Coffee Bar Eugene
This is a modern coffee shop franchise offering smoothies as well as traditional, specialized, and iced espresso drinks. It's also a spot where you can savor delectable coffee, sodas, and tea while satisfying your appetite with something delightful like a cinnamon roll. It's a welcoming space that's generally quiet and run by stylish employees. 
For those who need to work, there are also outlets for your electronic devices. For those of us who enjoy flavored lattes, they have a wide assortment of syrups and a quality assortment of teas. Free wifi and a spotless environment are add-ons that you'd appreciate. 
Location: 2021 River Rd, Eugene, OR 97404, United States
Working Hours: Monday-Sunday 5am-9pm
Website: br.coffee
FAQs
Where is Eugene? 
The American state of Oregon contains the city of Eugene. Around 50 miles (80 km) east of the Oregon Coast, it is situated in the southernmost point of the Willamette Valley, close to the meeting point of the McKenzie and Willamette rivers.
Which coffee shops have vegan options in Eugene?
Acorn Community Cafe,Cornbread Café, BHeavenly, and Viva! Vegetarian Grill are some of the best cafes in Eugene that have vegan options. 
Which Coffee shops in Eugene have parking space? 
Coffee Plant Roaster, and Park Street Cafe are two of my favorite coffee shops in Eugene with great parking space. 
Conclusion
Eugene is one of the biggest cities in Oregon and has plenty to offer visitors and residents. There are a number of excellent coffee shops and cafes in Eugene, but we're going to focus on ten that are worth checking out on your next visit to Eugene. 
 If you're in the Eugene area, you should check out each of these coffee shops. They offer a variety of different services and atmospheres, so there's something for everyone.