Are on the lookout for the best coffee shops in Oahu? Keep reading to find out which ones are the absolute best.
Coffee is the beverage choice for millions of people to kick start their day. If you are visiting Oahu or anywhere in Hawaii, you would have known that the island is home to the best grown coffee and definitely some of the best coffee shops. As a visitor, finding the best coffee shops in Oahu can be nerve-wracking and I have compiled this article to give you a guide on ten of the best cafes in Oahu that sell the best coffees. 
If you have had experiences with bad coffee shops, you are definitely going to prioritize your search for a good coffee shop. No one wants to have their day ruined by patronizing a coffee shop that delivers low-quality, bad-tasting coffee. Want to ensure you take only the best coffee when you are at Oahu, then I got you covered. 
List of Best Coffee Shops in Oahu
The following are some of the best places to buy coffee in Oahu. They have a long history of serving fine-tasting coffee and I have tried and confirmed each of them:
Island Vintage Coffee 
Local Joe
Kona Coffee Purveyors 
Morning Glass Coffee + Cafe
Arvo Cafe 
Ars Cafe and Gelato
Halekulani Bakery and Restaurant 
Coffee Gallery
Greenworld Coffee Farm 
Hawaiian Aroma Caffe
With the many coffee shops on the island, it can be difficult to decide what the best place to buy coffee in Oahu is. Each of the aforementioned coffee shops have distinct features and I have carefully highlighted them so that you can make an informed decision about where to buy coffee in Oahu. 
Island Vintage Coffee
I am starting with the Island Vintage Coffee shop because they do not just sell one of the best gourmet coffees but they back it up with good food. Yes, very good food. Instead of the regular waltzing into a coffee shop and getting a coffee, at Island Vintage Coffee shop, you can get a full meal from a wide variety of local dishes featured at the cafe. 
If you want a coffee shop that gives good coffee and a lovely treat to begin your day, then visit Island Vintage Coffee. Their food menu is simply delectable. It enhances the start of your day, providing the nutrition you need to be productive. 
The coffee shop is open from 8am to 8pm Mondays to Saturdays and on Sundays from 8am to 7pm. You can order online at https://www.islandvintagecoffee.com/ or visit the coffee shop at 1450 Ala Moana Boulevard #1128 Honolulu. For inquiries, call 808.941.9300 or follow them on Instagram. 
Local Joe 
The Local Joe coffee cafe is an exceptional place to buy coffee in Oahu and this is mainly because of the local experience you get when you visit the shop. I particularly love Local Joe for its outdoor seating setting which allows you to take in nature as you sip your cup of coffee. They have an in-door roasting experience that ensures you are getting one of the finest coffees on the island. 
Among the people living in Oahu, Local Joe is quite popular. And aside from its good coffee variety, I believe their subscription service is one of the reasons it is a lovely choice. Like Island Vintage Coffee shop, Local Joe offers meals to follow your coffee. They are usually breakfast burritos, cheese bagels, fruit salads, vegetable wraps, muffins, sandwiches, and more. 
Local Joe is located at 45 North King Street Suite 110 Honolulu, Hawaii 96817. The cafe is open from 6:30am to 5pm on Mondays, 6am to 2pm from Tuesdays to Fridays, and 8am to 2pm on Saturdays and Sundays. Call 808-536-7700 or send an email to [email protected] for further inquiries. 
Kona Coffee Purveyors 
The Kona Coffee Purveyors cafe is undoubtedly one of the best coffee shops in Oahu. What makes Kona Coffee Purveyors unique and different from the other cafes in Oahu is that its coffee has the most outstanding taste and this is proven. The excellence adopted in processing and roasting Kona coffee at the Kona Coffee Purveyors is unmatched in all of Kona districts and you can be sure you've never tasted a coffee like the one sold in this cafe. 
To go with the delectable coffees sold at Kona Coffee Purveyors, the cafe offers pastries. If you wouldn't mind, both pastries and coffee go well. You can try it out when next you need a coffee start or are visiting Oahu. 
Kona Coffee Purveyors is located at International Marketplace, Kuhio Mall Entrance 2330 Kalakaua Ave #160 Honolulu, Hawaii, 96815. The cafe is open from Mondays to Sundays from 7am to 4pm. You can call 808-450-2364 or connect with the cafe via Instagram. 
Morning Glass Coffee + Cafe
I am adding the Morning Glass Coffee + Cafe because it is a place to buy coffee in Oahu when you are going with a date. They seem to have a welcoming environment for people who want to go on lunch dates, sip coffee, and enjoy some treats. The only downside I have with this cafe is that it closes early and if you are going for lunch, it should be brunch – something you eat between 11am to 1pm. 
Morning Glass Coffee + Cafe accompanies their coffees with treats. There are a couple of good treats on the cafe's menus that you can choose with your coffee while on your date. The cafe is located at 2955 East Manoa Road, Honolulu, HI 96822 and is open every day of the week except on Mondays from 8am to 2pm. For inquiries, please call (808) 673-0065 or follow on Instagram @morningglasscoffee.
Arvo Cafe 
Arvo Cafe is on this list of cafes in Oahu because of its beautiful in-house layout and design. If you are looking for where to buy kona coffee in Oahu and take photos and videos to share on your Instagram and Facebook. There are two locations where Arvo is located. The one in Oahu is located at 324 Coral St. Honolulu, HI 96813. Arvo has a wide selection of food, coffees, and drinks to choose from. 
At Arvo, you are getting food, drinks, and a lovely decor to make your stay memorable. You can order anything from lattes to cappuccinos, hot/iced teas, syrups, lemonades, burgers, puddings, salads, meatballs, and much more. 
For more information, visit https://www.arvocafe.com/ or follow them on IG: @a_r_v_o. 
Ars Cafe and Gelato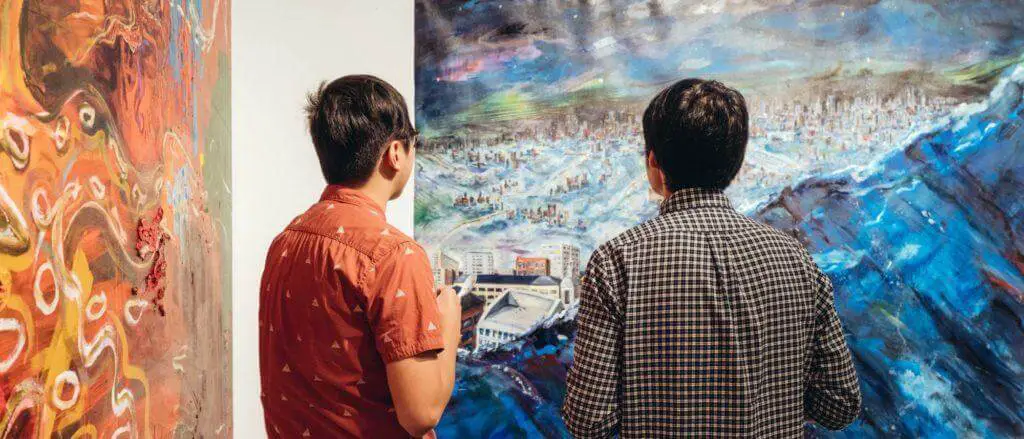 The Ars Cafe and Gelato is a mix of art and coffee. I know that people love other things aside from coffee and if you are an art lover and would not mind a place where both passions meet, the Ars Cafe and Gelato is a cool spot to visit. The cafe seeks to provide top-quality coffee and a platform where people feel inspired via its Art Gallery. I am not an art enthusiast but I know good art when I see one and Ars Cafe showcases some of the best in Oahu. 
Another brilliant offer at Ars Cafe is their homemade gelato. They are healthy food choices made from organic materials and cane sugar. The cafe is open from 6:30am to 4pm from Mondays to Thursdays, 6:30am to 8pm on Fridays and Saturdays, and 8am to 6pm on Sundays. It is located at 3116 Monsarrat Ave. Honolulu, HI. Online orders can be placed at www.arscafe.net. 
Halekulani Bakery and Restaurant
You definitely know why Halekulani Bakery and Restaurant is on this list of cafes in Oahu – the pastries, Yes! Halekulani does not only serve lovely coffees but their pastries and other delicacies are awesome. The cafe is labeled the first branded Food and Beverage outlet outside of Halekulani and their long standing history is backed up with their current provisions. 
I am sure you won't be able to resist the HKBR Cold Brew which is Halekulani's version of the latest trend in coffee brewing. Halekulani Bakery and Restaurant is located at 2199 Kalia Road, Honolulu, HI 96815 and is open daily from 7am to 6pm. For further inquiries, send an email to [email protected]. 
Coffee Gallery 
Coffee Gallery Hawaii, established on the North Shore of Oahu and named one of Hawaii's premier coffee roasters, is committed to cultivating and delivering exquisite coffees that will energize your mind, delight your senses—and make you feel great. 
Coffee Gallery is committed to producing only the best quality coffee and food, harvesting and selecting only the best beans from local coffee plantations in Oahu, Maui and Kona. They also serve delicious and nourishing granola and offer premium mugs and accessories in its shop. The cafe is located at 66-250 Kamehameha Hwy. Haleiwa, HI 96712 and is open from Mondays to Sundays from 6:30am to 6pm. On Christmas day, the cafe is open from 7:30am to 2:30pm. 
To learn more, visit https://www.coffee-gallery.com/. 
Green World Coffee Farm 
Another incredible place to buy coffee in Oahu is Greenworld Coffee Farm. When I visited, I discovered it is a great place to buy coffee products as souvenirs. From t-shirts, face caps, and coffee bags, you will find ideal gifts for others at Green World Coffee Farm. 
Their coffee is incredible and I recommend it. Both the souvenirs you get and the coffee they offer are great stuff. The coffee shop is located at 71-101 Kamehameha Hwy, Wahiawa HI 96786 and is open Mondays to Fridays from 7am to 5pm and Saturdays and Sundays from 7am to 6pm. They are on Instagram @greenworldcoffeefarm or you can visit www.greenworldcoffeefarm.com. 
Hawaiian Aroma Caffe
Last but certainly not the least in this review of best coffee shops in Oahu is the Hawaiian Aroma Caffe. This café has been recognized for their extraordinary custom roast. The roast blends traditional old-world Italian methods with contemporary western techniques, combined with the passionate Hawaiian aloha spirit.
You can get a decent breakfast with coffee at the Hawaiian Aroma Caffe as you start your day. Visit https://www.hawaiianaromacaffe.com/ to check out any of the cafe's locations near you. I will recommend The Gallery Waikiki where you can enjoy your coffee and art experience. 
FAQs
Final Thoughts
The best coffee shops on Oahu, to me, are those that strike a balance between atmosphere, careful consideration of quality and detail, and hospitality. These traits are hard to find in one place, but that's what makes them the cream of the crop. Whatever your fancy—be it an impressive cup of coffee or an uplifting zen environment— the shops listed have got you covered. 
Sure you would like them. Happy Aloha.