Looking for the best coffee shops in Tacoma? I can totally relate! I love coffee, and you will find me at that local boutique roaster's shop pretty much every day. While most people think coffee is coffee, there are actually lots of differences in roasting techniques and brewing methods that change the resulting taste significantly.
I had an extra hour one day, so I decided to check out the top coffee shops in Tacoma with a mission to find something unique. Here are some of my findings and recommendations.
10 Best Coffee Shops In Tacoma
Lift Bridge Coffee
Anthem Coffee & Tea
Cosmonaut Coffee Co
Red Elm Cafe
McDuff's Cafe
Bluebeard Coffee Roasters
Bostwick Cafe
Lux Perpetua Coffee
Gravity Coffee
Coffeezaun Espresso
Lift Bridge Coffee
A great cafe serving delicious coffee, with helpful employees, and a nice seating area outside in the courthouse's main hallway is Lift Bridge Coffee. They share the space with the postal service and a few other businesses, creating a distinctive coffee shop atmosphere. 
Insanely tasty pastries are offered in this cafe alongside fantastic coffee options. If you are looking for downtown Tacoma coffee shops, this is one!
Location: 1102 A St #215, Tacoma, WA 98402, United States
Working Hours: Monday-Sunday 7am-4pm
Website: courthousesquaretacoma
Phone: +1 253-326-1354
Anthem Coffee & Tea | Downtown Tacoma
This trendy coffee cafe features inventive flatbread pizzas & espresso drinks on its menu. You'll adore each and every sip of the delicious cappuccino. The atmosphere is pleasant and there is a beautiful view of the rivers. The morning burrito is another item to try; it is filling and delicious.
Location: 1911 Pacific Ave, Tacoma, WA 98402, United States
Working Hours: Monday-Sunday 7am-4pm
Website: myanthemcoffee
Phone: +1 253-572-9705
Cosmonaut Coffee Co
Enjoy baked pastries, tea, coffee, and espresso drinks in a relaxed cafe with quirky furnishings and a patio. They take great care to execute "precise shots." 
The cornerstone of this cafe is the use of premium micro-roasted farmer-friendly coffees, small-batch artisanal syrups, authentic chai, and organic loose-leaf tea with fairly sourced ingredients.
Location: UPSTAIRS, 817 Division Ave, Tacoma, WA 98403, United States
Working Hours: Monday-Sunday 8am-2pm
Phone: +1 253-254-5052
Red Elm Cafe
Red Elm Cafe is a family-friendly eatery that offers breakfast, lunch, and coffee drinks in a modest counter-serve area with a play area for children. The sandwiches are pretty delectable and are available for very reasonable pricing of $5 to $6. The vegan waffles are tasty, crispy, and substantial. On request, they'll even prepare a vegan chai latte.
Location: 1114 M.L.K. Jr Way, Tacoma, WA 98405, United States
Working Hours: Monday-Saturday 7am-3pm, Sunday 8am-3pm
Website: red-elm-cafe.square
Phone: +1 253-327-1791
McDuff's Cafe
Looking for cute coffee shops in Tacoma wa? Here's one. The lovely Highlands Golf course is home to McDuff's Cafe. They provide a heated outdoor patio that is available all year. This is the ideal location for a party, meeting, or catch-up with friends! 
The staff provide first-rate service, and the owner was incredibly friendly and welcoming! The exterior and interior fireplaces are both lovely touches. The golf course is a beautiful sight to behold. 
Location: 1400 N Highlands Pkwy, Tacoma, WA 98406, United States
Working Hours: Monday-Sunday 7am-5pm
Website: mcduffscafe
Phone: +1 253-301-0163
Bluebeard Coffee Roasters
House-roasted beans, an espresso bar, and pastries are available at this independent coffee shop in a renovated structure. The parking is the only thing that's a little difficult to find, but the coffee is pretty good here. 
The environment is pleasant, although perhaps a little busy on some days. Both the staff and the coffee are wonderful regardless.
Location: 2201 6th Ave, Tacoma, WA 98403, United States
Working Hours: Monday-Sunday 7am-5pm
Website: bluebeardcoffee
Phone: +1 253-272-5600
Bostwick Cafe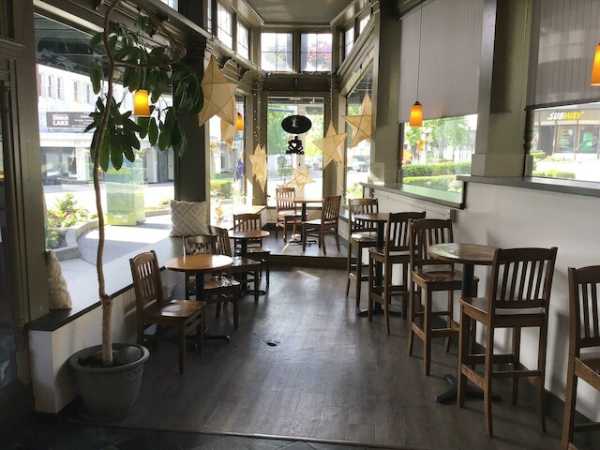 I'm glad the current proprietors of this locally owned coffee business have maintained the atmosphere that has pervaded this location for more than 20 years. The coffee is good, and the service is pleasant. Every time I go, I make sure to try some espresso shots. 
With a private meeting space that can accommodate 20 or more people, this location is excellent for business gatherings. Excellent for children as well! They also offer fast Wi-Fi.
Location: 764 Broadway, Tacoma, WA 98402, United States
Working Hours: Monday-Saturday 7am-5pm, Sunday(closed)
Website: bostwickcafetacoma
Phone: +1 253-302-5296
Lux Perpetua Coffee
Here's an excellent locally owned coffee shop with a welcoming atmosphere serving espresso, tea, pastries, and soft drinks in McKinley Hill, Tacoma. A decadent chocolate cupcake went perfectly with the Manifesto coffee I drank. 
The friendliest baristas always welcome you as soon as you arrive. Having coffee with friends at Lux Perpetua is a delightful experience. In addition, the store is spotless and has free internet.
Location: 3535 McKinley Ave, Tacoma, WA 98404, United States
Working Hours: Monday-Sunday 7am-4pm
Contact: Email
Gravity Coffee – Tacoma/Fircrest
Here is one of Tacoma's top coffee shops, serving excellent lattes. Although I enjoyed everything I ate here, the salted caramel macchiato is my fave. 
This cafe offers a wide variety of delicious coffee, smoothie, and energy drink alternatives. Despite being quite expensive, their coffee is nonetheless excellent.
Location: 4918 Center St, Tacoma, WA 98409, United States
Working Hours: Monday-Sunday 4:30am-8pm
Website: gravitycoffee
Phone: +1 253-447-8740
Coffeezaun Espresso
A fantastic coffee shop for vegan beverages and foods is Coffeezaun Espresso! There are several vegan drink options available there (not only plant-based milks), and the baristas are all quite nice. 
They provide breakfast burritos, morning sandwiches, vegan raspberry bars, seasonal pumpkin bars, and more! In conclusion, this is probably the best coffee shop ever for sandwiches and desserts that are vegan.
Location: 4518 N Pearl St, Tacoma, WA 98407, United States
Working Hours: Monday-Friday 5:30am-6pm, Saturday 7am-6pm, Sunday 7am-5pm
Contact: Email
FAQs
Are there coffee shops hiring in tacoma wa?
Yes, there are a lot of coffee shops hiring in Tacoma Wa, availability of jobs can change at any time, if you are looking for a job as a barista or staff check here for more info. 
Which tacoma wa coffee shops have Wifi?
Lift Bridge Coffee, Manifesto Coffee, and Starbucks are just a few cafes in Tacoma that offer free wifi for their customers. These places have fast and reliable wifi. 
Where is Tacoma Wa?
The provincial capital of Pierce County is Tacoma in the state of Washington. It is a port city that is located along Puget Sound in Washington, 58 miles (93 km) northwest of Mt Rainier National Park and 31 miles (50 km) northeast of Olympia, the state capital.
Conclusion
While there aren't a ton of options here, we can vouch for Lift Bridge Coffee. They've got a nice selection of drinks (and they know how to make them well). Gravity Coffee is also worth checking out—their coffee is very high quality and the quality of service is high as well. We hope this list helps you find the best coffee shop in Tacoma for your needs (and if we missed your favorite place, let us know in the comments—we'd love to check it out).