Scottsdale is known for its beautiful climate and many visitors. With all of these visitors comes a large amount of people looking for a great coffee shop. When it comes to coffee, some people are willing to go the extra mile. Scottsdale is also home to some of the best coffee shops in the country, and they have developed a reputation for their awesome "dark brews." With so many options, though, it can be hard to pick out one place from another.
Most coffee shops also have a full bar and provide alcoholic beverages including drinks such as wine and beer. Coffee shops in Scottsdale tend to be focused on the premium coffee experience.
10 Best Coffee Shops in Scottsdale
Below are 10 best coffee shops in Scottsdale:
Jojo Coffeehouse
Yellow Spruce
Schmooze
Alo Cafe
Press And Coffee Roasters
Morning Squeeze
Street Brew Coffee
Mythical Coffee (North)
Sip Coffee And Beer House
Renegade Coffee Company
JOJO Coffeehouse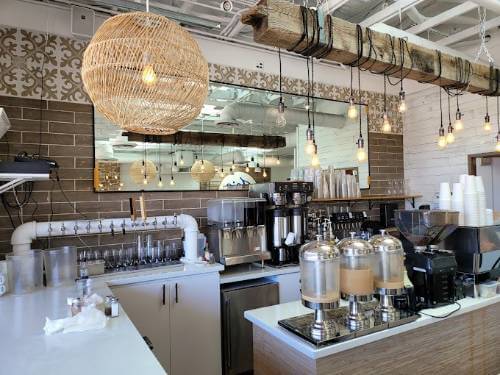 Modern breakfast and brunch establishment JOJO Coffeehouse is well-known for its handcrafted farm to table breakfast dishes, distinctive coffee and mimosa flights, fresh cold brewed teas, and other beverages.
In this unique, locally owned restaurant, you can have delicious food while listening to live coffeehouse music of all genres. This is one of the best old town scottsdale coffee shops. 
Location: 3712 N Scottsdale Rd Suite 110, Scottsdale, AZ 85251, United States
Working Hours: Friday-Saturday 7am-3pm, Monday-Thursday 7am-2pm
Website: jojocoffeehouse
Phone: +1 480-907-6100
Yellow Spruce
Yellow Spruce is a symbol of their individual beginnings, which started in the Colorado pines and are firmly planted in the Arizona desert. Both for pleasure and for work, their travels have carried them across the globe.
The lone spruce twig in their emblem, which is encircled by yellow and green, serves as a reminder of the locations they call home. The main qualities of this coffee shop are its superb gelato and friendly employees. It also has WiFi. Yellow Spruce is great if you like sweet things.
Location: 3902 N Brown Ave #101, Scottsdale, AZ 85251
Website: Visit@yellowsprouse
Social media: Instagram/ Facebook / Twitter
Schmooze
Schmooze is in a lovely location, and their pastries and coffee are excellent. Bring your laptop and work there, or just stop over on a sunny afternoon after riding your bike. Schmooze bar and breakfast is a creative concept that combines a full restaurant and bar with a cutting-edge co-working atmosphere on the back patio, generating a vibrant energy of business people, entrepreneurs, and restaurant patrons.
Location: 4222 N Marshall Way, Scottsdale, AZ 85251, United States
Working Hours: Saturday-Sunday 8am-3pm, Monday-Friday 7:30am-3pm
Website: schmoozescottsdale
Phone: +1 480-999-2822
Alo Cafe
Alo Cafe is your ticket to pleasure, whether you're there for breakfast, brunch, lunch, or simply a cup of coffee. Along with a wide selection of meals, this restaurant's menu offers classic American comfort foods including, omelets, waffles and sandwiches.
For those who enjoy French toast, there are various kinds available, including the famous cornflake-crusted variety. Another local favorite is the pesto omelet, which is topped with tomatoes,  mozzarella, and fresh eggs that are fluffy. 
Location: 6960 E 1st St, Scottsdale, AZ 85251, United States
Working Hours: Saturday 7am–2pm, 3–7pm Sunday 7am–2pm Monday 7am–2pm Tuesday 7am–2pm, Wednesday 7am–2pm, Thursday 7am–2pm, 3–7pm Friday 7am–2pm, 3–7pm
Website: alocafeaz
Phone: +1 480-878-4172
Press Coffee and Roasters
Any person who enjoys coffee should visit Press. If you're feeling daring, try one of their coffee shakers, which come in interesting flavors like peanut butter or their excellent cold brew. Their Roastery offers a range of seating options to suit your needs, including calm second-floor space, casual bar and patio seating, and productive table seating.
Location: 7135 E Camelback Rd #145, Scottsdale, AZ 85251
Contact: [email protected]
Website: visit@presscoffee
Social media: Facebook/ Twitter/ Instagram 
Morning Squeeze
This coffee shop, which is in the center of Old Town Scottsdale, has a terrace and an outdoor bar with views of Scottsdale Road. The menu at Morning Squeeze Scottsdale has the ideal balance of traditional breakfast items and contemporary brunch fare, as well as inventive cocktails and coffee beverages. The entire family can join in on the cool ambience because the terrace is dog-friendly.
Location: 4233 N Scottsdale Rd, Scottsdale, AZ 85251, United States
Working Hours: Monday-Sunday 7am-2pm
Website: morningsqueeze
Phone Number: +1 480-945-4669
Street Brew Coffee 
Unmatched rich and powerful coffee drinks are what Street Brew is famous for! Both fresh pastries and Wi-Fi are provided. The excellent espresso and welcoming atmosphere at Street Brew are outstanding qualities. You and other coffee enthusiasts will undoubtedly concur that the large mural that reads "Life Begins After Coffee" inside Street Brew is accurate.
While you unwind in their moody black-and-white interior, you'll enjoy their cappuccinos and delectable pastries. But don't worry, the staff is far from grumpy and will make you feel perfectly at home. This is one of the cute coffee shops in Scottsdale.
Location: 10634 N 71st Pl, Scottsdale, AZ 85254
Website: Visit@streetbrew
Contact: [email protected]
Social media: Instagram/ Twitter
Mythical Coffee (North)
Another ideal place to have coffee in Scottsdale is Mythical Coffee. The restaurant serves a variety of cuisine and drinks and has a highly fun atmosphere. Although their breakfast burrito is fantastic, the Bro Shake "Amazing" was one of my favorites. I believe that everyone who enjoys coffee should experience this atmosphere.
Location: 10269 N Scottsdale Rd, Scottsdale, AZ 85253, United States
Working Hours: Monday-Sunday 7 am-3pm
Phone: +1 480-278-4499
Sip Coffee and Beer House
Do you enjoy nice beer and coffee? Suitable! You should go to Sip Coffee and Beer House. There is wifi, which is a plus. House-brewed beers, artisan drinks, and pretzels are some of the restaurant's noteworthy snacks. Sip has a cozy atmosphere with live performances that you'll adore.
And if that still doesn't convince you, stop by for a fresh pretzel! You could also sip on a cocktail. The best features are the drive-thru, iced coffee, and non-coffee drinks.
Location: 3617 N Goldwater Blvd, Scottsdale, AZ 85251
Contact: (480) 625-3878
Opening Hours: Sun-Thur 7 AM – 9 PM, Fri & Sat 7 AM – 12 AM
Website: Visit@sipcoffeeamdbeer
Contact: [email protected]
Social media: Facebook/ Instagram/  Yelp
Renegade Coffee Company
In the Park Scottsdale neighborhood, Renegade Coffee Company serves excellent locally roasted coffee and tea from Cult Coffee Roasters. If you don't feel like drinking coffee, they also have Red Bull Infusions and local Kombucha from Wild Tonic on tap.
In addition to having a fantastic breakfast and lunch menu, they also serve smoothies. Renegade Coffee is known for its welcoming ambiance, delectable cuisine and drinks, and charming decor.
Location: 5959 N Granite Reef Rd, Scottsdale, AZ 85250, United States
Working Hours: Monday-Friday 6am – 6pm, Saturday-Sunday 6:30am – 5:30pm
Website: coffeeshopscottsdale
Phone: +1 480-809-6284
FAQs
Conclusion
When it comes to the best coffee shops in Scottsdale, there's a better-than-good chance you've heard of all of them. Top quality is inherent in any great business. A coffee shop without the best quality will fail to attract significant patronage, as reflected by its reviews on Google, Yelp, and Trip Advisor.  If you're planning on taking a vacation to Scottsdale, Arizona, then be sure to check out these excellent coffee shops for amazing coffee and tasty eats.