Good coffee is more than just a cup of coffee, it's the experience, the vibes, the community and relationships, and the service. All these make a good cup of coffee. As one of the most loved drinks and beverages in the world, there are a lot of expectations from different coffee shops in different cities on good coffee. Fortunately, Vancouver has a lot to offer when it comes to great coffee shops and coffee, from caramel latte to hot or cold brew, there's a coffee for everyone.
These are some of the best coffee shops spotted in the beautiful city of Vancouver, Wa.
10 Best Coffee Shops In Vancouver Wa
River Maiden
Kafiex Roasters
Echo Cafe
Java House
Thatcher's Coffee
Relevant Coffee
Savona Coffee House
River Maiden
River Maiden is great for so many things, being a great coffee shop, a wide selection of coffee drinks and meals, perfect interior decor, top-notch service, well-versed baristas and staff that are super helpful, and also being genuinely considerate to the needs of the vast populace. 
There are great vegan and gluten-free options for drinks and meals that are also really good and available for customers. River Maiden is a place for everyone.
Location: 5301 E Mill Plain Blvd Vancouver, WA 98661.
Working hours: Monday-Sunday 7 am-3 pm
Website: rivermaiden
Phone: +1 360-694-7500
Peet's Coffee
A coffee shop on the main Street of Vancouver, close to the Portland International Airport in Vancouver is a perfect spot to relax, chill and wind off after a relatively hard day, long journey. 
They have a cute space for bikes and motorcycles to park, a drive-through for quick services, and offer free WiFi with a fast internet connection. If you were looking for the best coffee shops on main street Vancouver you should try this cafe. 
Location: 7000 NE Airport Way Portland International Airport Portland, OR 97218.
Working hours: Monday-Friday 6 am-5:30 pm, Saturday-Sunday 7 am-5:30 pm
Website: peetscoffee
Phone: +1 503 493-0192
Kafiex Roasters
If you are looking for charm, class, and amazing, Kafiex roasters are the best stop for you. Kafiex roasters have a touch of modern and fashionable to them, an irresistible blend of finesse and class, coupled with the exotic taste of their coffee blends. If you're a good lover of coffee and peace of mind, you would really enjoy being at Kafiex. 
One great thing about Kafiex roasters is they have facilities for people living with disabilities, gender-neutral bathrooms, and kid-friendly arrangements and are a big part of the community.
Location: 720 Esther St Vancouver, WA 98660.
Working hours: Monday-Sunday 7 am-4 pm
Website: kafiex
Contact: Email
Black Rock Coffee Bar
Coffee at Black Rock is not just coffee, it's an experience. Black Rock has over the years grown to a brand specialized in sourcing and roasting their coffee through thorough processes, to create a well-defined taste for their customers. The decor and seating arrangements are perfect for informal meetings, study time, and hangouts with friends. There is a lovely outdoor seat for people who prefer to sit outside.
Location: 1801 SE 164th Ave Ste 111 Vancouver, WA 98683.
Working hours: Monday-Sunday 5 am-7 pm
Website: br.coffee
Contact: Email
Echo Cafe
At Echo cafe, you can rest assured that you can get great coffee at relatively affordable prices, in a lush and classy atmosphere. The feel of the place is divine and they have a wide range of coffee blends. 
They have a superb group of staff that are great at what they do and do it with all the love in the world. I liked Echo and I'm sure you would too. This is my best coffee shop in north vancouver!
Location: 116 14th St E, North Vancouver, BC V7L 2N3, Canada
Working hours: Monday-Friday 8 am-7 pm, Saturday-Sunday 9 am-7 pm
Website: echocafe
Phone: +1 604-774-7627
Java House
Java House boasts as one of the best west vancouver coffee shops for organic and strong coffee. They open their doors wide as early as 8 am and are always ready to attend to customers till about 2 pm. 
A blend of good coffee and a cozy environment would get you out of any unpleasant mood and put you in a relaxed frame of mind. 
Location: 210 W Evergreen Blvd Ste 400 Vancouver, WA 98660
Working hours: Tuesday- Saturday 8 am-2 pm
Website: javahouse
Phone: +1 360-737-2925
Thatcher's Coffee
Meet one of my favorite coffee shops downtown vancouver wa. I love the artistic inclusions on Thatcher's coffee shop, the chalk art on the wall and the cool artistic inscriptions are really beautiful to see. 
They offer so many varieties of coffee at this cute store in downtown Vancouver, my favorite being their Lavender latte. The cozy atmosphere makes it pleasant enough to read, work, and socialize optimally. 
Location: 104 Grand Blvd Ste 100 Vancouver, WA 98661
Working hours: Monday-Sunday 7 am-4 pm
Website: thatcherscoffee
Phone: +1 360-258-0571
Relevant Coffee
This spacious, modern coffee spot comes with all the vibes expected of a highly-rated coffee bar. The ambiance at the place is eclectic and their wide selection of coffee and meals are creative and delicious too. The staff and barista are nice, friendly, and very helpful. Everyone who walks in at Relevant coffee bar would surely leave a good remark. I loved all their latte flavors, and they had free, fast WiFi too.
Location: 1703 Main Street Ste A Vancouver, WA 98660.
Working hours: Monday-Sunday 7 am-5 pm
Website: relevantcoffee
Phone: +1 971-319-5773
Savona Coffee House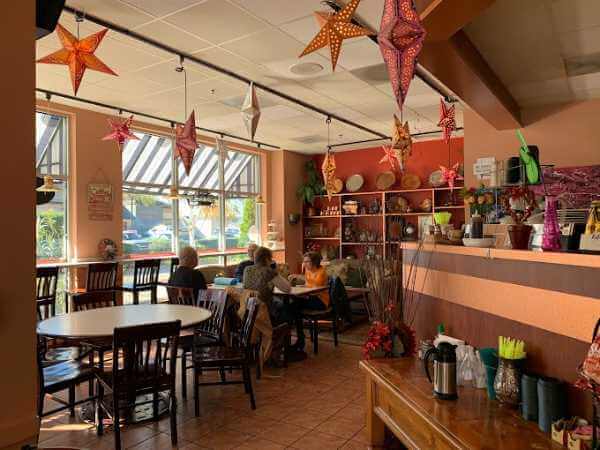 I know regular coffee is great, but Savona definitely makes no regular coffee! There is a massive difference in taste, preparation, and setting that distinguishes Savona from the competitive rest. 
There is everything you need inside to make sure you just don't have a regular coffee experience, there's the fireplace, the lounge, and beautiful outdoor seating. 
They are also big on helping the charity by raising funds and sharing community goals. Savona never disappoints!
Location: 1898 SE Columbia River Dr Vancouver, WA 98661.
Working hours: Monday-Sunday 7 am-4 pm
Website: savonacoffee
Phone: +1 360-695-0678
Dutch Bros
Like a good boomerang, as soon as you go, you're always sure to come back, and that's because Boomerang's coffee is truly special. In the shop, there are beautifully framed pictures set up in a cute gallery, the play zone for kids to have fun in a safe, fun-filled area. 
The coffee itself is so good and well prepared, you can taste each flavor melting in your mouth. Boomerang is easily accessible to the general public, no matter your condition, gender, or sexuality. It's a safe spot for everyone.
Location: 5700 E 4th Plain Blvd, Vancouver, WA 98661, United States
Working hours: Monday-Sunday 5 am-11 pm
Website: dutchbroscoffee
Phone: +1 541-955-4700
FAQs
Which Coffee Shops In Vancouver Offer Delivery?
Yes, with the growing rate of technology applications in the world, most coffee shops have put themselves on the map for easy accessibility. This includes being able to order a cup of coffee from your favorite cafe to anywhere in your city, but not all cafes offer delivery. Here are some that do; Cupidone Coffee House, Madhouse Coffee Co, and Black Rock Coffee Bar. 
Which are the best east Vancouver coffee shops?
Pallet Coffee Roasters, Prototype Coffee, and Matchstick Fraser Street are some of the best coffee shops located in East Vancouver. 
Which Coffee Shop Opens 24 Hours?
Breka Bakery & Café (Bute) is one of the few coffee shops in Vancouver operating 24 hours.
Is There a Coffee shop business for sale?
You can easily find coffee shops for sale on Buybizsell, on the other hand, people looking to secure a job in a coffee shop can check out coffee shop jobs in vancouver. 
Conclusion
Glad, you followed through with me on this lovely journey. Now if you are coffee-dry and need a refill while in the city of Vancouver, you now know the best places to have a lovely brew of Joe's magic in a cup. Thanks for stopping by, if this article was helpful, kindly share it with your friends or family that live in Vancouver or plan to visit any time soon.