If you're like me, then the smell of coffee signals the start of your day and gives you that extra boost and burst of energy to keep you going. It is an integral part of our lives and has come to stay. 
This is why it is essential to get the best quality coffee you can. That said, if you live in Boston or are vacationing there and you're a coffee lover, I've saved you the hassle of wondering where the best coffee shops in Boston are. 
Here's a list of the 11 best coffee shops in Boston
The square root
Trident Booksellers & Café
Cafe Vittoria
Recreo Coffee and Roasterie
Starbucks
Pavement Coffeehouse
Ripple Cafe
Gracenote Coffee
Render Coffee
George Howell Coffee
Bluestone Lane High Street Coffee Shop
The Square Root
Boston is known for its vibrancy, vitality, energy and work ethic and that is why this coffee shop is the perfect spot for you to have your favorite latte and chill. It is located in the up and coming Roslindale village and the live music there is worth looking forward to. 
Aside from their amazing signature coffee and tea like mocha, dark side, long fog tea etc . A really big attraction of this coffee shop is that it offers a co-working space. This is one of the best coffee shops to work in Boston. Work, coffee, and great music. Sounds great, doesn't it? 
Location: 2 Corinth St, Boston, MA 02131
Working hours: Mondays & Tuesdays – 7:00 – 5:00, Wednesdays, Thursdays & Fridays – 7:00 – 11:00, Saturdays & Sundays – 8:00 – 11:00
Website: squarerootrozzie
Phone: +1 617-477-3392
Trident Booksellers & Café 
If you're a coffee lover, a bookworm and you find yourself in downtown Boston, then surely the fates must have smiled on you because Trident Booksellers & Café is just the place for you. This coffee shop is a two in one as it has an amazing bookshop within its walls. Without a doubt, this is one of the best coffee shops in Boston to study in. 
You can enjoy your favorite coffee ranging from drip coffee, latte or an espresso while reading a book or attending one of their famous conversation nights where authors and book enthusiasts come to hang out. This isn't a 24 hour coffee shop in Boston, however, they do close quite late compared to other coffee shops. 
Location: 338 Newbury St, Boston, MA 02115
Working hours: everyday 8am – 10pm
Website: www.tridentbookscafe.com
Phone: +1 617-267-8688
Cafe Vittoria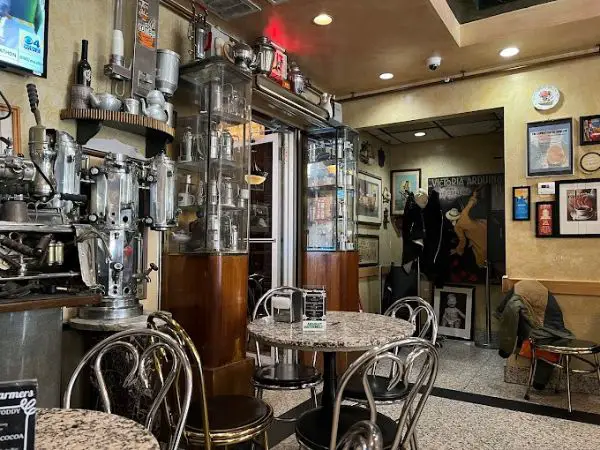 If you're in search of an experience beyond just sitting and having coffee, then cafe Vittoria is your best bet. If you've also had a taste of Italian brewed coffee, then you'd surely fall in love with this place. Cafe Vittoria is the first traditional Italian cafe in the city. Locals and tourists alike find this an interesting spot to go to as cafe Vittoria's coffee and espresso based drinks are brewed to perfection. 
Their pastries and snacks are also to die for. If you want some Italian brewed coffee, then Cafe Vittoria is the place for you and you'll agree with me that it's one of the best coffee shops in Boston. 
Location: 296 Hanover, St, Boston, MA, United States, Massachusetts.
Working hours: Open daily 8am – 12am
Website: https://www.caffevittoria.com/
Phone: +1 617-227-7606
Recreo Coffee and Roasterie
This coffee shop with its rustic vibe makes you feel like you've been hugged by a close family member once you step into the shop. This coffee shop isn't just a coffee shop but it grows its own coffee from its farm. 
Speak about farm to cup. Recreo Coffee and Roasterie also runs a subscription service where your coffee and coffee beans get delivered to your doorstep. You like it, don't you? 
Recreo Coffee and Roasterie grows, roasts and sells its own coffee. You'll find a variety of popular coffee drinks there, as well as their famous bagged coffee. If you're looking for a family type homemade coffee shop, then Recreo Coffee and Roasterie is definitely the place for you.
Location: 1 City hall square, Boston, MA 02201
Working hours: Mondays – Fridays: 8am – 2pm.
Website: recreocoffee
Phone: +1-857-2332747
Starbucks in Boston
If you're a coffee lover, then the name Starbucks isn't new to you. Starbucks boasts a chain of coffee shops all around the United States. It has more than a few in Boston and a couple licensed coffee shops right in the heart of Boston University. Great, right? So if you're looking for coffee shops near Boston university, Starbucks is the place. 
Starbucks coffee shop is known for its light roasts and pastries to go along with it. What's more interesting? There's WiFi available. Yep! You heard right. Starbucks is a trusted brand that delivers amazing coffee and customer service. Plus, it's right in the university. 
Location: Warren Towers, 700 Commonwealth avenue.
Working hours: 8am – 11pm everyday
Website: starbucks
Phone: +1 617-358-5450
Pavement Coffeehouse
Pavement Coffeehouse like Starbucks is also a household name and is one of the best coffee shops in Boston. Pavement Coffeehouse thrives on building relationships and communities. They're small enough to know you and big enough to accommodate you. 
The coffee shop literally bursts with energy and a certain youthful vibe. They serve a variety of coffee and bagels too. From mocha to lattes. If you're a student at Boston University, there's a pavement Coffeehouse close to you. You might just want to stop by and say hello. 
Location: 1096 Boylston Street Boston, MA 02215
Working hours: 7am – 4pm everyday
Website: pavementcoffeehouse
Phone: 617-236-1599
Ripple Cafe
Are you in search of black owned coffee shops in Boston? Are you planning a coffee date sometime soon? Or you're craving cheese and bacon with a latte? Or iced coffee? Ripple Cafe has got you covered.
With its chic interior decor and amazing coffee, Ripple is the best place to have some time out with your friends or go on a date. Like they say at ripple, join the ripple.
Location: 1906 Dorchester Ave, Boston, MA 02124, United States.
Working hours: Mondays – Fridays 7am – 3pm. Saturdays 8am – 3pm
Website: rippleboston
Phone – +1 617-297-5621
Gracenote Coffee
Gracenote coffee shop is a not so small scale coffee shop.  Gracenote coffee aims to create a warm space where the highest quality coffee and tea is served.  The Gracenote Coffee owners are huge on hospitality as well as quality. 
They might not be one of the 24 hour coffee shops in Boston but they're sure to welcome you with open arms anytime anyday. With such emphasis on quality, Gracenote Coffee shop is one of the best coffee shops in Boston worth visiting. 
Location: 108 Lincoln St, Boston, MA 02111, United States.
Working hours: Mondays – Fridays 7am – 3pm. Saturdays & Sundays 9am – 3pm.
Website: gracenotecoffee
Render Coffee
Render coffee shop will render you utterly incapable of leaving once you get in. Their Baristas are the nicest and most charming. They address you by your name. Get in for the first time and you're literally on a first name basis. 
Their drip coffee and lattes are simply the best. Render Coffee shop also boasts an indoor patio with great lighting. It's the perfect spot to unwind and relax. This is one of the Boston coffee shops with outdoor seating.
Location: 563 Columbus ave, Boston, MA 02118
Working hours: Monday-Friday 7am-4pm, Saturday-Sunday 8am-4pm
Website: rendercoffeebar
George Howell Coffee
Another amazing coffee shop. George Howell Coffee boasts of freshly brewed coffee. From drip coffee, espressos and mochas. Their scones are to die for. George Howell Coffee also has a variety of other drinks like orange juices, tea and the likes. They serve breakfast and lunch also. So, if you're in Boston, you just might want to do a quick stop at George Howell Coffee shop.
Location: 505 Washington St, Boston, MA 02111, United States
Working hours: Monday & Tuesday: 8am to 6pm, Wednesday to Saturday: 8am to 7pm, Sunday: 10am to 6pm
Website: georgehowellcoffee
Phone: +1 617-777-2217
Bluestone Lane High Street Coffee Shop
This is a new coffee shop in Boston. In order to produce the finest quality coffee and complementing snacks, Bluestone Lane has developed a sophisticated product concept that is presented in an appealing manner. Truly this deserves a spot as one of the best coffee shops in Boston worth visiting. 
Location: 125 High St, Boston, MA 02110, United States
Working Hours: Monday-Friday 8am-3pm
Website: bluestonelane
Phone: +1 718-374-6858
FAQs
Do cafés in Boston offer co-working space? 
Cafés are known for bringing together people from all walks of life. Those who just fancy a drink, to those who just want to read a book and chill and of course the category of people who are looking to spend some time working. However, not all cafés in Boston offer the co-working space feature. Some of them like The Square Root offer this feature. 
Which Café in Boston can I study in? 
Generally speaking, most cafés will let you study or read as long as you have a cup of coffee and a snack. The same goes for the cafés in Boston. However, Trident Booksellers & Café decided to take it a notch higher. Trident Booksellers & Café have a bookshop and hold conversation sessions regularly. It's akin to having your own personal library or studying in a coffee shop. It's a great place to study. 
Does Boston have an Italian coffee shop? 
Having Italian sounds exquisite, doesn't it? Whether it's pasta or coffee. Lots of people prefer and crave Italian brewed coffee and the residents of Boston are amongst this pack. Cafe Vittoria is the solution to their craving. Cafe Vittoria is a traditional Italian coffee shop in Boston and is one of the best coffee shops in Boston. 
Conclusion
If you are a coffee lover and frequent Boston, then this list is for you. Boston contains a variety of trendy coffee shops that are in close proximity to one another. This allows locals to decide on what shops they prefer to visit in the area. The following 11 coffee shops all have their own unique identities and offer different aspects that make them worth visiting.