Starbucks offers a wide range of drinks. You can enjoy the ice coffee, tropical juice or steamed milk of your choice. Especially, the range of their cup sizes ensures everyone can get the right cup to quench thirst.
Most people keep asking about the available Starbucks cup sizes. Amazingly, we have a full list of the available sizes to ensure you grab the right one.
Also, you are going to learn interesting facts about Starbucks drinks and their available cup sizes.
What are the cup sizes at Starbucks?
Well, you might have ordered a drink from Starbucks and noticed there are different options of the cup size you want in the order section.
The sizing you see in the store is for the official cups you can get at Starbucks.
Normally, there are six-sized cups available for ordering drinks. However, some sizes aren't offered for certain drinks. The standard cups range from 8fl oz to 30 fl oz.
The Starbucks drink sizes in terms of espresso shots are as follows.
The short cups are the smallest available for drinks at Starbucks. Mostly the cup is available for hot drinks like coffees. If you want a one-shot of espresso, this is the common cup you will get.
Tall refers to 12 fluid ounce cups at Starbucks. They are larger than short, which makes them hold more drinks.
Tall-sized cups are capable of holding up to hold more content. When you tell a barista, you need a 'small' drink; it's the cup you will receive.
Also, the cup is ideal for kid drinks. Tall cups can fit shots of espresso, 2 pumps of syrups and a tea bag.
This is a large cup capable of holding 16 fluid ounces. Since the 'Grande' means large in Spanish, it's a great cup for people who love drinking even more.
Once you visit Starbucks, the cup is ideal for cold and hot drinks and smoothies.
The cup is for 2 shots of espresso, 4 pumps of syrup and 2 tea bags.
Venti Hot (20 oz.)
Venti hot is a large cup that is used for hot drinks. It's the largest hot drink you can get at Starbucks. The cup comes with two espresso shots except for Americano and flat white.
Additionally, the cup serves coffee with 2 shots of espresso, 5 pumps of syrup and 2 tea bags.
Venti cold has is larger and offers 4 ounces more than cold. Apart from a flat white, shaken espressos and Americanos, it has 3 shots of espressos.
As a result of more shots, Venti cold has more caffeine than hot Venti.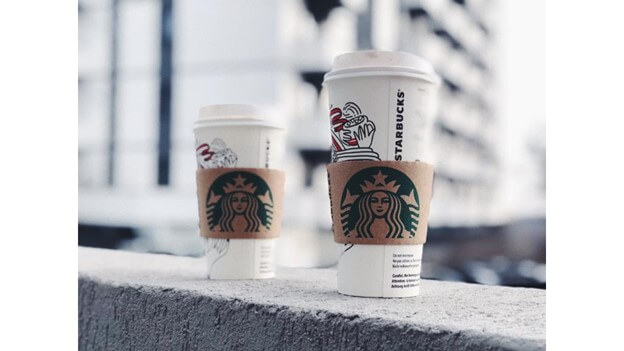 Trenta (30 oz.)
Suppose you love having extra satisfaction, grabbing the largest cup at Starbucks. The cup is for cold drinks, which is great for most cold drinks.
Interestingly, Trenta means 30 in Italians hence the name.
Starbucks sizes chart
This size chart summarizes the available Starbucks cup sizes.
| | |
| --- | --- |
| Starbucks cup size | Number of espresso shots |
| Short | 1 |
| Tall | 1 |
| Grande | 2 |
| Venti(Cold) | 2 |
| Venti(Hot) | 3 |
| Trenta | Not available |
Are there special cups at Starbucks?
Yes, there is a special cup at Starbucks but not for customers and only available for coffee sampling.
If you love sampling coffee, this is the cup you will get in Starbucks stores. Also, the cup measures 3 ounces and doesn't come with a lid.
The cup isn't meant for customers; hence you won't find them in stores.
Number espressos are in each Starbucks cup
Well, you might be having a lot of questions regarding the number of shots in each of the cups. The fact is each cup comes with different espresso shots.
Short
The drinks in short cups consist of a single shot of espresso. The drinks include cappuccinos and lattes.
Also, short Americanos, which features water and espresso, have a single shot. For flat white, it has 2 shots of espresso.
Tall
The cup measures 12 ounces and is bigger than short. It's ideal for ordering cold and hot drinks.
When you order this cup, it has single shots of espresso. However, it has 2 shots of espresso for flat whites, americanos and iced shakes.
Grande
The coffee-based beverages come with 2 espresso shots for a Grande cup. However, for drinks like Americanos, flat whites and iced coffee, each has 3 espresso shots.
Venti Hot
Venti hot comes with 2 shots of espresso for most beverages at Starbucks. However, Americano has 4 shots and 3 shots for flat whites.
Venti Cold
Venti cold is just amazing. With extra 4 ounces, you get enough refreshment. The cup has 3 espressos shot for Venti cold drinks.
Additionally, drinks like flat white have 4 shots while Americano has 5 shots. For iced shaken espressos, they have 4 espresso shots.
Trenta
Trenta is the largest cup, as we have mentioned. But, the cup is great for cold drinks. Unfortunately, there are no espresso shots available for this size.
Iced Starbucks cup sizes
If you are a fan of iced Starbucks drinks, there are different sizes you can grab one of your favorite cups.
There are different cup sizes of iced drinks you can get. Whether you want a small or the biggest cup, you have a range of choices.
Iced drinks come in Short, Tall, Grande, Venti and the giant Trenta.
Trenta being the largest cup, maybe Starbucks will bring a bigger one in the future.
Grande Starbucks cup
Grande is one of the large cup sizes you can get hot and cold drinks. With 20 oz and 24 oz capacity, it's great and offers excellent refreshment.
In Grande, you can order different coffee drinks. Whether it's cappuccino, latte and tea, it is great. The cup is ideal for hot and cold drinks. Also, it's perfect for kid drinks.
Starbucks venti cup
The Venti cup is Starbucks medium size. It's one of the sizes that offers hot and cold beverages. With cold and hot coffee, it brings excellent refreshment to keep your day moving.
What drinks can you order in a Trenta Starbucks cup?
Trenta is the largest cup you can order from Starbucks. The cup is for ordering cold drinks. Normally, the drinks you can order include.
Cool Lime or Very Berry Starbucks Refreshers
Teavana Shaken Iced Tea
Teavana Shaken Iced Peach Green Tea Lemonade
How many espresso shots in a venti?
Many people only order coffee from Starbucks, but have you asked yourself how many shots of espresso are in each cup? Well, it might not be an issue for many people.
The amount of espresso in each cup depends on the drink. However, some of the drinks have a different number of espresso shots. The information in the chart above clearly shows the number of espresso per cup.
How many shots of espresso in a Grande?
As you know, Grande is a medium cup which offers cold and hot drinks. Normally, the cup offers 2 shots of espresso whether you need it hot or cold.
Although the cup comes in 2 shots of espresso, Americano, flat white and iced coffee, it comes with 3 shots of espresso each.
What is the smallest size at Starbucks?
Well, the smallest customer cup at Starbucks is short. It has 8 ounces and is available for hot drinks.
The cup gets single-shot espresso for the regular coffee drinks. However, for special drinks like flat whites, they get 2 shots. Demi is another cup that is not for customers. This 3-ounce cup is for sampling. Therefore, the cup is not available for customer coffee orders.
What is the Starbucks cup size is right to order?
Many people have a preference for the cup sizes at Starbucks. However, there are numerous considerations when it comes to ordering coffee, teas, and other beverages.
When you want a single shot of espresso, 'Short' is the perfect consideration.
For kid drinks, Grande is the amazing and perfect choice. It's also available for hot and cold drinks hence good for all seasons.
Trenta is perfect when ordering extra-large drinks as well as smoothies. However, you can only order cold drinks when you need a Trenta cup.
Are Starbucks cups recyclable?
As you enjoy a sip of a drink from your lovely Starbucks drink, it's also vital to consider the environment.
Starbucks has been trying to come up with less polluting cups. The coffee cups are made from reusable paper with a thin plastic lining. The lining is to keep the hot drink from leaking.
It's the plastic lining that makes these cups hard to recycle. However, you can drop your used cup in recommended places after drinking to ensure delivery to the proper recycling facility.
Apart from the paper cups, plastic ones are recyclable in the right factory.
To counter the effects of single-use cups, Starbucks now offers reusable cups. Therefore, once you are through with your drink, it's possible to reuse the cup.
Summary
Knowing the available Starbucks cup sizes before you order is an important aspect. It means you can enjoy your drink by ordering the correct size.
While there are many sizes, there are also different drinks that can be ordered. With this Starbucks size guide, I believe you will always make the right decisions when ordering your drinks.
It's time to order your favorite cup now.