Starbucks new paradise drink is unmatched when it comes to bearing summer. It's one of the tropical-inspired drinks that is simple yet extra refreshing. 
Making your copycat paradise refresher at home is now possible. With the menu available at Starbucks, it's now possible to hack the drink and make yours at home. Even amazingly, you can create a customized one. 
With a refresher drink consisting of tropical fruits, not only does it refresh, but it has extraordinary taste. 
If you love trying new drinks, this Starbucks paradise refresher recipe is all you need. No need to go to stores, while you can make DIY paradise drink at home. 
What is Starbucks paradise refresher?
Starbucks Paradise Refresher is the perfect addition to Starbucks' summer 2022 drink lineup. This refreshing beverage combines the fantastic flavors of pineapple, passionfruit, and coconut for a beachy vibe.
While it shares a base with the pineapple passionfruit refresher drink, it has a unique twist—it's mixed with creamy coconut milk instead of water. This makes it a fantastic choice for all the dairy-free folks out there, as it's a vegan-friendly refresher.
Just like how coconut milk transforms the Strawberry Acai Refresher into the Pink Drink and the Mango Dragonfruit Refresher into the Dragon Drink, it works its magic in the Paradise Drink. Mixing the Pineapple Passionfruit Refresher base with coconut milk gives it that extra special touch.
What does Starbucks paradise refresher taste like? 
The drink has a recollection of a Pina Colada. Usually, the coconut addition is the reason this drink offers a creamy and different sensation from the pineapple passionfruit. It helps to neutralize the sharp tropical essence of the fruits. 
What does the paradise coconut drink look like?
The drink brings a lot of tropical sensations. Since the drink has coconut milk, it makes the drink look appealing. The yellow fruit and white coconut milk color mix to result in a bright yellow beverage. 
By looking at the beverage color, you can be sure it is super tasty. 
Recipe Highlights
Tropical Blend: The combination of pineapple juice and passionfruit juice creates a refreshing and tropical flavor profile.
Creamy Coconut Twist: By using coconut milk instead of water, this refresher gets a creamy and luscious texture that perfectly complements the fruity flavors.
Caffeine Boost (Optional): Adding green coffee extract gives the drink a caffeine kick, providing an energizing element. However, it can be omitted for a caffeine-free version.
Pineapple Paradise: The addition of crushed pineapple adds a burst of tangy sweetness and enhances the overall tropical experience.
Quick and Easy: With simple ingredients and straightforward steps, this recipe allows you to enjoy a homemade version of the Starbucks Paradise Coconut Refresher in no time.
What is in the Starbucks Paradise drink? 
Pineapple juice is simple to extract or purchase online. I'm not the most industrious person, so I choose to buy ready-made pineapple juice. Who needs all that peeling and squeezing? Let someone else do the work! 
Passion juice is also possible to make at home. If you have passion fruits, you can make homemade juice. Also, you can buy readymade passion juice from reputable stores like me. 
Coconut milk is another key ingredient for this paradise drink recipe. (Water, coconut cream, cane sugar, ≤2% Tricalcium Phosphate, coconut water, sea salt, Xanthan gum, gellan gum, Guar gum, corn dextrin, and natural flavors)
Adding Green coffee extract is to give this beverage a caffeine kick, but you can totally substitute it with green tea without affecting the final flavor. If you're not a caffeine enthusiast, feel free to skip it.
Being a summer drink, it is always best served chilled. This is the purpose of the ice cubes. 
You can always use fresh, freeze-dried, or canned pineapples. 
 How to make Starbucks paradise coconut refresher? Step-By-Step
Step 1: Gather all your ingredients.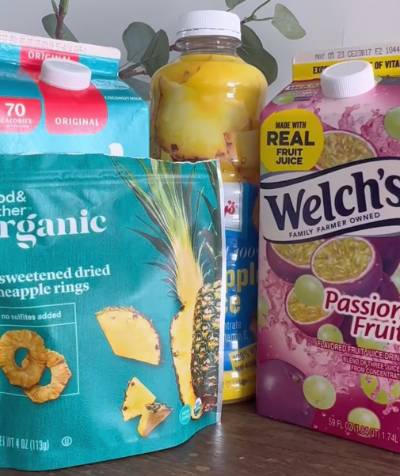 Step 2: Grab your Starbucks cup and fill it up with ice cubes.
Step 3: In a shaker, combine the pineapple juice, passionfruit juice, coconut milk, and crushed pineapple. Give it a good shake to mix everything together.
Step 4: (Optional) If you'd like a caffeine kick, you can pour in 1/4 cup of green coffee extract. If not, skip this step.
Step 5: Now it's time to pour the refreshing mixture into your Starbucks cup filled with ice.
Step 6: Lastly, pop on the lid, and voila! Your homemade Starbucks Paradise Coconut Refresher is ready to be enjoyed.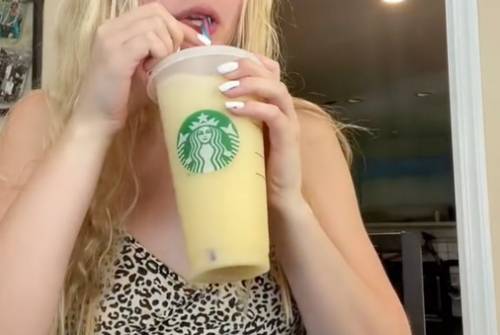 Tips and Tricks
Adjust the Juice Ratios: Feel free to tweak the proportions of pineapple juice and passionfruit juice to suit your personal taste preferences. If you prefer a stronger pineapple flavor, increase the amount of pineapple juice, or vice versa.
Experiment with Coconut Milk Varieties: Explore different types of coconut milk, such as canned or carton versions, to find the one that best suits your taste and desired level of creaminess.
Make it Extra Chilled: For an extra refreshing experience, chill your pineapple juice, passionfruit juice, and coconut milk in the refrigerator before mixing. You can also use frozen pineapple chunks instead of crushed pineapple to intensify the chill factor.
Customize the Sweetness: If you prefer a sweeter refresher, you can add a touch of sweetener, such as simple syrup or honey, to the mixture. Adjust the amount according to your desired level of sweetness.
Garnish and Presentation: Elevate the visual appeal of your Paradise Coconut Refresher by adding a pineapple wedge, a sprig of mint, or a slice of lime as a garnish. It not only looks impressive but also adds a hint of extra flavor.
Starbucks paradise refresher FAQs 
Do Starbucks Refreshers have coconut milk?
Yes, several Starbucks refreshers contain coconut milk. Paradise drink, pink drink, and other types of beverages. 
What are the coconut refresher calories?
Coconut refreshers contain more calories than pineapple passionfruit refreshers. The Tall cup has 110; Grande has 140; Venti has 200, and Trenta has 270 calories. 
How much caffeine in Paradise Drink Starbucks Refreshers® Beverage?
The caffeine content in Starbucks' Paradise Drink Refreshers® Beverage varies by cup size:
Tall (12 fl oz): Around 35 mg of caffeine
Grande (16 fl oz): Approximately 45 mg of caffeine
Venti (24 fl oz): Around 70 mg of caffeine
Trenta (30 fl oz): Approximately 90 mg of caffeine
Is this refresher Gluten Free?
You bet! This refresher is gluten-free, so it's a perfect fit for your gluten-free diet.
Is Starbucks Paradise drink keto-friendly? 
Starbucks Paradise Drink is not keto-friendly as it contains passionfruit juice and pineapple juice, which are both high in carbs. The drink is also likely to contain added sugars, which can further increase the carb content. If you are following a keto diet, it is best to avoid sugary and high-carb drinks like the Starbucks Paradise Drink and opt for low-carb options like black coffee, unsweetened tea, or sugar-free coffee drinks made with almond milk or heavy cream.
Copycat Starbucks Paradise Refresher Recipe
Course: Drinks
Directions
Gather the ingredients: pineapple juice, passionfruit juice, coconut milk, green coffee extract or tea (optional for caffeine), crushed pineapple, and ice cubes.
Fill a Starbucks cup with ice.
In a shaker, combine the pineapple juice, passionfruit juice, coconut milk, and crushed pineapple. Optionally, add green coffee extract.
Shake the mixture well. Pour the shaken mixture into the cup with ice.
Seal with a lid, and your Starbucks Paradise Refresher is ready to enjoy!
Notes
The recipe is versatile, and you can try different additions. 
Nutrition Facts
1 servings per container
Serving Size680g
---
Amount Per ServingCalories200
% Daily Value *
Total Fat 4g

7

%
Sodium 95mg

4

%
Total Carbohydrate 39g

13

%

Dietary Fiber 1g

4

%
Sugars 33g

Protein 1g

2

%
---
* The % Daily Value tells you how much a nutrient in a serving of food contributes to a daily diet. 2,000 calories a day is used for general nutrition advice.