Looking for a fun and delicious way to beat the summer heat? Look no further than the Cold Stone Barbie Shake! This trendy milkshake has taken social media by storm, and for good reason. With its eye-catching pink color and sweet cotton candy flavor, it's the perfect treat for anyone with a sweet tooth.
In this article, we'll take a closer look at what makes the Cold Stone Barbie Shake so special, including its Barbie-themed inspiration and the recipe for making it at home. Whether you're a die-hard Barbie fan or just looking for a tasty way to cool off, you won't want to miss out on this exciting new trend. So grab your blender and get ready to whip up a delicious treat that's sure to impress!
What is The Cold Stone Barbie Shake?
If you're a fan of the iconic Barbie doll, you'll love the latest trend on TikTok – the Cold Stone Barbie Shake. This scrumptious treat features Cold Stone Creamery's Pink Cotton Candy ice cream, a delightful collaboration with Warner Bros, in celebration of the Barbie Movie release on July 21st.
The Barbie Shake is a vibrant and fun way to relish this sweet delight. Simply blend Pink Cotton Candy ice cream with milk and your desired mix-ins to create a creamy and dreamy milkshake, perfect for those scorching summer days.
What sets the Cold Stone Barbie Shake apart is its striking pink color, reminiscent of Barbie's signature hue. The Pink Cotton Candy ice cream serves as an excellent base, brimming with flavor and sweetness. Adding milk and mix-ins takes it to the next level of indulgence.
TikTok users are quickly embracing the Barbie Shake trend, putting their spin on the drink and sharing their creations online. Popular mix-ins include rainbow sprinkles, whipped cream, and fresh fruit. Today we'll introduce the most loved and easily replicable TikTok recipes. Let's now explore the ingredients needed to perfectly recreate this delightful shake!
Ingredients Needed
To make the delicious Cold Stone Barbie Shake, you will need the following ingredients:
Pink Cotton Candy Ice Cream
This star ingredient is what gives the drink its signature pink color and delightful cotton candy flavor. The ice cream's creamy texture simply melts in your mouth. I recommend purchasing the Signature Select Unicorn Cotton Candy Ice Cream, 1.5 QT, which is enough to make several shakes. Moreover, its taste is truly marvelous, and I personally adore it.
Milk
Milk is added to the shake to help blend all the ingredients together and create a smooth and creamy consistency. You can use any type of milk you prefer, such as whole, skim, or almond milk.
Simple Syrup
Simple syrup is a mixture of equal parts sugar and water that has been heated until the sugar dissolves. It is used to add sweetness to the shake and balance out the tartness of the cotton candy ice cream.
Graham Crackers
Graham crackers are a classic ingredient in Cold Stone drinks and are used to add a crunchy texture and nutty flavor to this milkshake.
Whipped Cream
Whipped cream is a must-have topping for this Barbie-inspired Shake. It adds a light and fluffy texture to the drink and complements the sweetness of the cotton candy ice cream.
The shake gets a playful and festive appearance with the addition of these colorful and fun sprinkles. They come in a variety of shapes and sizes, and it's easy to find them online. There are plenty of different rainbow sprinkles available, so you can easily choose your favorite to use in the shake.
Step-By-Step Preparation
Making Cold Stone's famous Barbie Shake at home is easy and fun. Here's how you can do it:
Step 1: Gather Ingredients
To make the TikTok Barbie Shake, you will need pink cotton candy ice cream, milk, simple syrup, graham crackers, whipped cream, and pastel sprinkles. Make sure you have all of these ingredients on hand before you start.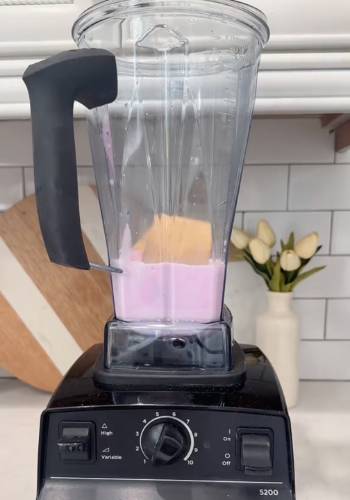 Step 2: Blend the Shake
Add 1/3 cup of milk, 1/2 tbsp of simple syrup, 1-2 graham cracker sheets, and a scoop of pink cotton candy ice cream to a blender. Blend until you reach your desired consistency. You can add more milk if you want a thinner shake or more ice cream if you want a thicker shake.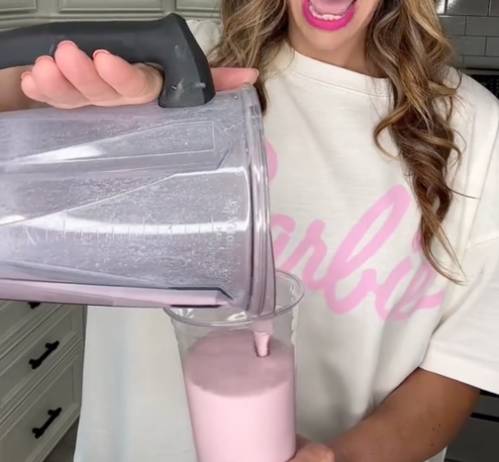 Step 3: Top with Whipped Cream and Sprinkles
Once your shake is blended to your liking, pour it into a glass. Top with whipped cream and pastel sprinkles. You can also add a straw and a cherry on top if you like.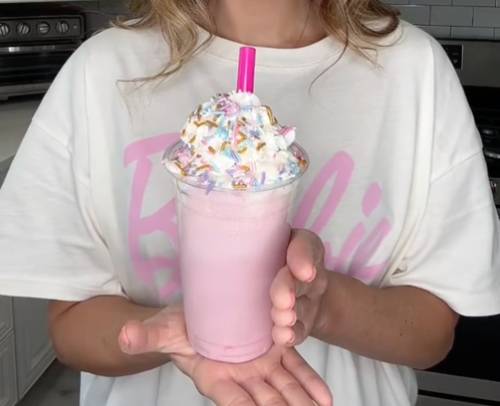 Now that your Barbie Shake is ready, sit back, relax, and enjoy the delicious taste of Cold Stone's famous creation. The rainbow sprinkles add a fun and colorful touch to this sweet treat.
Tips and Tricks for the Perfect Shake
There are a few tips and tricks you can follow to ensure that your shake turns out just right.
Use the Right Ingredients
The key to a great Barbie Shake is using the right ingredients. Make sure you have white chocolate, sprinkles, strawberries, milk, vanilla ice cream, whipped topping, and maraschino cherries on hand. You can also use pink cotton candy ice cream as the base, which is what Cold Stone Creamery uses in their version of the shake.
Blend Thoroughly
When blending your shake, make sure to blend it thoroughly. You want to make sure that all of the ingredients are well combined and that there are no lumps or chunks in the shake. This will give you a smooth and creamy texture that's perfect for sipping on a hot summer day.
Add Your Own Twist
While this Pink Cotton Candy Shake recipe is delicious on its own, you can always add your own twist to it. For example, you can add a shot of espresso to give it a coffee flavor, or you can add a scoop of peanut butter to give it a nutty twist. Don't be afraid to experiment and see what works best for you.
Get Creative with Toppings
One of the best things about the Barbie Shake is the toppings. You can get as creative as you want with them. Try adding some crushed Oreos or graham crackers to give your shake a crunchy texture. Or, you can add some fresh fruit like cherries or raspberries to give it a fruity twist.
Serve in a Fun Glass
Lastly, make sure to serve your shake in a delightful glass. Consider using a mason jar or a tall glass with a Barbie-themed straw for an extra touch of fun and charm.
>> Find the most unique and shinny Barbie Movie Cups! 👉 READ OUR GUIDE
By following these tips and tricks, you'll be able to make the perfect Barbie Shake at home. So, go ahead and give it a try!
Variations of the Barbie Shake
If you're looking to mix up your Barbie Shake game, there are plenty of variations to try out. Here are a few ideas to get you started:
Strawberry Barbie Shake:

Swap out the pink cotton candy ice cream for strawberry ice cream for a fruity twist on the viral recipe. Top with whipped cream and fresh strawberries for an extra pop of flavor.

Sugar-Free Barbie Shake:

If you're looking to cut down on sugar, try using sugar-free syrup and ice cream in your Barbie Shake. You can also use an unsweetened milk alternative in place of the regular whole milk for a lower calorie option.

Plant-Based Barbie Shake:

For a vegan or non-dairy option, swap out the milk and ice cream for plant-based alternatives. Almond milk and coconut milk are both great options for a creamy, dairy-free Barbie Shake.

Keto Barbie Shake: If you're following a keto diet, you can still enjoy a delicious Barbie Shake. Use a low-carb ice cream, sugar-free syrup, keto-friendly milk and keto rainbow sprinkles to keep the carb count low.
Customize Your Barbie Shake:

Don't be afraid to get creative with your Barbie Shake. Add in your favorite mix-ins like chocolate chips, cookie dough, or sprinkles to make it your own. You can also experiment with different flavors of ice cream and syrup to find your perfect combination.
All in all, the Barbie Movie Inspired Shake is a fun and customizable treat that can be adapted to fit your dietary preferences.
Serve with Barbie Desserts!
To complete your Barbie-themed party, pair your Cold Stone Barbie Shake with some delicious Barbie desserts! Cold Stone has recently introduced two new specialty sweets that are perfect to serve with the Barbie Shake.
The first dessert is the All That Glitters is Pink™, which is made with Pink Cotton Candy ice cream, Graham Cracker Pie Crust, Dance Party Sprinkles, and Whipped Topping. This dessert is perfect for those who love the sweet taste of cotton candy and the crunch of graham cracker crust. The Dance Party Sprinkles add a fun and colorful touch to this dessert, making it perfect for a Barbie party.
The second dessert is the Best Cake Ever™, a four-layer ice cream cake that is sure to impress your guests. This cake features layers of moist Yellow Cake and Pink Cotton Candy Ice Cream with Dance Party Sprinkles wrapped in fluffy White Frosting. The Dance Party Sprinkles add a pop of color to the cake, making it a perfect addition to your Barbie-themed party.
Pairing these desserts with the Barbie Shake will not only enhance the overall theme of your party but also provide a delicious and satisfying treat for your guests. The combination of the sweet and creamy Barbie Shake with the crunchy and flavorful desserts will surely be a hit among your guests.
👇 Find More Barbie Movie Secret Recipes!
>> Hot pink barbie drink recipe
>> Barbie-inspired drink recipe for kids
>> Barbie bomb recipe
Nutritional Information
If you are conscious of your calorie intake or have dietary restrictions, it's essential to be aware of the nutritional information of the Cold Stone Barbie Shake before indulging.
Based on our estimates of the drink's ingredients, a 16 oz. serving of the Barbie Shake contains 1,080 calories, 44 grams of fat, 153 grams of carbohydrates, and 101 grams of sugar. This represents a substantial amount of calories and sugar, making it crucial to enjoy this shake in moderation.
Despite the high calorie and sugar content, the Barbie Shake provides 28 grams of protein, which could be beneficial for those seeking to increase their protein intake. However, it's important to note that this shake is not a healthy source of protein due to the high sugar content.
For individuals with dietary restrictions, please be aware that the Barbie Shake contains dairy but is gluten-free and does not contain soy or tree nuts, making it suitable for those with nut allergies.
Wrap Up
You now know how to make your very own Cold Stone Barbie Shake. With just a few simple ingredients and some creativity, you can create a delicious and Instagram-worthy shake.
Remember, the key to making a great Barbie Shake is to start with a base of pink cotton candy ice cream. From there, you can add in your favorite mix-ins, like graham cracker pie crust, dance party sprinkles, and whipped topping.
If you're feeling adventurous, you can even try experimenting with different flavors and combinations. Who knows, you might just come up with the next viral TikTok trend!
Viral Cold Stone Barbie Cotton Candy Shake Recipe | DIY Version
Course: Drinks
Ingredients
1 scoop pink cotton candy ice cream

1/3 cup milk

1/2 tbsp simple syrup

graham crackers

whipped cream

pastel dance party sprinkles
Directions
Combine pink cotton candy ice cream, 1/3 cup milk, 1/2 tbsp simple syrup, and 1-2 graham cracker sheets in a blender.
Blend until achieving your desired consistency.
Finish with whipped cream and pastel sprinkles on top.
Enjoy your delightful creation!