From the popular TikTok trend to the latest Barbie movie, Barbie-inspired drinks have become a hit among kids and adults alike. Not only do they look stunning with their bright pink colors and cute garnishes, but they also taste amazing. Whether you prefer a fruity hot pink drink or a sweet and tangy Spiked Pink Lemonade Barbie drink, there is a recipe out there for everyone.
So why not try making these fun and delicious Barbie drinks with your kids? They are easy to make, require only a few ingredients, and are sure to bring a smile to everyone's face. Plus, they are a great way to encourage your kids to get creative in the kitchen and experiment with different flavors and colors.
Essential Ingredients for a Barbie Drink
Watermelon Juice
Watermelon juice is a vital part of a Barbie drink. It's a sweet and refreshing juice derived from ripe, juicy watermelons, boasting a bright pink hue that perfectly complements the Barbie theme. This juice infuses the drink with a delightful sweet and fruity flavor, enhancing its vibrant pink appearance.
Lemonade
Lemonade is another important ingredient for this Barbie drink. It's a sweet and tangy lemonade that's made with real lemons. It adds a tart and citrusy flavor to the drink, and it also helps to balance out the sweetness of the watermelon juice.
Plain Seltzer
Plain seltzer is a key ingredient that adds fizz and bubbles to the Barbie drink. It gives the drink a refreshing and effervescent quality that makes it perfect for hot summer days. Plain seltzer also helps to dilute the sweetness of the watermelon juice and lemonade, making the drink less cloying.
Pink Sugar
Pink sugar is a fun and whimsical ingredient that adds a pop of color and sweetness to the Barbie drink. It's made by mixing white sugar with a few drops of pink food coloring. You can use it to rim the glass or sprinkle it on top of the drink for a fun and festive touch.
Pink Edible Glitter
Pink edible glitter is another fun ingredient that adds sparkle and shine to the Barbie drink. It's made from edible materials and adds a touch of whimsy to the drink. You can sprinkle it on top of the drink or mix it in for a fun and festive touch.
With these essential ingredients, you can make a delicious and fun Barbie drink that kids will love. Combine them in the right proportions and serve the drink in a fun and festive glass for a truly magical experience.
Step-by-Step Barbie Drink Recipe
Wet Rim of Glass
To start, wet the rim of your glass with either water or honey and then dip it into pink sugar. This will give your drink a fun and festive look that is perfect for any Barbie-themed party.
Combine Ingredients
Next, combine 8 oz of watermelon juice, 4 oz of lemonade, and 2 oz of seltzer in a glass. These ingredients will give your drink a sweet and tangy taste that is sure to be a hit with all your young guests.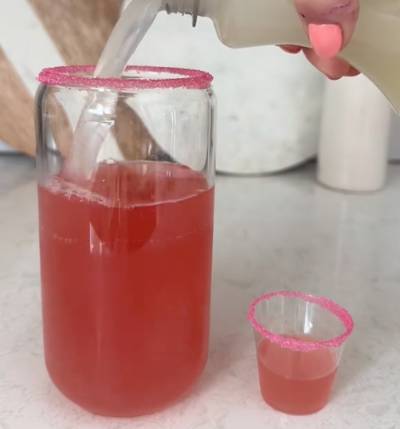 Add Pink Edible Glitter
For an extra touch of magic, sprinkle pink edible glitter into your drink and give it a gentle stir. Watch as it transforms into a whimsical and fun concoction, ideal for any Barbie-themed party.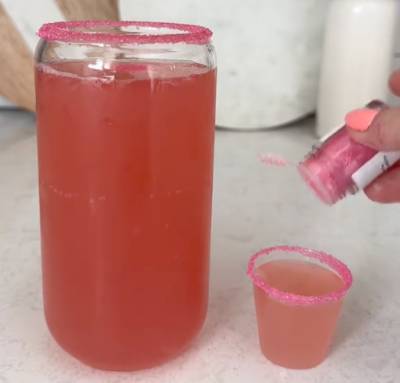 Enjoy!
Once you have stirred in the glitter, your Barbie drink is ready to enjoy! Serve it up to your guests and watch as they delight in the fun and colorful drink that you have created.
Customizing Your Barbie Drink
Alternative Ingredients
You can experiment with different flavors of juice or soda to create a unique taste. Here are some alternative ingredients you can use:
Grapefruit juice
Blueberry juice
Raspberry juice
Strawberry soda
Peach soda
You can also add fresh fruit to your drink to give it a fruity twist. Some great options include strawberries, raspberries, and blueberries.
Dietary Restrictions Adaptations
If you or your guests have dietary restrictions, you can still enjoy a Barbie drink by making some adaptations. Here are some ideas:
For a low-calorie version, substitute all soft drinks with zero calorie options.
For a gluten-free version, make sure all the ingredients you use are certified gluten-free.
For a keto and low-sugar version, use a sugar-free juice and garnish.
Feel free to customize the sweetness of your drink by adjusting the juice or soda quantity. Get creative and have fun trying various flavors and ingredients – the options are limitless!
👇 Read Our Other Barbie Movie Drinks' Recipes Kids Will Like
>> Barbie Mocktail Recipe
>> Starbucks Barbie Pink Frappuccino recipe
>> Cold Stone Barbie Shake Recipe
Safety Tips When Preparing Drinks for Kids
When making drinks for kids, safety should always be a top priority. Here are some safety tips to keep in mind when preparing drinks for kids:
Always wash your hands thoroughly before handling any ingredients.
Make sure all utensils and equipment are clean and dry before use.
Be careful when using sharp knives or other kitchen tools. Keep them out of reach of children.
Read the recipe carefully and make sure you have all the necessary ingredients before you start.
If using a blender or food processor, make sure the lid is securely in place before turning it on.
Supervise children when they are helping to make drinks. Teach them how to handle kitchen tools safely.
Store any leftover ingredients or prepared drinks in airtight containers in the refrigerator.
By following these safety tips, you can help ensure that your kids stay safe while enjoying delicious drinks. Remember, it is always better to be safe than sorry.
Fun Barbie Drink Recipe for Kids
Course: Drinks
Ingredients
Watermelon juice

Lemonade

Plain seltzer

Pink sugar

Pink edible glitter
Directions
Moisten the rim of the glass with water or honey, then dip it into pink sugar.
Mix 8 oz of watermelon juice, 4 oz of lemonade, and 2 oz of seltzer.
Sprinkle in pink edible glitter and stir. Enjoy!