Are you a fan of Starbucks secret menu items? If so, you might want to try the latest addition to the list – the Barbie Pink Frappuccino. This drink has been making waves on social media for its vibrant pink color and sweet taste. While the Barbie Pink Frappuccino is not an official Starbucks menu item, it can be ordered at any Starbucks location that is willing to make it.
But why wait in long lines at Starbucks when you can easily make your own Barbie Pink Frappuccino at home? In this post, we'll teach you how to make this drink with just a few ingredients and tools. Plus, we'll share some useful tips to help you get the perfect consistency and flavor.
So grab your blender and get ready to make your own Barbie Pink Frappuccino at home. It's a tasty and fun way to enjoy a sweet treat and show off your love for all things Barbie.
What is Starbucks Barbie Pink Frappuccino?
The Starbucks Barbie Pink Frappuccino has become viral on TikTok, thanks to the recent release of the Barbie Movie. TikTokers have been swirling the classic recipe around the internet for a couple of months now, sharing their love for the drink and their excitement for the movie.
This delightful frappuccino is a must-try for cotton candy and Barbie fans. A delightful blend of Vanilla Bean Creme Frappuccino, raspberry syrup, vanilla sweeteners, and dragon fruit creates a hot pink, delicious, and eye-catching treat.
Recipe Highlights
Here are some highlights of this recipe:
Endless customization possibilities: Don't be afraid to experiment and unleash your creativity. With numerous ingredient combinations and ratios, you can create your own signature version of the Barbie Pink Frappuccino.
Off-menu treat: The Barbie Pink Frappuccino isn't part of Starbucks' regular menu, but it's a beloved secret. DIY to savor this delightful pink drink without specific ordering.
A delicious indulgence: Whether you're hosting a party or simply treating yourself, this pink frappe is a delicious indulgence that brings out the Barbie fan in everyone. It's a fun and flavorful way to add some excitement to your day!
Ingredients Needed
To make the delicious Starbucks Barbie Pink Frappuccino, you will need a few ingredients that are easily available at your nearest Starbucks outlet or online stores. Here are all the ingredients that you will need to make this refreshing drink:
Vanilla bean powder is a popular addition found in numerous Starbucks drinks, infusing a delightful sweet vanilla flavor into each sip.
Vanilla Syrup
The vanilla syrup is added to enhance the sweetness of the drink. If you prefer a less sweet beverage, you can omit this ingredient as the added vanilla powder already provides a touch of vanilla flavor.
The raspberry syrup adds a fruity flavor to the drink. It has a sweet, tangy taste that complements the other ingredients well.
Half & Half
The half & half is a combination of milk and cream that is added to give the drink a rich and creamy texture. It has a smooth, velvety consistency that adds to the overall taste of the drink.
Dragonfruit Inclusions
The dragonfruit inclusions are the key ingredient of this recipe, adding a distinctive texture and flavor to the drink. They impart a sweet, subtle taste and provide a refreshing crunch to the frappe, giving it an enticing vibrant Barbie pink color!
Whipped Cream
The whipped cream is added as a topping to the drink and gives it a creamy, frothy texture. It has a light, airy consistency that complements the other ingredients well.
The ice cubes are added to chill the drink and give it a refreshing, icy texture. They also help to blend the ingredients together and create a smooth, creamy consistency.
Equipement Needed
Step-by-Step Recipe
Making a Starbucks Barbie Pink Frappuccino is easy and can be done at home with a few simple steps. Here is how you can make your own version of this popular drink:
Step 1: Begin by filling a Starbucks cup with half & half up to the first line, then transfer it into a blender.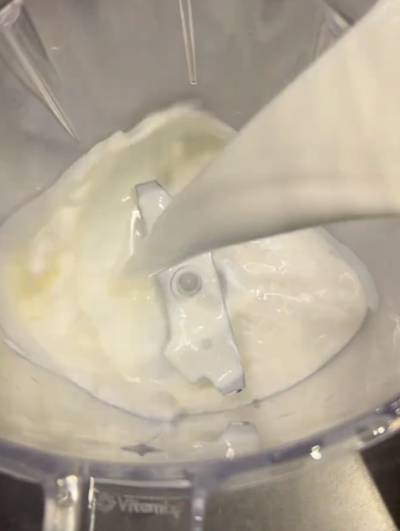 Step 2: Now, add 3 pumps of raspberry syrup, 3 pumps of vanilla syrup, 3 tablespoons of vanilla bean powder, a handful of ice cubes, and a few pieces of dragon fruit to the blender.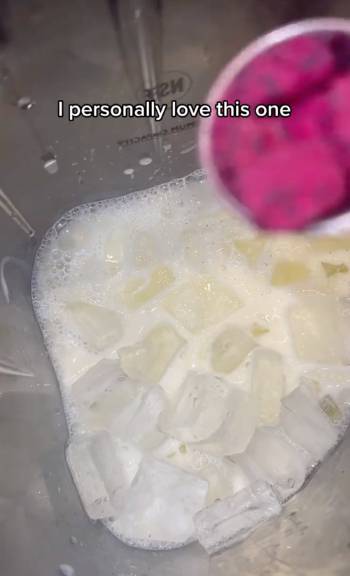 Step 3: Blend all the delightful ingredients together until the mixture turns irresistibly smooth and creamy.
Step 4: Once blended to perfection, pour the luscious mixture into a Starbucks plastic cup or Barbie pink tumbler.
Step 5: As the finishing touch, crown your creation with a dollop of whipped cream, and don't forget to secure the lid.
Voila! Your homemade Starbucks Barbie Pink Frappuccino is ready to enjoy. 🍹🌸
You can also add extra toppings like pink sprinkles or more whipped cream to make it even more delicious. This recipe is a perfect treat for a hot summer day or whenever you're in the mood for a sweet and refreshing drink.
Serving Suggestions
Here are some serving suggestions to make the most out of your drink.
1. Add toppings
To make your drink even more Instagram-worthy, add some toppings! You can sprinkle some pink sprinkles or edible glitter on top of the whipped cream. You can also add some fresh berries like raspberries or strawberries for a pop of color and flavor.
2. Pair it with a snack
The Starbucks Barbie Pink Frappuccino is a sweet and indulgent treat, so it's best to pair it with a snack that complements its flavors. You can try pairing it with a buttery croissant or a fruity pastry. If you're feeling extra indulgent, you can also pair it with a slice of cake or a cookie.
3. Customize it to your liking
The great thing about making your own Starbucks Barbie Pink Frappuccino is that you can customize it to your liking. You can adjust the sweetness level by adding more or less syrup. You can also adjust the consistency by adding more or less ice. Experiment with different combinations until you find the perfect recipe for you.
4. Serve it in a fun glass
To make your drink even more fun, serve it in a cute and colorful cup. You can use a mason jar, a stemless wine glass, or a tumbler. You can also add some fun straws like colorful paper straws or reusable metal straws.
Substitute Ingredients
For those seeking a different flavor from dragonfruit, consider swapping raspberry syrup with strawberry puree. This change will create a lighter pink color while maintaining a delicious taste.
Vegans and non-dairy dieters can opt for plant-based milk like oat or coconut milk instead of half and half. Note that using half and half will result in a creamier texture and taste.
For a healthier version, use sugar-free syrups or sweeteners to reduce calorie and sugar content. Additionally, choose skim or low-fat milk over whole milk to lower fat content.
Nutritional Information
As this is an off-menu item, Starbucks official does not provide nutritional information for this drink. However, based on the ingredients, we have estimated the approximate calorie and nutritional content for your reference.
A grande-sized Barbie Pink Frappuccino contains about 400 calories.
The drink has 64 grams of sugar, which is more than the recommended daily intake for an adult.
The protein content is relatively high, with 10 grams per serving.
The drink is also high in carbohydrates, with 63 grams per serving.
It's important to note that the nutritional information may vary depending on the customization of your drink, such as the type of milk or the number of pumps of syrup used.
If you're looking to reduce the calorie count of your Barbie Pink Frappuccino, consider ordering a smaller size or requesting fewer pumps of syrup. You can also opt for non-fat milk or almond milk to reduce the fat content.
Overall, the Barbie Pink Frappuccino is a delicious treat that should be enjoyed in moderation as part of a balanced diet.
How to order Starbucks Barbie Frappuccino?
Don't just ask for a Barbie drink without the recipe. They might kick you out (just kidding!)
Ask for a creme-based Frappuccino with half-and-half substituted, raspberry syrup (or strawberry puree if unavailable), dragon fruit inclusions, and vanilla bean powder blended in.
Please note that some Starbucks stores stopped offering raspberry syrup after March, but using strawberry puree can still give your frappe a delightful fruit flavor. Make sure to inquire at your local Starbucks store. Good luck!
Now, let's take a look at the reviews from Starbucks fans who have already tried this secret Barbie drink.
👇 Read Our Other Barbie Pink Beverage Recipes!
>> Barbie Bomb Recipe
>> Cold Stone Barbie Shake Recipe
Customer Reviews
If you're looking for a sweet and creamy drink that looks as pretty as it tastes, the Starbucks Barbie Pink Frappuccino might be just what you need. Customers have described it as tasting like cotton candy and being very creamy. However, some people have mentioned that it tastes like medicine or is too sweet for their liking. Overall, the drink has received a rating of 7/10 from some customers.
If you're trying to save some money, you might want to skip the extra pumps of vanilla and the half and half. You could also stick with regular milk and skip the raspberry syrup, which can add up to $2.30 in extras that aren't necessary.
Despite some mixed reviews, many customers have fallen in love with the neon pink color and fruity taste of the Barbie Pink Frappuccino. It's a refreshing drink that's perfect for scorching days. Plus, it matches the aesthetic of the Barbie Dream House itself.
Wrap Up
You now know how to make the secret, Barbie-themed Starbucks Pink Frappuccino! This drink is perfect for a party, or just a fun treat for yourself. With its vibrant pink color and delicious flavor, it's sure to be a hit with anyone who tries it.
Feel free to customize the ingredient proportions to achieve your desired level of sweetness and creaminess. For an extra touch of extravagance, explore topping options like whipped cream, sprinkles, chopped fruit, or a Barbie-themed straw.
Now, don't wait any longer—indulge in the magic of this fabulous drink! Give it a whirl and let the Barbie-inspired flavors dazzle your taste buds!
FAQs
Can kids enjoy the Barbie Pink Frappuccino?
Absolutely! It's a fun treat for kids too. Parents can adjust the sweetness by using less syrup or sugar-free options to make it just right for their little ones.
Are there any DIY Barbie-themed straws or accessories to pair with the drink?
Yes, you can get creative with DIY Barbie-themed straws or accessories! You can make your own fun straws by attaching Barbie-themed decorations to regular straws. Additionally, you can find Barbie-themed accessories online or at party stores to pair with the drink for an extra special touch. Let your imagination run wild and add some Barbie flair to your Frappuccino experience! 🎀🌸
What are some other Barbie-themed drinks I can try?
Explore a world of Barbie-inspired beverages like the Barbie Espresso Martini, Barbie Mocktail, and Barbie Latte. Unleash your creativity and customize drinks to match the Barbie theme. The options are limitless!
Step-by-Step Guide: Making Starbucks Barbie Pink Frappuccino at Home!
Course: Drinks
Ingredients
3 tbsp of vanilla bean powder

3 pumps of vanilla syrup (Skip it if you don't prefer it too sweet)

3 pumps of raspberry syrup

1/3 cup of Half & half

4 tbsp of dragonfruit inclusions

Whipped cream
Directions
Fill half & half up to the first line in a Starbucks cup, then transfer it to the blender.
Add 3 pumps of raspberry syrup, 3 pumps of vanilla syrup, 3 tbsp of vanilla bean powder, ice cubes, and dragon fruit to the blender.
Blend until smooth, then pour into a Starbucks plastic cold cup.
Top with whipped cream, add the lid, and enjoy!