Calling all BLINKs! The eagerly awaited Starbucks' BLACKPINK Frappuccino has finally arrived! On July 25th, this limited-edition collaboration between Starbucks and BLACKPINK was launched in select stores across nine markets in the Asia Pacific region.
Get ready for an extraordinary experience as this exciting partnership not only brings you a delightful BLACKPINK-themed Frappuccino but also a trendy collection of drinkware and lifestyle merchandise. Inspired by BLACKPINK's authenticity and confidence, this collaboration perfectly complements Starbucks' commitment to providing unmatched customer experiences.
This summer, embrace your bold self with the BLACKPINK Frappuccino and the exclusive merchandise collection. It's time to make a statement and savor every moment of this unique fusion!
What is Starbucks BLACKPINK Strawberry Choco Cream Frappe?
Inspired by the K-pop group's latest album, Born Pink, this drink is a captivating blend of black and pink hues, promising a delectable journey for your taste buds.
Crafted with a delightful mix of strawberry syrup and dark chocolate sauce, it delivers a sweet and rich flavor profile. And that's not all – Starbucks has gone the extra mile by using oat milk, creating a vegan-friendly option that's simply perfect.
Topped with light pink whipped cream and a heart-shaped chocolate, each sip exudes an air of elegance and love. With its chic black and pink aesthetic, the Frappe perfectly complements the edgy vibe of BLACKPINK's latest album.
As you sip on this visual and culinary masterpiece, let the melodious beats of your favorite K-pop songs elevate your experience. Share the joy with your friends, making it a perfect drink to relish together.
Ingredients You'll Need
To make your own Starbucks Blackpink Frappuccino, you'll need a few key ingredients. Here's what you'll need to gather before you get started:
Oat Milk
Oat milk is a non-dairy milk alternative that is creamy and slightly sweet. It is made from whole oats that are soaked in water, blended, and then strained. Oat milk is a popular choice for those who are lactose intolerant or who prefer a vegan diet. It has a slightly nutty flavor and a creamy texture that makes it perfect for use in Frappuccinos.
Strawberry Syrup
The absolute showstopper in the Starbucks Blackpink Frappuccino is the strawberry syrup! It's all about that sweet and fruity kick, giving the drink that beautiful pink color and a burst of flavor that's just too good to resist.
Dark Chocolate Sauce
Dark chocolate sauce is a rich and decadent addition to the Blackpink Frappuccino. It is made from high-quality cocoa powder and sugar and adds a deep, chocolatey flavor to the drink.
Chocolate Chips
Chocolate chips are added to the Frappuccino to give it a bit of texture and extra chocolate flavor. They are made from high-quality chocolate and are the perfect addition to this delicious drink.
Light Pink Whipped Cream
The light pink whipped cream is the perfect finishing touch to the Blackpink Frappuccino. It is made from heavy cream and sugar and is whipped until light and fluffy. The addition of a few drops of food coloring gives it a beautiful pink color that perfectly complements the rest of the drink.
Heart-Shaped Chocolate
The heart-shaped chocolate is a cute and fun addition to the Blackpink Frappuccino. It is made from high-quality chocolate and adds a bit of whimsy to the drink.
Ice Cubes
Ice cubes are an essential ingredient in any Frappuccino. They help to give the drink its signature icy texture and keep it cool and refreshing. Be sure to use enough ice cubes when making your Blackpink Frappuccino for the best results.
Step-By-Step Instructions
Making your own Starbucks Blackpink Frappuccino is easy and can be done in just a few simple steps. Here's how to do it:
Step 1: Pour the Oat Milk
Grab a Starbucks cup and fill it up to the first line with oat milk. Then, transfer the milk into the blender.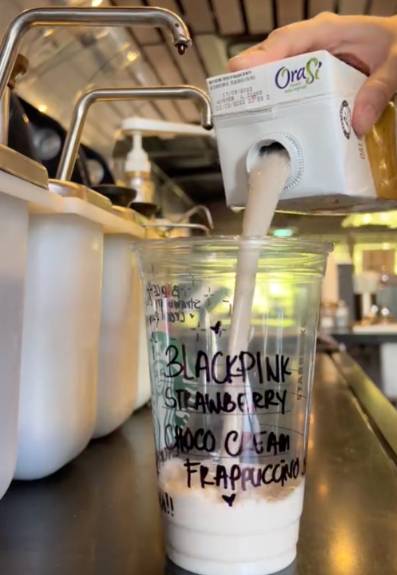 Step 2: Add Strawberry Syrup and Ice
Next, amp up the flavor by adding a generous amount of strawberry syrup to the blender. Toss in some ice cubes as well, and blend everything until it becomes smooth and dreamy.
Step 3: Prepare the Cup
Take a Starbucks cup and get creative! Start by adding one pump of dark chocolate sauce at the bottom. Then, sprinkle one scoop of chocolate chips on top of the sauce to add an extra layer of indulgence.
Step 4: Pour the Blended Mixture into the Cup
Once your blend achieves a smooth texture, pour it into the cup over the delightful chocolate chips. Watch as the flavors come together beautifully.
Step 5: Add Whipped Cream and Chocolate Heart
Now comes the fun part! Top your Frappuccino with light pink whipped cream, adding a touch of sweetness. For that final charming touch, place a heart-shaped chocolate on the cream.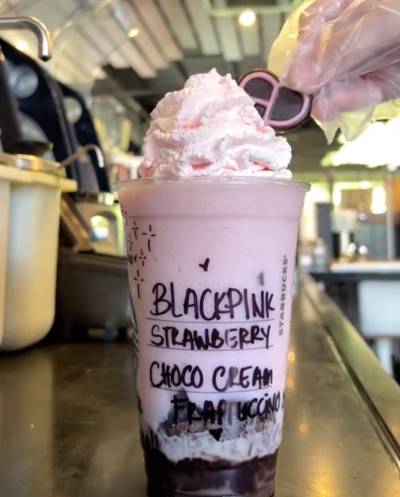 Step 6: Enjoy Your Starbucks Blackpink Frappuccino!
Your masterpiece is complete! Savor each delightful sip of your very own Starbucks Blackpink Frappuccino, and relish in the sweet harmony of flavors and textures.
Strawberry Choco Cream Frappuccino Review
As someone who's tried this viral drink, let me tell you, it's totally worth a shot! It's like a treat for both your eyes and taste buds.
The moment you take that first sip, you'll be hooked by its rich and creamy texture. The combo of chocolate and strawberry flavors is spot on – it's like sipping on a drinkable Meiji Na chocolate candy! And hey, it's not overly sweet, which is awesome if you're not into super sugary drinks.
If you're all about that chocolate and strawberry goodness, the Strawberry Choco Cream Frappuccino is a must-try. It's the perfect companion for a scorching hot summer day, and trust me, you'll want to have it more than once.
But here's the catch – this drink is only available in select Starbucks locations in Asia. So, if you're not in the area, no worries! You can either whip it up at home using our detailed recipe, or follow my tips in the next section to get a taste of this divine concoction!
How to Order Starbucks' BLACKPINK Drink?
Start with a Strawberry Creme Frappuccino. You can order this off the regular menu.
Substitute the regular milk with oat milk. This gives the drink a creamier and nuttier taste.
Ask your barista to add mocha sauce to the bottom of your cup for the color block effect. This will make the drink look like the BLACKPINK drink.
Instead of the regular whipped cream, ask for strawberry puree to be blended into a Vanilla Sweet Cream and substitute that for the whipped cream. This will give the drink a pink hue and a fruity flavor.
Finally, ask for some cookie crumble topping for a black garnish. This will complete the look of the BLACKPINK drink.
By following these steps, you'll have your very own BLACKPINK drink that's perfect for Instagram. Don't forget to snap a picture and share it with your friends!
BLACKPINK x Starbucks Desserts
In addition to the Frappuccino, Starbucks has also introduced two new bakery items in Korea.
The BLACKPINK Strawberry Cream Choco Brioche is a soft and buttery brioche filled with pink strawberry milk cream and topped with real strawberry pieces. It strikes the perfect balance between sweet and tangy, and its pink hue makes it a visually stunning delight.
For those craving something chocolatey, the BLACKPINK Strawberry Choco Baumkuchen is a must-try. This German-style ring cake features layers of chocolate-flavored cake with a generous amount of strawberry milk cream piped on top. The combination of chocolate and strawberry creates a classic flavor pairing that never fails to satisfy.
Unfortunately, these delectable desserts are currently exclusive to Korea, but let's keep our fingers crossed that Starbucks will bring them to other countries in the future.
If you're lucky enough to indulge in these treats, be sure to snap a photo and share it on social media with the hashtag #BLACKPINKxStarbucks! Let the world know about these delightful creations.
BLACKPINK + STARBUCKS® Collection
The BLACKPINK + STARBUCKS® collection features 11 types of drinkware and 6 lifestyle accessories. The color palette is all about that signature pink and black combo, with funky graffiti motifs adding a playful touch.
This limited-edition merchandise perfectly captures the fun and dynamic energy of BLACKPINK, giving you that confident edge to rock this summer in style.
Starbucks is all about sustainability, and this collection fits right in. Choose from reusable cups, mugs, and tumblers in chic BLACKPINK hues. Some have cute drawings, while others have sparkly rhinestones – so chic!
By using these eye-catching reusables, you're not only looking fabulous, but you're also saying no to single-use cups and helping the planet. It's a win-win, for sure!
But wait, there's more! The collection includes lifestyle accessories like reusable tote bags, yoga mats, passport holders, and key chains. They feature unique BLACKPINK doodles-style prints, adding that extra touch of cool to your daily routine.
The collection dropped on July 25 at select Starbucks stores across Hong Kong, Indonesia, Korea, Malaysia, the Philippines, Singapore, Taiwan, Thailand, and Vietnam. But don't worry if you're not there – you can still get some of these goodies on eBay.
So, if you're a BLACKPINK and Starbucks fan, get ready to dial up the summer fun with the BLACKPINK + STARBUCKS® collection. Show off your love for the girl group and Starbucks, while making a positive impact on the environment. It's time to make this summer one to remember! ☀️
Final Words
The Starbucks Blackpink Frappuccino has been gaining popularity among both K-pop group fans and Starbucks enthusiasts.
Creating your own Blackpink Frappuccino at home is a breeze and won't break the bank. Simply follow a strawberry creme Frappuccino recipe, swap in oat milk, and add some mocha sauce. With these simple steps, you can recreate the delightful taste of this limited-edition drink right in your own kitchen.
FAQs
Where can I purchase the Starbucks BLACKPINK Frappuccino?
According to Starbucks, the BLACKPINK x Starbucks collection is scheduled to launch on July 25. You can find it in selected stores across Hong Kong, Indonesia, Korea, Malaysia, the Philippines, Singapore, Taiwan, Thailand, and Vietnam. If you're not in any of these regions, don't worry! You can easily DIY it at home with our recipe. It's super simple!
Will the Starbucks Blackpink Frappuccino be available in other regions in the future?
The likelihood is low.
Does the Starbucks Blackpink Frappuccino contain caffeine?
Yes.
👇 Read More Pink Drinks' Recipes
>> Barbie Pink Mocktail Recipe
>> Barbie Pink Espresso Martini
>> Cold Stone Barbie Shake Recipe
Starbucks meets Blackpink: Try the New Frappuccino Collaboration
Course: Drinks
Ingredients
oat milk

3 pumps of strawberry syrup

1 pump of dark chocolate sauce

1 scoop of chocolate chips

Light pink whipped cream

Heart-shaped chocolate

Ice cubes
Directions
To whip up your own Blackpink Frappuccino, start by filling oat milk up to the first line of a Starbucks cup. Then, pour it into the blender.
Next, add some strawberry syrup and toss in a bunch of ice cubes into the blender. Blend it all together until you get that smooth, creamy texture.
In your Starbucks cup, drizzle one pump of dark chocolate sauce at the bottom and add a delightful scoop of chocolate chips.
Now, pour the blended mixture into your cup, and here comes the fun part! Top it off with light pink whipped cream and a charming heart-shaped chocolate.