The word coffee brings a lot of good emotions to a lot of people. It's the beverage that keeps the day going smoothly. Chocolate, the universal taste of happiness, is loved and enjoyed by kids and adults. 
Now imagine the fusion of this silky chocolate and aromatic coffee – chocolate coffee. What can taste more pleasing than a good steaming cup of mocha on a cozy winter evening? 
What is Chocolate Coffee? 
Nowadays, many roasteries put a chocolatey layer on coffee beans to add an exquisite bitter flavor to the coffee while retaining slight sweetness. This bitterness comes from the caffeine obtained from the beans and chocolate, which is used to give it a confectionary coating.
Dark or milk chocolate is mostly used to prepare these chocolate coffee beans. However, at times, white chocolate can also be used.
When brewed, these chocolate-covered coffee beans serve you a cup of rich, creamy, chocolatey coffee.
Benefits
What can make a dull and dreary day more perfect than a cup of chocolate coffee? Apart from giving us delectable flavors, chocolate coffee has many health benefits. 
Having coffee alone might increase anxiety. But mixing it with chocolate reduces the anxiety-inducing factors of regular coffee.
Apart from that, cocoa can increase the blood flow to the cerebral part of the brain. Therefore, chocolate-covered coffee will help in promoting your attention and cognition. 
Moreover, if you use dark chocolate, it's highly beneficial because it's packed with antioxidants, vitamins, and minerals.
How to Make Chocolate Coffee? 
To make the chocolate coffee, first, you need to gather some roasted coffee beans and a cup of molten dark chocolate. Mix them well and let the beans cool. Then, sprinkle some cocoa powder, and you have a bowl of roasted chocolate coffee beans ready! 
Then, grind the beans, boil till they foam, and voila! Your chocolate coffee is ready!
Equipment You'll Need
You need the following basic equipment for making chocolate coffee. 
How to Serve Chocolate Coffee? 
Chocolate coffee is best known for its versatility. There are many ways to serve a cup. 
If you want the coffee to have a thick texture, add a little extra cocoa and boil it for a few more minutes. Also, ensure to serve it with bagels, croissants, bacon, and eggs.
Top Tips to Make Your Chocolate Coffee More Delicious
Chocolate coffee is flavorful as it is. But why stop when you can make it taste more delicious?
Use Dark Chocolate
Instead of regular cocoa powder, try using molten dark chocolate for chocolate coffee.
Use Dark Roast Coffee Beans
For a change, try dark roasted coffee beans for a slightly bitter and natural chocolate flavor.
FAQs 
Final Words 
Chocolate coffee is now widely preferred by many people across the world. With its benefits and easy recipe, this is one of the perfect coffee bean varieties to make and brew at home.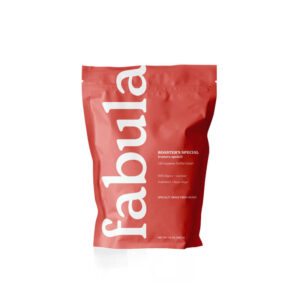 Buy Fabula Chocolate Coffee & Save up to 35% Today
The easiest recipe for making chocolate coffee
Course: Drinks
Below is an easy-to-follow chocolate coffee recipe that can be made right in your kitchen in a few minutes. 
Ingredients
Roasted coffee beans

Some cubes of dark chocolate

2 tablespoons of cocoa powder

2 cups of milk

Wax paper

Some ice cubes (optional)
Directions
Take a clean bowl and add some molten dark chocolate. Along with this, mix your roasted coffee beans.
Whisk the mixture well.
Then, put the blend on wax paper and let the chocolate-covered coffee beans cool.
After that, spray the gathered cocoa powder on the beans to enhance their chocolate flavor.
Now that your chocolate-covered coffee beans are ready, you can grind them to form powdered chocolate coffee.
Then, take a pan and boil 2 cups milk.
Once the milk starts boiling, add the ground chocolate coffee to it.
Your chocolate coffee is almost ready!
Boil the chocolate coffee on low-medium heat for about three minutes. It will ensure that the flavors are mixed well with the milk.
Once you see the chocolate coffee frothing, stop the heat.
Transfer it to cups and serve it hot. You can also add ice to serve cold chocolate coffee!
Nutrition Facts
2 servings per container
---
Calories40
Amount Per Serving% Daily Value *
Total Fat 15.5g

24

%
Cholesterol 18mg

6

%
Amount Per Serving% Daily Value *
Protein 7.7g

16

%
* The % Daily Value tells you how much a nutrient in a serving of food contributes to a daily diet. 2,000 calories a day is used for general nutrition advice.
Recommended Products
The following products will enhance the flavor of your chocolate coffee in a tastier and healthier way.