Caramel is one of the popular flavors that coffee drinkers love. However, getting buttery caramel flavored coffee beans is even more convenient. Buttery caramel Fabula coffee is an excellent choice. 
The coffee brings great refreshment, which combines the caramel and coffee flavors. With single sourcing, GMO-free and low acidity, coffee is delicious and easy on the stomach. 
As you plan to enjoy this delicious coffee, we have a Fabula Buttery Caramel coffee review for you. Check out whether it's one of the best flavors you can get.
Fabula Buttery Caramel Coffee Review 
WHAT WE LIKE
Delicious buttery caramel flavor 
Freshly roasted and intense aroma 
Sweet and full of antioxidants 
Moderate caffeine levels
WHAT WE DISLIKE
No different bag sizes 
Flavor isn't intense
Fabula buttery caramel coffee is tasty and offers an outstanding taste. The infused caramel gives the coffee a special feeling. 
Besides having unique caramel and butter essence, the coffee is mold-free. Thus, every flavor and aroma comes out distinctively. 
Origin 
The coffee's origin determines its flavor. Fabula buttery caramel coffee originates from Peru. It's formulated from single sourced coffee to maintain the quality at best. 
Besides, the flavoring is done professionally to keep the coffee organic. Therefore, the sourcing and processing of the beans deliver great flavorful coffee. 
Aroma 
The good thing is the coffee has a blend of aromas. It has an intense buttery caramel feel with nutty and notes of chocolate coffee. The aroma mix creates an inspiring feeling to keep you drinking more and more coffee. 
Flavor 
Apart from the aroma, the flavor is also inspiring. This coffee comes with a buttery caramel flavor, nutty and chocolate coffee. 
Since the caramel flavor complements the coffee essence, it creates a unique and delicious product. 
Appearance 
The appearance of Fabula buttery caramel coffee is superb. It has a perfect medium roast which gives it an amazing brown color. The roasting ensures the right stage of caramelization hence deeper brown color. 
Since the bean has some oil, the ground coffee looks slightly oily. Therefore, you can enjoy a deep caramel scent and flavor. 
Packaging 
On the packaging, Fabula is excellent in ensuring coffee gets airtight sealing. Also, roasting is always ongoing to enable the company to ship freshly roasted and packaged coffee. 
The packaging bags are heavy-duty, ensuring the coffee quality is always consistent. 
Pricing 
Pricing is fantastic when buying coffee from Fabula. For buttery caramel coffee, it has flexible pricing. 
Once buying, you can go for one time or subscription. One time buy allows for the purchase of a single bag. Also, you can buy two and three packs at a 10% and 15% discount. 
Also, the subscription plans allow buying multiple bags at a significant discount. The subscription ranges from 25% and 35% per bag. 
Amazingly, when you buy this coffee for the first time, there is a 50% discount. 
Don't buy Fabula Buttery Caramel Coffee if, 
You Like adding caramel flavor to brewed coffee
When you want to add caramel to your brewed coffee, it is ideal to buy unflavored coffee. This allows you to flavor your coffee to perfect intensity. 
You have a taste for more acidic caramel coffee 
Fabula buttery caramel coffee is low acid coffee. If you like acid coffee, this is not acidic like conventional one. 
Summary 
While Fabula unflavored coffee is excellent and tastes great, buttery caramel is even sweeter. It brings a unique blend of caramel coffee flavors for exceptional satisfaction. 
There is no confusion anymore; the Fabula Buttery Caramel coffee review offers impressive tips. It's time to enjoy the caddy tasting coffee. 
FAQs 
Does Fabula caramel coffee taste good? 
Fabula caramelized coffee has a sweet, creamy taste. The coffee offers a unique flavor compared to unflavored types. 
How is Fabula buttery caramel coffee made? 
Fabula uses natural means to flavor your caramel coffee. It achieves a sweet buttery caramel flavor through processing, fermenting and roasting. 
Can you add caramel syrup to hot coffee?
You can add caramel flavoring syrup to your coffee. Whether it's hot or cold, the syrup is perfect for flavoring.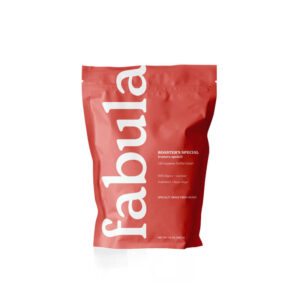 Related Posts:
Fabula Subscription Coffee Review
Fabula Half Caff Coffee Review
Fabula French Press Coffee Review