Drinking coffee is not just a habit; selecting the top quality should be the motivation. Fabula lets everyone enjoy specialty coffee affordably and consistently. 
The Siltipec specialty coffee is special and enables every drinker to taste its uniqueness. It's a low-acid coffee that ensures everyone enjoys a delicious beverage. 
If you want to know more about coffee, Fabula Mexico Siltipec coffee review is here. Keep it here and learn why you need to make this coffee your choice.
Fabula Mexico Siltipec Coffee Review 
WHAT WE LIKE
Natural and organically produced 
Intense, unique aroma 
Improves body performance
Mold and mycotoxins free
WHAT WE DISLIKE
No flavored version available 
Coffee not blended
There are many reasons why people choose specialty coffee. But, when you make Fabula Siltipec medium roast your choice, it has soul-satisfying qualities. 
It is one of the rare types of coffee, and its qualities are unmatched. From growing to processing, the coffee presents a unique taste and scent on another level. 
Origin 
The coffee is so unique that it is only grown in Siltepec village in Mexico. It is from small producers who ensure the coffee is super high quality. 
Usually, the farmers use shading to create a microclimate, and beans are harvested while mature and fully ripe. Further de-pulping and fermentation are naturally done. Beans are sun-dried to the right drying level. 
Aromas 
Everything in this coffee is superb. Aroma is one of the qualities to check, so we find the coffee remarkable. Once you open the pack or brew, the scent is cloves mixed with spice and dark chocolate.
The aromas blend well, but each comes out distinctively. Consequently, the coffee leaves you yearning for more sips. 
Flavor 
Considering the efforts toward growing this coffee, it has some of the best flavors. Every effort is noted in the taste since beans are delicious. 
The noticeable tastes you will note include citrus and apple with hints of walnut. 
Appearance 
If you love medium roasted coffee, Fabula Siltipec coffee should be one of them. The roasting is done in a controlled manner by professionals. 
The coffee has the perfect brown color. Due to the washing and removal of blemished and damaged beans, there is a uniform coffee shade after roasting. 
Additionally, the coffee has some slight oil on the beans. Even the ground coffee appears slightly oily. 
Packaging 
High-quality coffee requires premium packaging to maintain its freshness. Fabula utilizes some of the best packaging bags to ensure coffee remains fresh. 
The packaging uses compostable materials to care for the environment. Additionally, the coffee is packed before delivery to guarantee freshness. 
Pricing 
The pricing of Mexican Fabula Siltipec coffee is fantastic. It allows everyone to enjoy whether you want single or multiple packets. 
One of the priding options is one time buy. Here you can get a single bag at $29.99 and no discount. There are two bags at $26.99 with 10% each. Also, three bags go for $25.99 and15% each.
Unlike other Fabula coffee, this one only offers a single buy option. 
Also, there is payment on installment if you buy coffee worth more than $50 at no interest rate. 
Don't buy Fabula Mexico Siltipec coffee IF 
You prefer to subscribe for timely delivery. 
If you love scheduled coffee delivery, Fabula Mexico Siltipec coffee isn't eligible for the subscription. You can only enjoy one time buy option. 
You enjoy acidic specialty coffee. 
For anyone who loves conventional acid coffee, this one is low acid. Therefore, before buying, you should keep in mind the acidity in this coffee is low. 
Summary 
Fabula specialty coffee is impressive and gives drinkers a sense of uniqueness. However, if you consider the Mexico Siltipec coffee, it is fantastic and leaves you satisfied. 
Fabula Mexico Siltipec coffee review is what you need to start enjoying this spatiality beverage. It's a sweet, great flavor and freshly packed to give the best coffee experience. 
FAQs 
Is Fabula Fabula Mexico Siltipec coffee shipping free? 
Yes, shipping of this coffee is free for residents within the US. 
Can I get decaf Siltipec coffee from Fabula?
Currently, the coffee isn't available in a decaf version. You can only enjoy caffeinated Fabula Siltipec coffee. 
Can I drink Fabula Siltipec coffee if having acidity problem?
The coffee is low acid, sweet and moderate in caffeine. Therefore, if conventional coffee causes reflux, this one won't.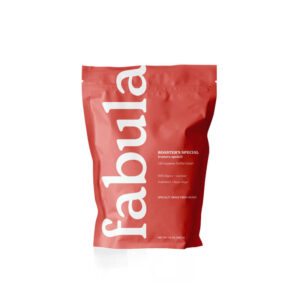 Related Posts:
Fabula Subscription Coffee Review
Fabula Buttery Caramel Coffee Review