Good tasty coffee always keeps you moving. But, can you get a great coffee easily? These days, you can trust Fabula is the perfect base where you can get flavored and unflavored coffee. 
Vanilla flavored coffee is one of the amazing coffees that you can enjoy from Fabula. It presents the delicate vanilla essence, which blends with other coffee flavors to deliver thrilling refreshments. 
Fabula vanilla coffee review is the perfect guide for everyone looking to enjoy great flavored coffee. Stay tuned to ensure you don't miss out on any point.
Fabula Vanilla Coffee Review
WHAT WE LIKE
Delicious real vanilla flavor
Low acidity and sweet
Moderate caffeine arabica beans
It blends well with crema
WHAT WE DISLIKE
Higher price tag
It feels a bit light
Vanilla is one of the most loved flavors in the world. Fabula knows this, and that is why it has created this flavored coffee. Using real vanilla beans, you get to enjoy the power of organically grown coffee. 
Origin 
Knowing the origin of coffee is a great step for drinkers and suppliers. The Vanilla coffee which the company uses comes from Peru. The coffee brings some of the best qualities since it's grown in high elevation areas. 
Apart from coffee, the organic vanilla beans used in the flavoring are sourced from the best producers. The coffee and vanilla beans ensure you enjoy pure organic coffee. 
Aroma 
Although this is a flavored coffee, adding vanilla doesn't eliminate the original coffee flavors. It has a rich toast, chocolate coffee and vanilla essence of vanilla. 
The coffee aromas blend well with the coffee natural scent to yield the best scents. 
Flavor 
The coffee has different well-blending notes, which leaves a mouthwatering aftertaste. It has a toasty chocolate coffee and vanilla. 
Since the coffee is medium roasted, it balances the coffee and roast flavors and is topped up with vanilla savor. 
Appearance 
The vanilla flavored coffee from Fabula is a medium roast. Therefore, the appearance of the color is brown. Due to the perfect roasting and vanilla powder, the coffee maintains the perfect brown color. 
Apart from the brown color, the coffee beans have mild oil. Also, the grinding ensures there is color consistency.
Packaging 
Fabula packaging process and materials are highly reliable. This coffee comes packed in plastic bags that are properly sealed to keep air out. 
Further, the bags are simple to seal after opening due to the Ziploc design. Interestingly, the bags are recyclable hence easy to protect the environment. 
Pricing 
Pricing of Fabula vanilla flavored coffee ensures everyone is covered. Whether you want one or multiple bags, there are options, and they have fantastic discounts. 
One-time buy offers 1, 2 and 3 bag options. The two and three bags attract 10% and 15% discounts respectively. 
Apart from buying once, you can also decide to subscribe. A subscription allows you to enjoy a 35% discount when you buy 6 bags and above. For 4 bags, each you get 30% while 3 bags attract a 25% discount.
The bonus for subscribers is free shipping and other offers available in Fabula. 
Don't buy Fabula Vanilla coffee if,
You like other flavors 
If you like flavored coffee but not vanilla essence, you can skip this and get another flavor. Fabula has multiple flavors like Hazelnut, Cinnamon and Caramel.
You like flavoring your coffee after brewing 
Some people like brewing unflavored coffee and adding flavor after brewing. If you are one of them, you can get unflavored coffee from Fabula and add a flavor of your choice at home. 
Summary 
Vanilla coffee is excellent when you need to change your daily coffee taste. Since It comes flavored, there is no more flavoring needed. 
When you need to enjoy a delicious beverage, this Fabula vanilla coffee review gives you a great opportunity. It's sweet, flavorful and refreshing. 
FAQs 
Is Fabula Vanilla coffee pure organic? 
The coffee is certified organic. Coffee beans and vanilla flavorings used are organic to maintain the purity of the product. 
Can you flavor coffee beans with vanilla extract?
If your coffee isn't flavored, it can add vanilla flavor to your beans. Adding a few drops of vanilla extract to your coffee will spice it. 
Does Fabula have vanilla flavored k-cups? 
For K-cup lovers, the good thing is you can get pure organic vanilla flavored Fabula K-cup pods.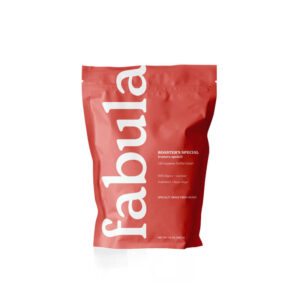 Related Posts:
Fabula Subscription Coffee Review
Light vs Medium vs Dark Roast Coffee