Iced latte is one of the most fun recipes to make at home this summer. And one from Dunkin Donuts is a must-have. But when you get lazy, it's the best option to make the recipe on your own.
Dunkin Donuts iced caramel latte is one of the most underrated and easiest recipes. While making an iced latte, only 3 basic things are required: ice, milk, and espresso. So, if you want to know the recipe in detail, scroll down.
What is an Iced Latte from Dunkin Donuts?
In an iced latte, Dunkin donuts give you the flavor of mild coffee taste, which is made by their special techniques. It comprises milk, ice, and various flavors added as per customers' requirements.
Dunkin Donuts iced caramel latte is one of the best-iced lattes for summertime. Small kids and even adults love it.
Whats in a Dunkin Latte?
A Dunkin latte is a drink made with coffee beans, cream, milk, and different flavors to give it a unique taste as per the customer's desires.
These lattes have specific names such as pumpkin latte, French vanilla latte, caramel latte, etc.
How Does Dunkin Make Their Iced Lattes?
Dunkin Donuts' iced lattes use high-quality beans such as those Arabian beans, which are rich in cocoa fragrance and dark flavor for the espresso shots and latte. It also helps maintain the taste and flavor of their Dunkin Donuts signature latte.
They use cold milk, which is directly mixed with the espresso to render a mild taste. Also, the brand uses a very soft and frothy layer of cream, which balances the sourness or the dark flavor of espresso and makes it light and smoother. Lastly, Dunkin Donuts pours its unique sauces, syrups, or drizzles into the latte in adequate amounts to add a touch of sweetness and a few ice cubes to maintain the consistency and coldness of the beverage.
How to Make Dunkin Donuts Iced Latte at Home?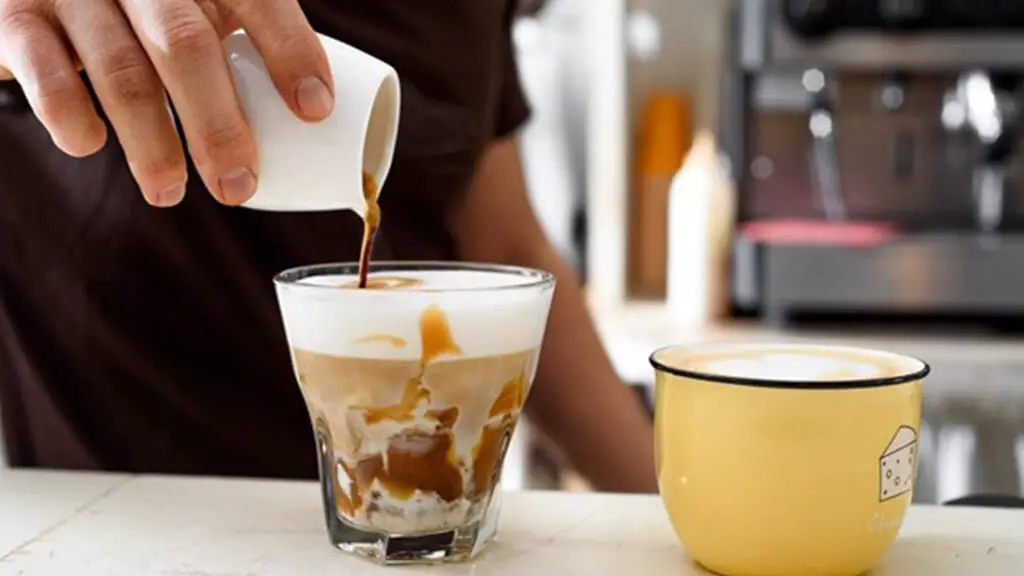 You can easily prepare the delicious Dunkin Donuts iced caramel latte with whipped cream at home and serve it to your friends and family.
So, to make this delicious beverage, you'll need to get the best quality coffee beans or powder. You also need to find the best creamy milk or cream, which will be added to the latte to give it a smooth texture and excellent flavor. Finally, add caramel to make it more delicious and sweeter.
Difference Between Iced Latte and Iced Coffee at Dunkin Donuts
Firstly, the flavor of coffee is mild in an iced latte compared to that of iced coffee.
Secondly, 3 ingredients are needed to prepare a cup of iced latte, which are espresso coffee, milk, and ice. In contrast, only 2 basic elements, ice and coffee, are needed to prepare the homemade Dunkin iced coffee.
Thus, the high dairy content or milk product used in the iced latte makes it high in calories compared to iced coffee.
Frequently Asked Questions
Here are the answers to a few questions that customers often ask.
Final Words
With all of this information, we hope now you can easily prepare your favorite Dunkin Donuts iced caramel latte. So, make a cup of refreshing chilled caramel latte to savor your palate and soothe your mind.
Dunkin Donuts Iced Caramel Latte Recipe
Course: Drinks
To make the perfect Dunkin Donuts iced caramel latte, follow the steps given below.
Ingredients
1 cup of milk

4-5 small ice cubes

1 tablespoon of coffee creamer

2 tablespoons of whipped cream

Caramel for sweetness

1 oz of espresso
Directions
You need to brew your espresso using the right machinery properly.
Then, pour the milk, espresso, and creamer into a shaker and shake it until the mixture becomes frothy.
Add ice cubes to a nice glass. And pour the well-mixed iced latte into it. You can add extra milk if required.
Put some whipped cream and drizzle caramel sauce or syrup on it.
Notes
This drink contains 18mg caffeine.
Nutrition Facts
1 servings per container
---
Amount Per ServingCalories260
% Daily Value *
Cholesterol 30mg

10

%
Sodium 88mg

4

%
Protein 5g

10

%
---
* The % Daily Value tells you how much a nutrient in a serving of food contributes to a daily diet. 2,000 calories a day is used for general nutrition advice.
Recommended Products
You will need the following products to make your Dunkin Donuts-liked iced caramel latte instantly.