East Village is home to some of the best coffee shops in NYC. From large big corporate chains like Starbucks, to smaller local Coffee Shops – you'll never run out of coffee options with so many choices available. Consider this list your NYC Coffee Shop bucket list. Kick back, relax and enjoy a cup of joe from a place that you haven't tried yet.
10 Best Coffee shops in East Village, New York.
Saltwater Coffee
B cup Cafe
The lazy llama coffee bar
Urban backyard.
Kona coffee roasters, EV.
Cafe Sandra
Abraco
Dua Kafe
787 Coffee
Ninth street espresso
Saltwater Coffee
Are you looking for cool east village coffee shops? This is basically an Aussie themed Cafe serving coffee in the Australian style with elegant decor, window counter sitting, and diverse table seating. 
The baristas here are very skilled and friendly, they do know how to whip up an amazing match latte. If you love pastries like I do, you'll surely love the items on their menu. 
The prices are reasonable and quite affordable. Saltwater cafe is definitely worthy of being on our list of Best Coffee Shops in East Village NYC. 
Location: 345 E 12th St, New York, NY 10003, United States
Working Hours: Monday-Friday 7am-5pm, Saturday-Sunday 8am-6pm
Website: saltwaternyc
Phone: +1 917-881-2245
B Cup Cafe
Meet one of the coffee shops with wifi East Village. B cup Cafe is a gorgeous corner coffee shop with vibrant design serving up wholesome sandwiches and salads to go with the coffee. I love that they do not just have seating chairs but couches for extra comfort. 
There's also an ATM machine at the premises for transactions. This cafe is a lovely place to grab a cup, it is not ideal for work, meetings or studying due to the noise that goes on inside. However, you can be rest assured of great food and coffee. 
Location: 212 Avenue B, New York, NY 10009, United States
Working Hours: Monday-Sunday 7:30am-4:30pm
Website: bcupcafe
Phone: +1 212-228-4808
The lazy llama coffee and bar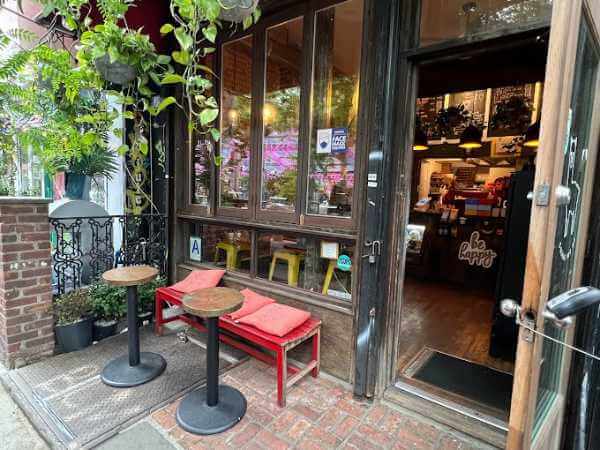 The first thing that would get your eyes is the abundance of Llama decor throughout the cafe. I personally think it is an awesome way to brand the store. Fresh coffee beans are used to make amazing coffee blends in this popular cafe spot. 
Outdoor and indoor seating is available for customers to choose from. Food options are also available with a large menu featuring mouth watering pastries, sandwiches and more. You should give the egg and cheese croissant a try. 
Location: 72 E 1st St, New York, NY 10003, United States
Working hours: Sat-Sun: 7:30 am – 6 pm; Mon – Fri: 7 am – 6 pm
Website: thelazyllamacoffeeandbar
Phone: +1 646-410-1938
Urban backyard
If you're a vegetarian, then this should be your go-to spot for vegan cupcakes. They also offer pumpkin cakes, vanilla cakes, chocolate desserts, and other gluten-free pastries. They have a wide variety of green tea options. 
They are eco-friendly, and they also let you bring your own cup to their cafe, so I can't wait to go again. 
Location:180 Mulberry St, New   York, NY 10012, United States
Opening hours: Thu – Sat, Mon: 7 am – 7 pm; Sun, Wed: 8 am – 7 pm; Tue: 7 am – 5 pm
Website:urbanbackyardnyc 
Phone: 646 692 9957
Kona Coffee Roasters
This spot has a friendly and relaxing atmosphere too. Great internet service, loveable staff, and a kid-friendly spot. I also fancied the seating arrangements of the building, it has so much finesse and class. 
Their pricing is average to a bit above average, however I think it's okay due to the large portions served. Outdoor seating is also available in this cafe. If you ever get to visit, try the hawaiian and lavender lattes.
Location: 57 2nd Ave, New York, NY 10003, United States
Working hours: Sat-Sun: 8 am – 9 pm; Mon – Fri: 7 am – 9 pm
Website: konacoffee
Phone: +1 917-409-2642
Cafe Sandra
Meet Cafe Sandra, a new coffee shop in East Village NYC that most people don't know about yet. This cafe makes great mochas and lattes and has an incredibly unique selection of drinks and eats that rounds it up as a superb coffee shop. Inside the cafe is cozy and well designed. An ideal location for a quick breakfast stop. 
Location: 194 1st Ave., New York, NY 10009, United States
Working Hours: Monday-Friday 7am-7pm, Saturday-Sunday 8am-7pm
Website: cafesandra
Contact: Email 
Abraço
This popular East Village counter-serve location serves espresso, baked pastries, and savory small meals that will leave you coming back for more every time. 
Although this cafe is a little hard to find due to the fact that a tree blocks their sign, finding it, in the end, is worth it. Their olive cake is a must try. I visit here often just to get a bite of the famous olive cake. 
Location: 81 E 7th St, New York, NY 10003, United States
Working hours: Tuesday-Saturday 8am-6pm, Sunday 9am-3pm, Monday (closed)
Website: abraconyc
Phone: +1 (646) 398-7835
Dua Kafe 
Dua Kafe is a simple and charming cafe that allows you to get served by its owner. Their food is so incredible, and they also offer very fast customer service. 
One thing I love about Dua is the tranquility of the area, coffee shops are always noisy due to the influx of customers but Dua maintains a high standard of decorum coupled with their delicious coffee. It is simply an amazing cozy coffee shop the east village has to offer its residents. 
Location: 520 E 14th St, New York, NY 10009, United States
Working hours: Sat-Sun: 11 am – 11 pm; Mon – Tue, Thu – Fri: 12 pm – 11 pm; Wed: 2 pm – 11 pm
Website: duakafenyc 
Phone: +1 212-228-1696
787 Coffee
This trendy coffee cafe serves beans that are produced, processed, and roasted on a single farm in Puerto Rico. The environment is really cute and cozy, their decor is lovely and they have lots of seating options indoors. 
The customer service here is amazing, once, I mistakenly spilled my drink and it was replaced for free. I would highly recommend this cafe anytime, also, you have got to try the pastries. 
Location: 131 E 7th St, New York, NY 10009, United States
Working hours: Monday-Sunday 7am-8pm
Website: 787coffee
Phone: +1 646-649-2774
Ninth street espresso
Here's one of the cute coffee shops. This spot has the best oat milk latte. And you know what the best part is? The best part is that they don't charge extra for the oat milk. The baristas here are so nice, and they have a homely environment. 
The prices are quite affordable and the service excellent. I love that the menu features a variety of items to choose from. Due to the serenity, it is is one of the best coffee shops to work in the east village.
Location: 700 E 9th St, New York, NY 10009, United States
Working hours: Monday-Sunday 7 am-7 pm.
Website: ninthstreetespresso 
Phone: +1 212-358-9225
FAQs
Where is East Village NY located?
The East Village is a neighborhood located on the East Side of Lower Manhattan in New York City. It is roughly defined as the area east of the Bowery.
What's the oldest coffee shop in East Village NY?
Caffé Reggio has been around in the East Village for over 90 years and is still peculiar to the people of the East Village. Unfortunately, I couldn't get enough time to try out the place.
What are the best east village coffee shops for dates?
An ideal coffee shop for a date would be one not too noisy or crowded, one with great lighting and of course amazingly outstanding coffee, here are some coffee shops in east village ideal for dates; Coffee Project New York | East Village, Abraço, Everyman Espresso, and MUD SPOT aka MUD.
Conclusion 
Thank you so much for reading through. I am confident that with this article, you will find a coffee shop with endearing baristas, good coffee, a nice ambiance environment, and a budget that best suits your pocket… right here in East View, New York. If we missed your personal best, feel free to let us know in the comments section below.