Home coffee roasting may seem challenging, but it's quite simple if you enjoy coffee. Also, coffee roasting by yourself can definitely save you a lot of money than purchasing roasted coffee beans at the grocery store.
You appear to have heard of Kaldi, one of the earliest coffee roaster manufacturers in Korea. After a long day at work, I was finally able to start off my day by roasting coffee at home using the Kaldi Motorized Home Coffee Roaster.
Take a look at the Kaldi Coffee Roaster review below, and see if it is a good fit for your needs. Some find that it's perfect for them, but others find it to be a waste of money.
The Kaldi Roaster Review
The Kaldi Home Coffee Bean Roaster is a countertop appliance that roasts coffee beans in your own kitchen. It has a simple, durable design and is easy to use.
After delving into this roaster in detail, I've concluded that several factors are important. Let's see how it stacks up against the others.
WHAT WE LIKE
Advanced air roasting ensure even & consistent roasts
Great roasting control
Low-tech & well-built
Useful accessories included
Suitable for beginners and experts
Easy to clean
WHAT WE DISLIKE
Lack of smoke suppression
Housing gets very hot while roasting
Not cheap
The Design 4/5
The Kaldi motorized home roaster has got to be an anomaly in size and shape, and it proved to be a bit problematic for me when storing it.
But you might find that the roaster makes up for its simplicity with its sturdy and durable construction. It has a stainless steel body with removable stainless steel hopper and chaff tray.
The Kaldi Coffee Roaster also comes with several other user-friendly accessories, including a thermometer, an adapter (convert voltage between 110 volts and 220 volts) and a handy sampler for easy sampling.
The roaster has heating elements that create a convection current, which circulates the hot air throughout the chamber and roasts the beans evenly. The built-in thermometer helps you monitor the temperature to ensure beans not to be over roasted.
The chaff collector can easily capture the chaff released from the beans during roasting, so it doesn't end up in your coffee.
However, the roaster didn't come with a gas burner. You have to look for one from a range of sizes and styles that fits this roaster. But don't worry, the burner is cheap 🙂 and your gas can be a nice alternative.
Roasting Capacity 4/5
Drum coffee roasters usually have larger capacities than air roasters, like Kaldi. The max. capacity of it is clarified as about 200g green beans, which equates to between 30 and 40 cups of coffee. This quantity is sufficient for one month or perhaps a bit more.
It is worth mentioning that roasting 235 grams of coffee yields no trouble for me at all. More than that, you may notice a few coffee beans roll out from the device.
If you are still not completely satisfied, consider purchasing the wide model from Kaldi, which can roast up to 300g at a time.
Roasting Time 4.5/5
Roasting a coffee bean only takes 10 minutes if you're roasting a light roast and takes approximately 15 minutes if you're roasting a dark roast. Much faster than other roasters on the market.
In order to get the perfect cup of coffee, it is important to determine the exact time you should roast your coffee beans.
The following are a few different ways to do so:
The first way is to follow a professional roasting guide. The roasting handbook will tell you the temperature and time range for each type of roast. This is a good option if you are looking for a specific roast and want to make sure that you are not under- or over-roasting your beans.
Another way to determine the correct roasting time is to use a thermometer. By placing a thermometer in the bean during the roasting process, you can track the temperature and ensure that your beans are roasted at the correct temperature.
The final way to roast your beans is to simply use experience. By roasting a small amount of coffee and tasting it as you roast, you can determine the correct temperature for your beans.
Roast Quality 5/5
The Kaldi Coffee Roaster is a small but efficient version of a drum roasting machine. It has a heated drum that uses an innovative Air Roasting Technology to ensure even heat distribution and prevent uneven roast times. The consistently flavorful product is the perfect beverage for any occasion.
Supervised through its different variables, this semi-commercial roaster can be personalized to send you into a creative flow as you master its intricacies. It can pull off dark roasts for a more intense coffee flavor or a roast with a low acid content for iced coffees, whatever preference you have for your preferred brew.
Cleaning 4.5/5
The Kaldi Roaster is a great option for anyone looking for an easy-to-clean roaster. You can wipe down the stainless steel exterior with a wet cloth. Make sure that it is completely dry prior to reassembling it for its next use.
Plus, when it comes to managing those chaff from beans, a built-in chaff tray collects some of them, which has to be trashed after each roast.
Price 4/5
If you're looking for a low-priced entry-level option, the Kaldi may not be the best for you. It additionally requires the purchase of an additional gas burner.
Nevertheless, considering it basically resembles a scaled down version of a professional roaster, the price really isn't bad for a top-grade home roaster that consistently roasts perfectly.
Why might you think twice about it?
Housing got very hot after roasting process ending up
It was particularly challenging for me to remove the roaster from the burner and take the beans out, so make sure to use oven mitts when doing so.
No smoke suppression
The other drawback of the Kaldi compared to its competitors is its lack of smoke suppression. Be sure to use it in a well-ventilated area or outdoors, avoiding the smoke from irritating your nose and throat.
Would I recommend the Kaldi roaster?
Overall, I had a fun time trying the Kaldi coffee roaster. With its low requirement for complex machinery, it's a fantastic device for those with experience in coffee roasting.
If you want to try roasting different beans, or if you're just looking for a great coffee roaster that produces delicious and consistent coffee, then this is the perfect machine for you.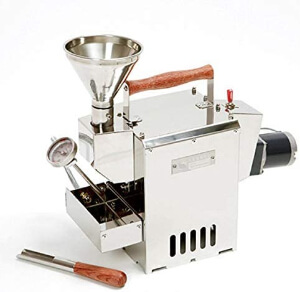 FAQs
Specifications
| | |
| --- | --- |
| Product Name | Home Drum Coffee Roaster |
| Brand | Kaldi |
| Price | $534 |
| Material | Stainless Steel |
| Capacity | 200g |
| Size | 440W*160D*370H(mm) |
| Weight | 4.5kg |
| Motor Power | DC24V 6W |
| Adapter | Output DC12V 1A [Free Volt] |
| What's Included | Main body, hopper, thermometer, probe rod, volt adapter, chaff holder |
| Shipping | 7 – 10 days |
| Warranty | One Year |
Related Posts:
10 Best Coffee Roasters Buying Guide
DYVEE Gas Burner Coffee Roaster Review
Fresh Roast SR540 Roasting Machine Review
Jiawanshun 500g Electric Coffee Roaster Review