French press is one of the pieces of equipment I find handy at home. There are many functions I can perform with the equipment, but the best is brewing coffee. Whether it's regular hot-brewed or cold-brewed coffee, the drink tastes heavenly. 
I usually ask myself whether it's possible to use different types of coffee to get a great brew. Having used different roasts, grinds, and brands, French press is impressive. 
Although you can use different coffee types, I will list some of the best coffee for French Press coffee. The coffee offers better results and ensures you enjoy a breathtaking brew. Let's see whether your favorite coffee is featured in the list. 
What coffee is best for French press? 
It can be hard to tell which is best for this selection. However, my top choice is Fabula French press. The coffee is one of the best in the world since it's low in acid and is organic. 
Although I choose Fabula as the best overall, others like Lifeboost offer exceptional results. 
Top 9 Best Coffee for French press (Detailed Reviews) 
The only coffee that gives you a taste of caramelized sugar, nuts, and hints of chocolate is Fabula French Press coffee. This medium roasted coffee with coarse grind ensures a cup of coffee offers maximum satisfaction. 
Besides the amazing flavors, the coffee is pure without fluff, chemical residues, or additives. It comes from the Peruvian highlands, which offer the best coffee-growing environment. 
Due to the contracting of small-scale farmers, the coffee is always clean. Handpicking, washing, and sun drying ensure there is no quality compromise. 
Pricing is also flexible as you can purchase a single or multiple bags. 
>> Read more: Fabula French Press Coffee Review
WHAT WE LIKE
More intense flavor 
50% price off on subscription 
Great coffee origin flavor
Suitable for hot and cold brewing 
WHAT WE DISLIKE
No flavors variations 
Whole beans are not available 
Making a perfect French press coffee isn't rocket science. All I can recommend is getting this Lifeboost 1x medium roast coffee. The quality, flavors, and aroma are unbeatable. The mellow, mild citrusy, slight sweetness and chocolate notes make it a perfect brewing option. 
Unlike other coffee, this originates in Nicaragua, a country known for premium and specialty coffee. Due to the high elevation and microclimate conditions, the coffee grows to achieve the best quality. 
The processing, especially grinding and roasting, ensures the beans are perfectly suited for French press brewing. If you have a French Press, you can brew it cold or hot. Once you grab the coffee, Lifeboost offers first-time buyers a 50% price off. 
WHAT WE LIKE
Free from GMOs
Exceptional natural flavors 
Airtight sealed bags 
Loaded with healthy benefits 
WHAT WE DISLIKE
Flavored options not available 
Only one price option is available 
Hawaii Kona coffee is one of the rarest coffees you can get on the market today. The coffee is known for growing in the Kona district, characterized by rich volcanic soil. 
The Estate dark roast coffee brings a unique and classic Hawaii flavor. Typically, it has delicate sweet, fruity, nutty, and hints of spice. Besides, the aroma keeps every drinker motivated and delighted. 
Unlike the other coffee, this has low caffeine and acidity; hence suitable for every drinker. The coffee won't cause sleep disturbance if you love taking a cup after dinner. 
Despite the premium quality of this coffee, the price is accommodative. It's also available in different sizes depending on the need. Besides, dark roasting is perfected, which is why it's one of the best recommendations for dark roast lovers.
WHAT WE LIKE
Sweet and never bitter
Low caffeine and acid 
Delicious full-bodied coffee 
Doesn't cause sleep disturbances 
WHAT WE DISLIKE
Only whole beans are available
Less coffee-origin flavors 
Pretty expensive 
I can't pick the best coffee and fail to discuss this Volcanica Yirgacheffe organic coffee from Ethiopia. Being the origin of coffee, the type of beans are varietals of Arabica, which have unique qualities. The coffee is fully organic and chemicals free. 
Besides enjoying excellent flavors of Blueberry, darkberry, and blueberry, the coffee also has low acidity. Even if East African coffee is acidic, this one has low acidity. I never experience heartburn or acid reflux after drinking since it has a pH of 5.0. 
Natural processing is the reason every quality of this comes out exceptionally. Yirgacheffe is one of the best naturally flavored coffee you can enjoy. It's great for French Press coffee and delivers the quality that every coffee drinker wants. 
WHAT WE LIKE
Intense natural flavors 
Organically produced and certified 
Naturally dried and processed 
Great for different brewing options 
WHAT WE DISLIKE
Acidic than Fabula 
Packs aren't nitrogen flushed 
Blended coffee feels fantastic, especially from a reputable brand. I have tried this Volcanica blended coffee which is one of the best I have experienced. The coffee is from countries known for premium coffee, like Brazil, Sumatra, and others. 
One of the most outstanding qualities of this blended coffee is its low acidity. Also, the flavor is exceptional since it boasts chocolate, nuts, and hints of tangerine. Since this coffee is produced from organic beans, it delivers balanced acidity and is nutrient loaded. 
The coffee combines amazing flavor and quality, ensuring every sip delivers satisfaction. Also, the price is excellent since you can purchase one bag or several with scheduled deliveries.
WHAT WE LIKE
Pure coffee from different localities 
Versatile brewing options
Naturally low acid: pH 5.3 
WHAT WE DISLIKE
The flavor isn't consistent 
The coffee isn't low in caffeine
How would you feel drinking reserved specialty coffee? Private Reserve Hawaii Kona coffee by Royal Kona coffee is the ultimate recommendation. It's 100% Kona coffee which guarantees authentic Aloha flavor. The coffee boasts brown sugar, chocolate, and hints of fruity flavors, making the coffee heavenly. 
Usually, the coffee is selected from the best harvest, where mature cherries are harvested by hand. The beans have perfect roasting, and the grind is ideal for all-purpose brewing. 
Private reserve Royal Kona coffee is full-bodied and delivers irresistible coffee. Despite the premium nature of this coffee, the price is fantastic. Therefore, it's time to enjoy the premium Hawaii Kona coffee aloha. 
WHAT WE LIKE
Excellent aftertaste 
Free from fluff and additives 
No bitterness 
It doesn't irritate the stomach 
WHAT WE DISLIKE
very expensive 
Not available always 
Drinking coffee should not make your heart race. That is why I always recommend Chock Full O' Nut decaf coffee medium roast. It's a coffee that originates from Colombia and has an amazing body. Usually, the flavor comprises bright acidity, chocolate, herbs, and hints of fruits. 
Unlike regular coffee, this has no caffeine, which means it is safe for everyone. The acidity is low, and there are no irritations in the stomach. Besides, the retained coffee flavor ensures a real coffee experience. 
Since the coffee packaging is in stainless steel containers, there is guaranteed freshness. Apart from cold brewing, the coffee is perfect for other types of brewing. Therefore, as you think about safe coffee, this decaf from Chock Full O' Nut is a sure bet. 
WHAT WE LIKE
Assured coffee quality 
Airtight stainless-steel cans 
Gluten-free and vegan friendly 
Safe decaffeination process 
WHAT WE DISLIKE
Coffee isn't labeled organic 
Not available in whole beans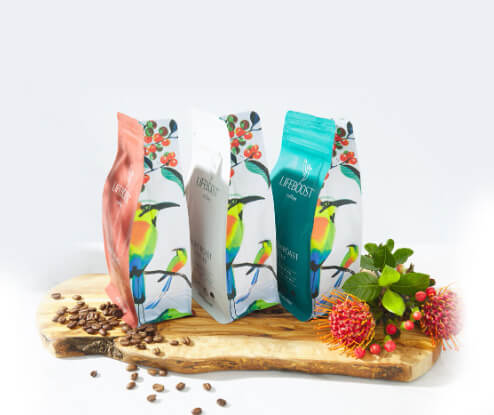 Drinking premium coffee is what I always try to maintain. That is why I am always subscribed to Lifeboost Subscribe & Save program. It's a fantastic option that enables the selection of the ideal coffee roasts. 
Whether it's light, medium, or dark roast, you can subscribe to enjoy a constant supply of French roast coffee. Even for caffeine-sensitive drinkers, the subscription has decaf coffee that presents authentic flavors when brewing your coffee. 
The subscription options are versatile; you can go for Single boost, Triple boost, and Turbo boost. Each of the subscription options is affordable and comes with a huge discount. Also, the coffee comes from Central America, is single-sourced, and is entirely organic. 
Only the Lifeboost Subscribe & Save offers value for money without quality compromise. 
>> Read more: Lifeboost Coffee Subscription Review
WHAT WE LIKE
Versatile delivery duration 
Easy to subscribe and cancel
Different roasts to choose 
Huge discounts on subscriptions
WHAT WE DISLIKE
Only sold online
Not cheap
Specialty coffee is generally expensive. However, since I discovered 1stincoffee Sumatra Mandheling, there is no rip-off. Coffee is among the cheapest yet most delicious brands selling specialty coffee.
The coffee is one of the premia and is grown on the Island of Sumatra, Indonesia. Organic growing in elevated areas and under the shade presents the best experience. The coffee has an exceptional complex, Earthly, wild, and spicy flavor. 
Being dark roasted, the beans are also in perfect ground that ensures brewing French press coffee is flawless. With an unbeatable price, the coffee is ideal premium quality and yet affordable to settle on. 
WHAT WE LIKE
Cheapest among the specialty coffee 
30 days guaranteed satisfaction 
Small batch processed
Airtight resealable bags 
WHAT WE DISLIKE
Less quantity than others 
No subscription discounts 
Things to consider before buying French Press coffee (Buying Guide) 
Before settling on your French press coffee, there is a need to check some of the aspects. Below I have detailed some things you should consider to get the best coffee. 
Single Origin vs. Blended 
Coffee is grown in different continents: Africa, Asia, South, and Central America. Different coffee companies source coffee from all these regions or specialize in one locality. For instance, some companies only deal with coffee from one area.
Single sourcing is becoming popular since it's easy to control and maintain quality consistency. Single-origin coffee always provides authentic flavors and aromas associated with the region. However, it denies your ability to sample different flavors if you stick to one brand. 
Apart from single origin, you can also find brands that single source the blend of the coffee. Thus, it's possible to enjoy blended flavors. Although blending creates new flavors, you can't enjoy the authentic taste of your desired coffee origin.
I usually buy single-sourced coffee and blend it at home to enjoy great coffee. This means I can enjoy pure single-origin and blended flavors when I need them.
Grind Size 
The recommended grind size for French press is coarse. It is the reason French Press coffee tastes better than regular brewed coffee. 
When buying coffee, you can opt for ground or whole beans. Usually, I prefer whole beans since grinding to the right size is easy at home. However, opting for ground beans is best if you don't have a coffee grinder. 
Some of the coffee brands have special roasted and grind French Press coffee. Although all-purpose coffee is available, look for one created explicitly for French Press to make a great cup of coffee. 
Roasting 
Coffee roasting is essential for a good roast for French Press brewing. Unlike espresso, you can brew French Press coffee from light, medium, or dark roasted beans.
When I need to make light-bodied coffee with an excellent coffee origin profile, Light and medium roasts are the best choices. However, dark roast beans are the ultimate choice for a full-bodied and less acidic brew. 
With a French Press machine, it brings the versatility of using any roast to prepare your cup of coffee. 
How to Make Best French Press Coffee? Brewing guide
Brewing classic French Press coffee at home should not be complicated. With everything in place, the process should be effortlessly simple. 
The good thing is that the French Press brewing process is versatile. Whether you like cold or hot brewing, you can choose the right one. 
In this guide, I will share how to make hot delicious, brewed French Press coffee.
Coarse grind coffee 
Usually, coarse grind coffee is what experts recommend for this type of coffee. You can buy already grounded coffee or do grinding at home. I prefer grinding at home since it's easy to regulate the coarseness.
If you want to grind your beans, make them as coarse as salt grains. However, depending on the brew's taste, you can make them bigger or reduce them on your next grinding. 
How much coffee for a French press? You might be asking this when grinding the beans. Commonly, this type of coffee uses more beans than regular coffee. Thus, the golden ratio should be around 1:17 for a weak brew, 1:15 for a medium brew, and 1:12 for a strong brew. 
The amount of coffee to use depends on your French Press size. 
French Press coffee maker
For a successful French press coffee brewing, you must have the equipment. Also, you must learn how to use a french press for coffee. 
Besides knowing how to use it, you might wonder what it is. It's a jar-like pot with a cylindrical design, a plunger, and screens that filter out coffee grounds.
Using this coffee brewing is easy, as explained in the video below. 
Clean water
Water is critical in coffee brewing. I have tried both hard and distilled water, and the results differ. Distilled water offers better coffee since no dissolved minerals react with coffee acids. 
When dealing with more acidic coffee, hard water is good since it helps to neutralize some acidity. To achieve the perfect best extraction, heat water to the boiling point, then pour it on the French Press with coffee. 
Timer 
A timer is handy to ensure the correct extraction. It is used right when you pour water into the coffee. The ideal time to get the best tasting brew is between 6-8 minutes. Under-extraction or over-extraction can lead to awful-tasting coffee. Therefore, always use a timer to get optimum brewing. 
Final Words 
Finding the ideal coffee for French Press brewing results in delicious coffee. However, one needs to follow every step correctly to obtain the best-tasting coffee. 
With the 9 best coffee for french press, overall, Fabula beats others. This is because it's one of the lowest acidity and offers premium and authentic flavors. 
FAQs 
French Press Coffee Easy Recipe
Course: Drinks
This recipe is for 8 ounces (1 cup) of coffee.
Requirements
Saucepan

Coffee (16 grams)

Water (1 cup)

French press

Spoon
Directions
Place your saucepan on the stove, add water, and heat it to boiling. 
Place your French press on a flat surface and remove the plunger. 
Add coffee to the French pot, add little water, and stir. 
Let the coffee bloom for 30 seconds, add the remaining water, and then stir.  
Put the plunger back and allow the coffee to brew for about 4-6 minutes. 
Press the plunger downwards steadily until it reaches the bottom. 
Pour your brewed coffee into a glass and enjoy. 
Notes
1. You can add additives like sugar or milk if you like. However, they will add calories to your coffee. 
2. Warm the French press before using it using hot water. 
Nutrition Facts
1 servings per container
Serving Size16g
---
---
* The % Daily Value tells you how much a nutrient in a serving of food contributes to a daily diet. 2,000 calories a day is used for general nutrition advice.