When coffee is your favorite drink, finding the best coffee beans is one of the tricky jobs. But the good thing is hundreds of brands nowadays offer premium coffee. 
Among the brands that are making great market acceptance is Fabula. It is one of the reliable coffee roasters which has set standards. The brand ensures that every coffee bean from the company meets the highest quality through an elaborate chain of tests. 
Since it's not famous like other large companies, you might ask, Is Fabula Coffee legit? Let's walk together in this Fabula coffee review to understand this company and its overall performance.
Fabula Coffee Subscription Review
WHAT WE LIKE
Beans are organically grown 
Chemical and GMO-free coffee 
Sustainably grown under shade 
Variety of flavors 
Great discounts and efficient supply 
Single sourced coffee to maintain quality
WHAT WE DISLIKE
The price is costly 
Not as famous as other big brands
About Fabula
Fabula is a pretty new company that specializes in roasting organic coffee. The dream of starting the organic coffee brand started when the owner tasted coffee from Peru highlands. 
Although it's not as large as other established companies, it has incredible products. 
The dedication to providing spatiality coffee makes it one of the customer-focused brands. Additionally, the great deals ensure customers enjoy what they are paying for. 
Fabula deals with single-sourced coffee. The practice is fantastic since it ensures only the best mycotoxin-free coffee. Besides, the coffee undergoes thorough testing to check for contaminants such as pesticides, mold, and other chemicals.
Despite having a single source of coffee, Fabula has different types of coffee. This allows people to choose their ideal flavors while enjoying organically grown coffee.
By promoting suitable coffee production, the company ensures farmers and the environment are ideal for continuous production. Also, the coffee is GMO-free. 
Fabula Coffee Review in Details
If you are new to this brand, it's essential to know its overall score before any engagement. This review helps you to get everything about the brands; hence you can decide whether their coffee is worth it. 
Quality  4.4/5
The quality of coffee at Fabula is one of the fantastic things you should consider about the brand. It has all the aspects of a great coffee suitable for everyone. 
Organic 
Fabula doesn't deal with conventional coffee; it only deals with 2% of the world's top-quality coffee. The coffee doesn't contain chemical fertilizers, pesticides, and other agricultural chemicals. 
Due to natural production methods, there is fantastic production which helps to maintain the coffee organic. 
Low acid 
Drinking low-acid coffee is what most people are looking for. But, most of the coffee available on the market has more acidity. 
Fabula offers only low acidic coffee to its customers. The low acidity ensures proper coffee production, and only mature beans are harvested. 
Besides, the coffee is grown in the mountains of Peru, which offers excellent conditions. Additionally, the shade-grown coffee ensures the best quality beans. 
Mold free 
Mold is one of the sources of mycotoxins. It develops when your coffee isn't properly dried. Fabula coffee is free from these contaminants. 
To achieve clean coffee, the harvesting and processing processes are top level. The beans are processed using clean water and sun-dried to correct moisture levels. 
Apart from processing, the storage also ensures beans are free from contaminants. The Fabula coffee drinkers can be assured of top-level safety due to thorough testing. 
Single origin 
Single sourcing of coffee seems to be a trend for most premium coffee companies. Fabula is also one of the brands that single-source their coffee beans. 
Typically, the coffee comes from Peru. Grown on the mountainsides, the area provides excellent natural conditions for coffee with outstanding taste. 
Apart from the best conditions, the process enables the company to monitor the coffee growing practices. Additionally, ethical sourcing guarantees continuity in production.
The Roasts 4.7/5
Roasting is vital for the final taste of any coffee. Fabula has a professional team that roasts coffee to perfection. 
Typically, the available roasts include light, medium, and dark roasts. Also, decaffeinated coffee is available for people who don't drink caffeinated coffee. 
Dark roast is one of the best tasting coffees at Fabula. It has a longer roasting duration, giving it a dark and appealing appearance. 
The roast delivers the authentic espresso flavor. Additionally, it provides the least acidity of all roast categories. 
Besides the intense espresso flavor, the oil in the beans ensures the aroma is satisfying.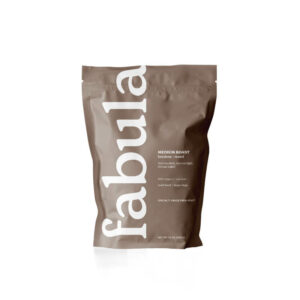 These beans are moderately roasted for people with the best taste in a medium roast. 
Unlike the dark roast, these have a brown color and don't have a lot of oily surfaces. However, the taste is superb and lets you enjoy the medium flavor. 
The roast balances acidity and tastes like a blend of cocoa, raspberry, and molasses. Amazingly, Fabula medium roast still has low acidity.
Fabula light roast is a great way to enjoy the original taste of the coffee. It presents the authentic flavors of the coffee origin. 
The coffee is light brown and offers a slight acidity. With crispness, it ensures every sip gives you a real taste of organic coffee. 
Some people don't tolerate caffeine for different reasons. This should not prevent you from enjoying coffee from Fabula. 
The brand has fantastic organic decaf coffee. Without caffeine, it's easy to enjoy the authentic coffee flavor without experiencing the kick. 
The fantastic thing is decaf coffee comes in a light, medium and dark roast. Also, there are flavored decaf as well as specialty coffee.
Special Coffee 
Besides the regular coffee, Fabula also has special coffee. You can therefore enjoy excellent flavor and spice up your coffee drinking experience. 
Some of the specialty coffee you can opt for from Fabula includes, 
The coffee is from Peru and is tasty. It has a great aroma from caramelized sugar, nuts, and chocolate. 
Cold brew coffee is perfect for making cold brewed coffee. It is sourced from Mexico and has a flavor of roasted, nutty, and caramelized. 
Half-Caff is a blended coffee featuring organic beans from Mexico and Peru. The coffee has nutty chocolate and caramel flavors and aroma to give it the best taste. 
For Turkish coffee lovers, this special coffee delivers precisely what you want. The aroma and after-taste are on point with nuts, dark fruits, plum, and raisin flavor tones. 
Other special coffees at Fabula include Summer special and Mexico Siltipec. 
Flavored Coffee 4.5/5 
When you need to taste different coffee, the flavored version offers a perfect landing. 
Fabula has different flavored coffee that is thrilling and delicious. If you are a fan of flavored coffee, these are the available flavors to try.
Being one of the most common and loved, vanilla coffee is incredible. The beans offer a nutty flavor with chocolate and a touch of vanilla. 
It's another popular flavor and is available at Fabula. The coffee has a nutty flavor and chocolate and is finished with hazelnut. 
For caramel-tasting coffee drinks, this coffee lets you enjoy a great refreshment. The coffee brings noticeable tones of chocolate and nutty flavor and is finished with buttery caramel.
The chocolate nut coffee brings an outstanding aroma and taste. It packs a nutty and chocolate-rounded flavor for an excellent experience. 
Apart from these flavors, you can also choose cinnamon flavor, although this one is only available in K-pods. 
The Packaging 4/5
Packaging is vital in ensuring coffee remains fresh and doesn't deteriorate quickly. Also, the packaging is critical in determining the price of coffee. 
When it comes to Fabula coffee packaging, there are different options. You can opt for bagged or coffee pods. 
Besides the packaging, you can choose different styles of coffee. Mainly, the available packaging includes ground, whole beans, and k-cups. 
Ground 
Ground coffee is the most common packaging at Fabula. It's why you can get on the stores whether you are buying for one time or a subscriber. 
Besides being the typical packaging, it is available in bags and k-cups. 
Also, go-bags come with ground coffee for quick drink preparation. 
Whole beans 
Apart from the ground beans, customers, especially subscribers, can request whole beans. The good thing with whole beans is they are freshly roasted. 
The whole beans are available in bags only. Unlike ground coffee, whole beans are not available in go-bags and k-cups. 
Whole beans are perfect if you love to make different coffee like espresso, cold brew, or other versions. You can ground your beans to suit your brewing options. 
Go bags 
Go-bags are convenient ways to prepare coffee quickly. Packed like tea bags, you just need to have boiled water and dip your go-bag coffee. 
Unfortunately, Fabula doesn't seem to have go-bags coffee. You can therefore use the bagged coffee or k-pods. 
K-cups 
Usually, if you have a k-cup coffee machine, it is convenient to make coffee at home or in the office. 
The good thing is Fabula has k-pods as one way of packaging coffee. Amazingly, the k-cups come in different flavors like other packaged coffee. 
Also, K-cups come with ground coffee; hence easy to prepare, and no gridding is needed. 
Buying Option 4/5 
Fabula offers a flexible plan for anyone looking to buy coffee. 
Buy One Time
If you are only interested in tasting their coffee or not an ardent coffee drinker, you can make one purchase. However, the drawback with a one-time buy is the coffee is a bit expensive. 
However, a one-time buy is essential if you want to taste their coffee and opt to subscribe. 
Subscribe and save 
The other option when it comes to buying options is subscribing. Subscribe and save is a good program for coffee lovers since it assures you a constant coffee supply. 
The program requires you to register and subscribe to the Fabula webpage. Once you subscribe, you will have a lot of options. 
You can select the coffee type, roast, beans state, number of bags, and frequency of delivery. 
Upon subscription, there is always a huge discount for new members. 
The great thing with the subscription is there is a fantastic guarantee. Fabula ensures you enjoy great satisfaction. However, the subscription is easy to cancel anytime. Also, there is a guarantee of excellent services and money back in case you cancel within 30 days there is money refund. 
Limited-time 50% off discount
Apart from the new members discount, Fabula's limited time 50% discount is impressive. It lets you choose the ideal coffee at half price. 
Why You Might Think Twice About Fabula Coffee 
Fabula coffee is fabulous and provides a fantastic experience for drinkers. Despite the outstanding quality, you need to think twice before buying the coffee. 
Some of the things that might negate you from Fabula coffee are. 
Fabula has no go-bags coffee 
Fabula has no go-bags if you love to make coffee without needing to filter. Therefore, you can only get the regular bags or use k-cups pods. 
Coffee is not cheap 
Although the company has organic coffee, it's more costly than average coffee prices. If you have a tight budget, you can check whether there are other cheaper options. 
Final Verdict
Fabula is a pretty new company that specializes in organic coffee. The quality of coffee from this company is superb and leaves you satisfied. 
The careful and professional coffee production fulfills everyone's desires. It's free from toxins and contamination. Therefore, the safety of every drinker is assured. 
Besides quality, the services, including discounts, make the company your best choice. 
Is Fabula coffee worth it? I recommend the brand. It scores high compared to others. 
FAQs
Where to buy Fabula coffee? 
Fabula coffee is available on their official website. Also, it's available in different online stores like Amazon. The coffee is not available in conventional stores. 
Where is Fabula coffee located?
Fabula is an online coffee company that deals with organic coffee. The coffee company is based in New York, USA. 
Does cinnamon reduce acid in coffee?
Yes, adding cinnamon to coffee helps in reducing acidity. Adding a pinch of cinnamon to your drink reduces the acidity. 
How to brew Fabula coffee? 
Brewing Fabula coffee doesn't need a unique approach. It only requires regular brewing techniques. However, to achieve the best flavor, use distilled water and observe the brewing time. 
Related Posts:
Fabula Coffee Subscription Review
Lifeboost Coffee Subscription Review
How to Make Coffee Less Acidic